Who could have imagined the return of the beloved Willy Wonka in a thrilling prequel film featuring the talented Timothée Chalamet? The excitement has reached new heights since the director unveiled a tantalizing teaser trailer, offering a sneak peek into the enchanting universe of a young Willy Wonka.
Fans are buzzing with expectations, eagerly awaiting Chalamet's mesmerizing display of his singing and dancing prowess. With his remarkable acting abilities and undeniable charisma, Chalamet is poised to bring a fresh perspective to the iconic character.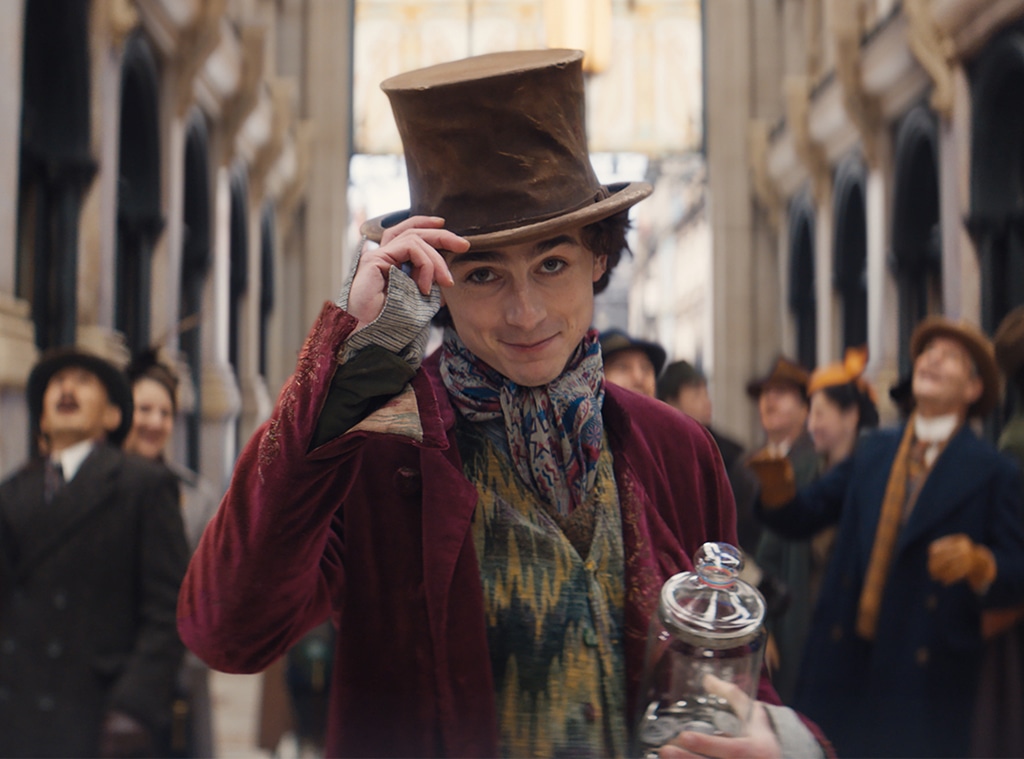 The trailer of "Wonka" has only fueled the hype, leaving viewers yearning for more. As the release date draws near, it's clear that this prequel film promises to be a remarkable cinematic experience that will captivate audiences and reveal the untold story of Willy Wonka. Let's get into the deets now.
When is the Film Releasing?
Based on Roald Dahl's iconic children's book, "Charlie and the Chocolate Factory," the highly anticipated film "Wonka" is set to hit theatres on December 15. Directed by Paul King, known for his work on the "Paddington" films, and produced by David Heyman of "Harry Potter" fame, "Wonka" offers a captivating blend of magic, music, and mayhem. Starring the talented Timothée Chalamet as a young Willy Wonka, this enchanting cinematic spectacle takes us on a journey to discover the origins of the beloved chocolate maker.
Timothée Chalamet's Captivating Performance
One of the most exciting aspects of the "Wonka" teaser trailer is the glimpse of Timothée Chalamet as a young Willy Wonka. Chalamet, already acclaimed for his remarkable acting abilities, is set to mesmerize audiences with his all-singing, all-dancing portrayal of the iconic character.
Having earned praise for his performances in films like "Call Me by Your Name" and "Little Women," Chalamet's versatility and undeniable talent make him the perfect choice to bring the youthful charm and eccentricity of Willy Wonka to life.
However, This is not the first time Willy Wonka has graced the silver screen, as the character has previously been portrayed by Gene Wilder in the 1971 classic "Willy Wonka & the Chocolate Factory" and by Johnny Depp in Tim Burton's 2005 adaptation, "Charlie and the Chocolate Factory."
While both Wilder and Depp left an indelible mark on the character, Chalamet's interpretation promises to be a fresh and delightful take on the beloved chocolatier. With his youthful energy and magnetic screen presence, Chalamet's portrayal of a young Willy Wonka is set to charm audiences and create new memories in the enchanting world of chocolate and imagination.
A Teaser That Leaves Us Wanting More
The recently released teaser trailer introduces us to the whimsical world of "Wonka." As the footage unfolds, we witness a young Willy Wonka embarking on a quest to disrupt the chocolate industry and challenge a confectionary cabal. The visuals are visually stunning and vibrant, immersing the audience in a world of colour, magic, and confectionary delights. The teaser hints at Chalamet's singing and dancing abilities, promising a lively and exuberant performance that is sure to captivate viewers.
Director Paul King has approached "Wonka" as a companion piece to the 1971 film "Willy Wonka & the Chocolate Factory," rather than a direct retelling of Dahl's original book. Inspired by Roald Dahl's early drafts and personal archives, King has aimed to delve deeper into the character's backstory while staying true to Dahl's whimsical spirit. King's admiration for Dahl's work is evident, as he brings his own creative touch to this eagerly anticipated prequel.
A Stellar Supporting Cast
Chalamet's Willy Wonka is joined by an ensemble cast of talented actors who bring the world of "Wonka" to life. Keegan-Michael Key, starring opposite Chalamet, has praised his co-star's cheery and charismatic portrayal of the iconic character. The film also features an array of colourful characters, including the dancing Oompa Loompa, played by the hilarious Hugh Grant. Tom Davis, Simon Farnaby, Kobna Holdbrook-Smith, Mathew Baynton, Jim Carter, Sally Hawkins, Olivia Colman, Rowan Atkinson, and Rich Fulcher round out the stellar cast. Under the direction of Paul King, known for his work on the beloved "Paddington" films, this talented ensemble promises to deliver captivating performances that complement the whimsical world of "Wonka."
A Musical Journey with Promise
Music has always played a pivotal role in adaptations of Roald Dahl's classic tale, and "Wonka" is no exception. The trailer teases a delightful musical experience, featuring original songs that promise to be a feast for the ears.
With contributions from Neil Hannon of The Divine Comedy and seven musical numbers performed by Chalamet himself, the film's soundtrack is poised to be a standout feature. Chalamet has expressed his sincere involvement in the music, describing it as a creative "escape." This musical element adds a unique and captivating dimension to the film, highlighting the star's versatility as an actor.
Conclusion
The "Wonka" trailer introduces us to an exciting and refreshing interpretation of Willy Wonka, brought to life by the immensely talented Timothée Chalamet. With his optimistic and quirky portrayal, Chalamet adds a new layer of charm to the iconic character.
The trailer's vibrant visuals, catchy musical numbers, and colourful cast ignite anticipation for a joyful and uplifting cinematic experience. As Wonka gears up to take audiences on a colourful and imaginative journey, fans eagerly await the film's release. With Chalamet's infectious energy, a delightful musical score, and a talented ensemble cast, "Wonka" promises to be a delightful treat for audiences of all ages. I can't wait to see the movie hit theatres soon.