There is a lot of chatter and rumours about the impending live-action Barbie movie. Barbie has been cast as Margot Robbie, and the movie will be directed by Greta Gerwig, who is well-known for her lauded and feminist-focused work in films like "Little Women" and "Lady Bird." Beyond just children, a larger audience appears to be the focus of the film. Ken will be portrayed by Ryan Gosling, with Kate McKinnon, America Ferrera, Simu Liu, Will Ferrell, and Issa Rae serving as supporting actors.
Despite the lack of precise narrative elements, the movie's IMDb website offers a quick storyline summary: "A doll living in "Barbieland" is expelled for not being perfect enough and embarks on an adventure in the real world." This implies that Barbie will experience the flaws and difficulties of the real world.
Margot Robbie has showcased some lovely Barbie-inspired ensembles in the promotional videos for the upcoming Barbie movie, which has been done really well. These advertising outfits' meticulous attention to detail surely added to the anticipation for the film as a whole. The commercial team has effectively captured the character's spirit by combining features that are evocative of Barbie's enduring fashion, displaying Margot Robbie's fashion sense, and generating hype for the movie's release.
Let's have a look at these amazing looks in the article:
Pink Barbie Outfit with Polka Dots
A gorgeous pink polka-dot dress was one of the outstanding Barbie-inspired costumes that Margot Robbie displayed throughout the advertising season. Barbie's whimsical and feminine aesthetic was perfectly embodied in this outfit, which also exuded a sense of refinement and joy.
The Barbie-inspired look was finished off with carefully chosen accessories and hairstyles that complemented the dress. This may have included matching footwear in a pink tone that was complementing, possibly with a hint of glitter or a sleek and contemporary style. The appropriate finishing touches for the costume would have been the jewellery selection, hair and makeup style, and overall Barbie-inspired look.
The Iconic "Solo in the Spotlight" Barbie
Margot Robbie wore a costume modelled by Barbie called "Solo in the Spotlight" while promoting the movie. This specific outfit paid homage to one of Barbie's vintage outfits and perfectly encapsulated the glitz and refinement that are so closely connected with the legendary doll. The "Solo in the Spotlight" costume included a black dress that was form-fitting and emanated class and classic flair. The dress's sleek shape and attention to detail most likely served to highlight Margot Robbie's body. We are growing increasingly enthusiastic about the movie and its aesthetics since Schiaparelli did such an excellent job of reproducing the outfit.
A Leather Outfit in Pink
Margot Robbie just recreated another eye-catching Barbie-inspired dress for the "Barbie" movie's red carpet premiere in Naucalpan de Juárez, Mexico. She embodied the legendary doll by donning a brilliant, bright pink leather outfit and having her hair pulled back in a bun. Barbie's iconic look was evoked by Margot Robbie's attire, which included a strapless leather little dress. The dress resembled Barbie's stylish outfits since it had long sleeves and a transparent top with long sleeves. Her devotion to reproducing Barbie's distinctive style was evident in her attention to detail.
Barbie's View of Seoul from Day to Night
Margot Robbie has been delighting fans by cosplaying her role on the press tour for the "Barbie" movie, and she went above and beyond at the Seoul premiere. The Australian actress featured not just one, but two fashion moments that were influenced by the legendary 1985 Day-to-Night Barbie.
For her debut, Robbie walked the red carpet in a hot pink skirt suit that was evocative of Barbie's edgy office wear and a tie-neck blouse. Every aspect of the doll's attire, including her white ribbon-wrapped bonnet and cap-toed pointed heels, was meticulously chosen to complement her sense of style.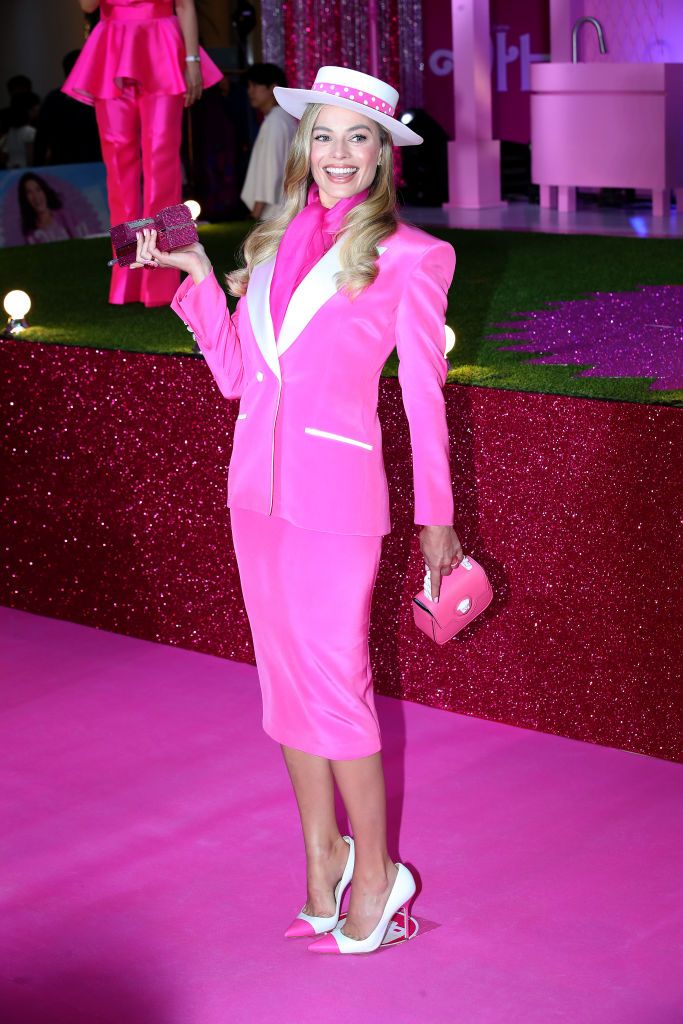 Later on in the show, Robbie unveiled her "night" costume, which included a cocktail dress with a tulle skirt. The dress had the same vibrant pink colour as the prior outfit and a bustier-style bodice with embellishments. Versace and Robbie's stylist, Andrew Mukamal, worked together to reproduce the Day-to-Night doll's two contrasting appearances, resulting in a true and gorgeous Barbie tribute.
Throughout the "Barbie" movie press tour, Margot Robbie worked hard to fully inhabit her persona and pay tribute to Barbie. Margot Robbie has demonstrated her dedication to adopting the Barbie persona and recognizing the continuing legacy of the iconic doll through her choices in clothing. The effort that went into the film's advertising is evident in the exquisite attention to detail used to recreate Barbie's clothing, which also serves as a nostalgic homage to the iconic doll that has grabbed the hearts of generations. Fans are looking forward to more of Margot Robbie's Barbie-inspired outfits and the crowd's reaction to this highly anticipated movie. Robbie brings the enchantment of Barbie to life with each performance, heightening the excitement for the premiere of the film.
See Also: Fashion Highlights from Episode 3 of 'And Just Like That '2