Growing up, we had to flip through magazines for fashion inspiration. Now, every fashion trend is at the palm of our hands. Social media is bigger than ever, allowing artists to show off their style.
Fashion influencers are becoming the face of top brands, such as Nike, Gucci, and Fashion Nova. With so many influencers taking over Instagram, the decision on who to follow can be overwhelming.
That's why we have created a list of our favorite NYC fashion influencers you should be following.
Danielle Bernstein @weworewhat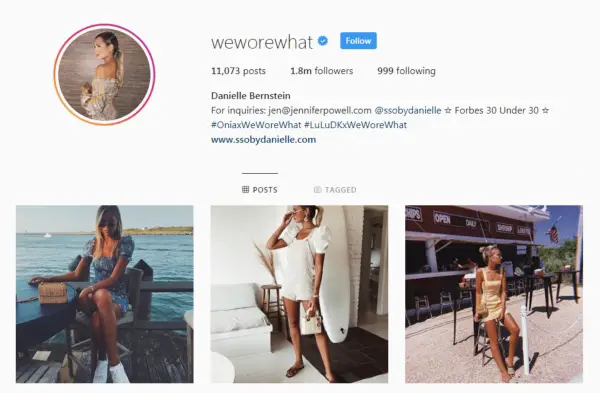 Danielle Bernstein is known for her brand, WeWoreWhat. She started her fashion blog in 2010 when she was just 18 years old and has been building her following ever since.
Danielle knows how to rock a dress but can also slay in overalls. From feminine to sporty, all of her looks are worthy of a double tap.
Gergana Ivanova @fashionismyfortee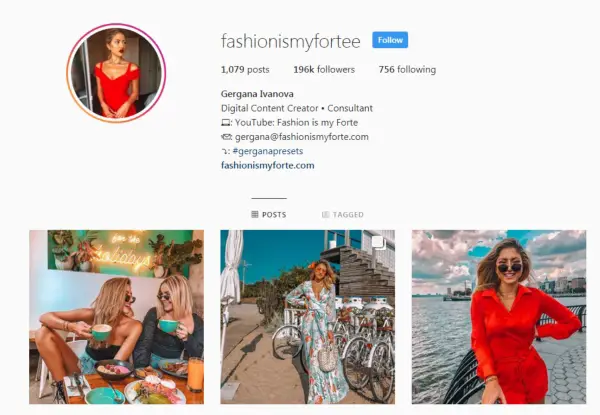 Gergana is the perfect fashion influencer to follow because she knows a thing or two about creating content. If you scroll down her feed, you'll notice that everything fits together like a story. Each photo was taken with aesthetic pleasure in mind.
Ivanova's colorful style and feed is enough to brighten anyone's day. Even her winter styles make us forget about the freezing temperatures we experience in The Big Apple.
See Also: 10 Fitness Instagrams You Should Be Following
Kia Marie @thenotoriouskia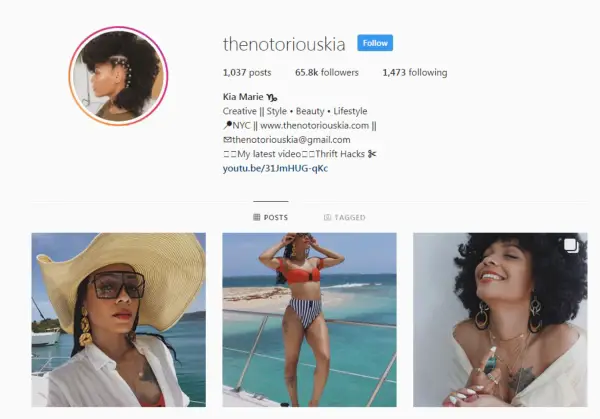 Not only are we obsessed with Kia Marie's style, but also her gorgeous natural hair. Her username describes her style perfectly: notorious. She isn't afraid to try something different.
Kia's a pro at thrift shopping and loves putting together looks that are unique and out of the box. Who else can wear a plaid skirt with a butterfly print leather jacket? No one other than The Notorious Kia.
Karen Blanchard @karenbritchick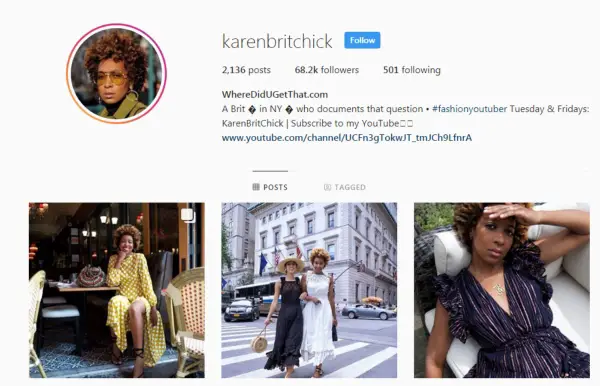 If you ever need the motivation to buy that print yellow dress, just look at Karen Blanchard. She loves traveling NYC in her vibrant, flowy dresses. If she's not in a dress, you can catch her in wide leg pants.
For most of us, those pants would look like we're trying to get back to the 70's, but Blanchard makes it looks chic. She is also part of the natural hair movement and gives lots of hair care tips.
Lauren Recchia @northofmanhattan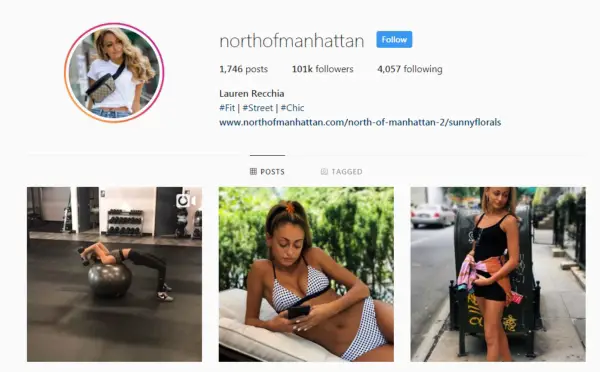 From a zebra print outfit to all white sheer bottoms, Lauren Recchia knows how to mix things up. Her fun content showcases her best styles and makes us fall in love with the city all over again.
Lauren is a true NYgal as she poses her pictures in various spots around NYC. Her street style is just as chic as her glamorous style. Did we mention she paired cowboy boots with a pink layered skirt and looked flawless?
Courtney Quinn @colormecourtney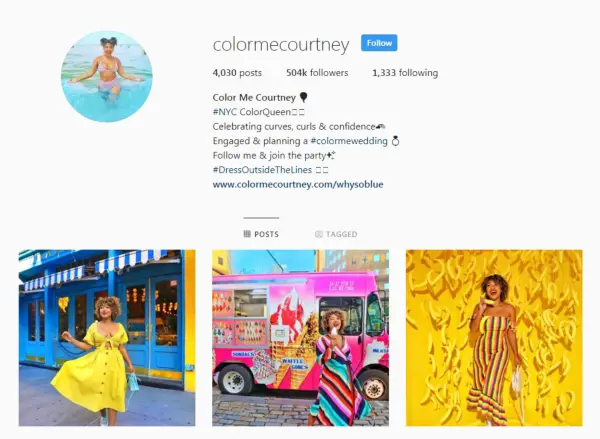 Looking to bring some color back into your wardrobe? Who else to turn to other than Courtney Quinn, the color queen? Her entire feed is a rainbow, and you can't help but smile when looking at this fashion influencer.
Courtney isn't ashamed to show off her curves and add some bright hues to her closet. She shows us that it's okay to go against the black tops and pants that are so dominant in NYC. This fun fashion influencer is sure to brighten your timeline.
Andrea @prettyproperquaint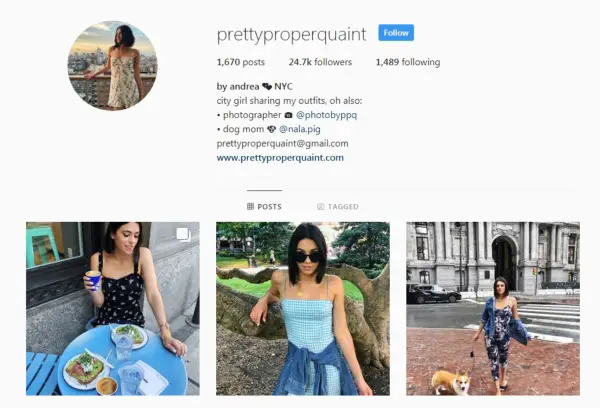 This city girl knows how to shake things up. There is no denying that she's from NYC with her street looks. She always pairs the right sneakers or boots with her outfit with a bag to match.
Andrea's wardrobe is perfect for exploring this big city while not giving up style. She's a true NYgal and is totally owning the city.
If you aren't following these fashion influencers yet, don't wait to check them out. Getting fashion tips have never been easier. Let us know some of your favorite influencers. Comment below!
Feature image credit: freestocks.org