Kanye West made his grand return to Twitter on April 15th, immediately going full throttle and disenfranchising many of his fans.
On April 25, West tweeted non-stop on the support he has for President Donald Trump, which indeed caused a circus on Twitter where he received criticism as well as goodbye's from artists due to them clicking the unfollow button on him.
West and Trump have quite a history. According to an article on People Music, the pair happens to have things in common such as their love for utilizing Twitter, being part of prestigious families in addition to both men having an interest in running for president. Back in December 2016, West paid the President-elect a visit at the Trump Towers where Trump automatically told reporters that he and West were always friends.
People Music's article also included a quote from Trump which stated, "You know what, I'll never say bad about him. You know why? Because he loves Trump," said Trump to reporters at a rally and press conference in September 2015. The president also said,"He goes around saying, 'Trump is my all time hero.' He says it to everybody. So Kanye West, I love him."
After Trump's statement in 2015 and the encounter the men had in 2016, the Trump-West love is real.
In regards to his most recent tweets on Trump, West mentioned that spouse Kim Kardashian West called him to advise him to be clear with his followers about the support he has for Trump.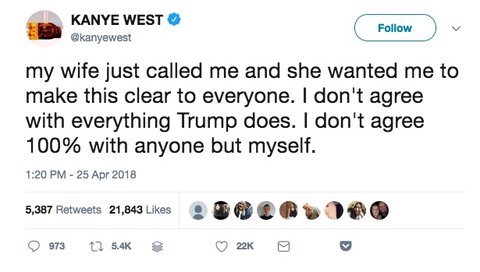 After wifey called, West then became clear with his Twitter audience on his political views and support.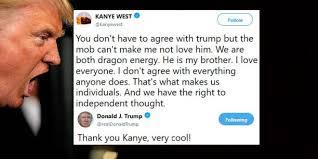 Although he clarified it all, other celebrities, as well as fans, commented and unfollowed West. According to Business Insider, Drake, Rihanna, Justin Bieber, The Weeknd, Katy Perry, Snoop Dog, and a handful of other celebrities unfollowed him on Twitter. As for fans, some tweeted him back stating that they miss the old "Ye.

One celebrity, however, had West's back with the whole ordeal. Chance the Rapper, who's worked with West, tweeted that he's still the same "Ye."
See Also: Celebrities Demand End to Family Separation with 'dear Ivanka' Campaign (again!)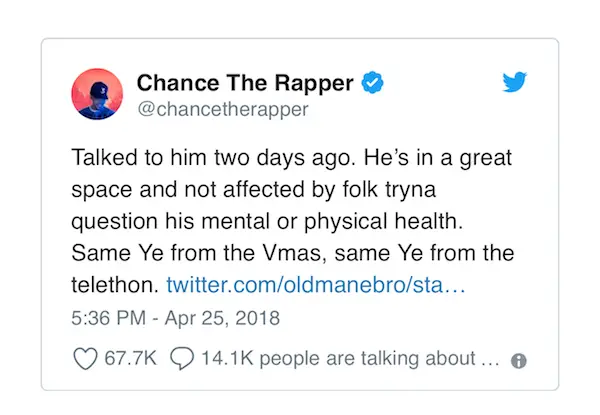 Whether you support Trump or not, West does not give a hoot because he will always express his opinion no matter the outcome.