Sarah Jessica Parker, known as Carrie Bradshaw, shoe lover and fashionista is the epitome of a NYGAL and boss lady. Currently, she is the star of HBO's, "Divorce" and creator of the fabulous SJP Collection.
The SJP Collection first launched in 2014, which consists of handbags, shoes, and clothing. Prior to opening up a boutique in the big apple, Parker opened up a boutique in Las Vegas's Bellagio in August of 2017.
On April 2, Parker re-opened her New York pop-up shop, which she originally opened up in November of 2017 at 6 West 52nd Street between 5th and 6th avenues. The Sex and the City star mentioned the store opening to all her followers and fans through an Instagram post, where she said, "Welcome one. Welcome, all. Again! Swing by and let us help your shop the SJP Collection. We're here and waiting for you!"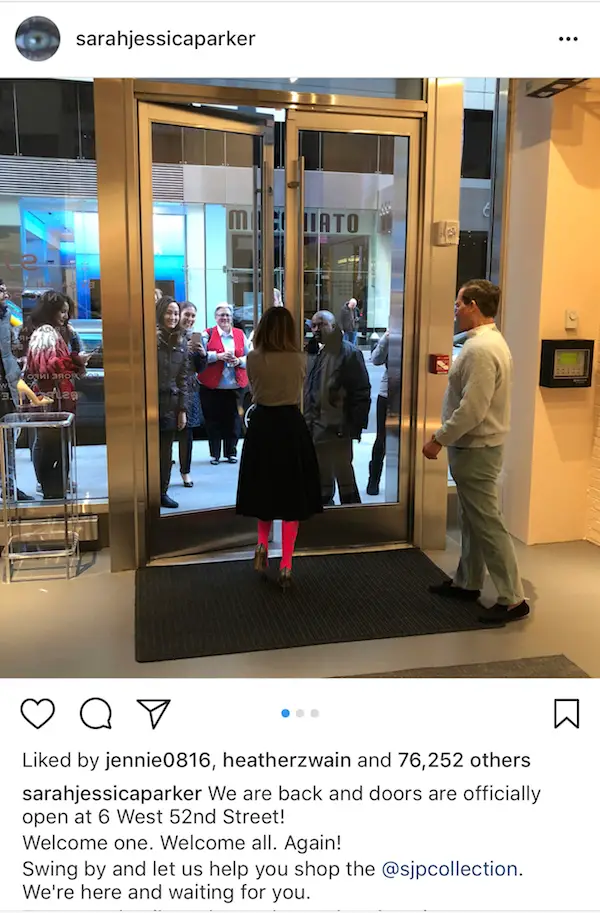 Parker even mentioned that she was going to work the sales floor on another of her Instagram posts. According to an article on WWD, she was approaching customers asking, "How can I be helpful?" and "Who haven't I spoke to yet?". Like any regular sales associate, Parker's customer service was on point as she sat on the floor to assist customers with trying on shoes and provided each and every one of them with suggestions. Although she assisted customers in her New York City pop-up, Parker helped out those who attended the opening at the Bellagio back in August.
The pop-up's current location, 6 West 52nd Street, is very special to Parker because when she played Annie on Broadway, the show took place down on 52nd Street, according to Business Insider. She also told Business Insider that she loves Billy Joel's album 52nd Street, which happens to be another reason why 52nd street has such a significant meaning to Parker.
Carrie Bradshaw's quote, "Shopping is my cardio," will literally define the women of Manhattan who appreciate fashion, shopping, and most importantly, Sarah Jessica Parker. The SJP Collection pop-up is currently open from 12 pm to 7 pm.
Image credit: Business Insider and Splash News