Whether you're a die hard foodie, fashionista with an appetite, or simply an adventurous person in every sense, then national food holidays are something you tend to look forward to.
The month of June is starting off right as National Doughnut Day is celebrated June 1. National Donut Day celebrates the deluctable treat many have for breakfast or dessert as well as honors the women who served doughnuts to soldiers throughout World War I (WWI), which are known as the Salvation Army Lassies.
The Salvation Army Doughnut was first served by the Salvation Army Lassies in 1917. During WWI, the ladies went to the front lines of Europe and made home cooked meals to put a smile on the troops faces. The doughnut making process was interesting since the doughnuts were often cooked in oil inside the metal helmets that belonged to American soldiers. Therefore, American soldiers were called doughboys
The history behind National Doughnut Day is indeed fabulous as brave women were the ones behind its creation. With that being said, NYgal has rounded up the top five places to go to on National Doughnut Day.
Underwest Donuts is a boutique donut shop with a unique location as it is tucked inside The West Side Highway Carwash. The doughnuts are moist, decadent, and are much more petite than your typical jumbo sized doughnut. Currently, 11 flavors are offered at Underwest Donuts with Brown Butter and Milk & Honey being NYgal favorites.
See Also: National Ice Cream Day Is Almost Here and Nyc Is Going All out
The Doughnut Project
The Doughnut Project is located in the West Village and is a place full of cool wall art along with deliciousness. For National Doughnut Day, The Doughnut Project is encouraging everyone to wear orange since Gun Voilence Awareness Day is on June 1 as well. To celebrate and honor both days, the doughnut shop will have Mango Lime Chili and Orange Creamsicle sprinkled with Nilla wafers doughnuts on tap. The Doughnut Project has 17 available doughnut flavors on their menu with the Maple Bacon Bar and Those Beetz Are Dope being NYgal favorites.
Also located in the West Village, Mah-Ze-Dahr Bakery is full of goodies that will provide your palette with some flavorful magic. At Mah-Ze-Dahr, you can find items all the way from mouthwatering brownies, banana bread, chocolate chip cookies, to brioche doughtnuts. The brioche doughnuts are lightly brushed with vanilla pastry cream and dipped in a sugar vanilla bean mix. The doughnut hole is even included in the pastry, which is an NYgal favorite.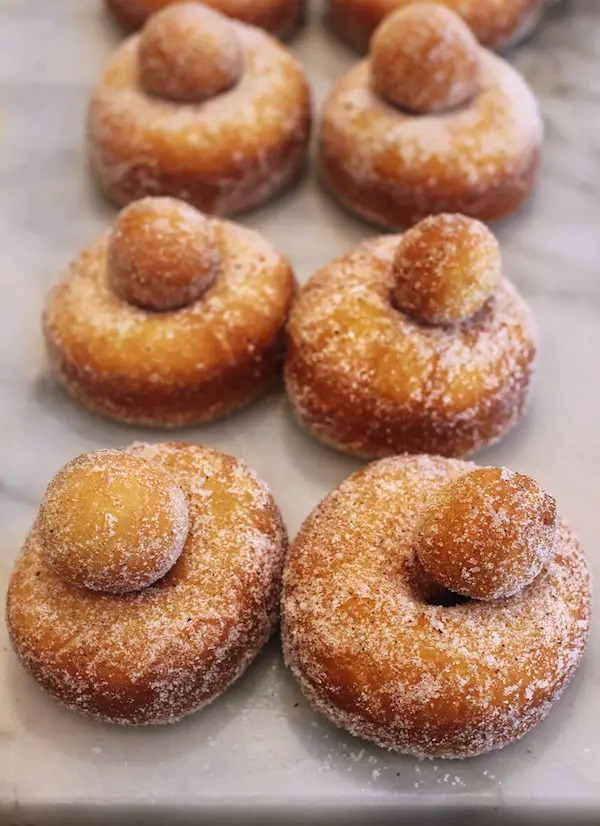 Image credit: Coffee and Champagne
Located in Astoria, Queens Comfort is the place to go to if you're looking to be adventurous. Serving eclectic brunch, lunch, and dinner dishes, doughnuts will of course be served on National Doughnut Day. The doughnuts will be baked by Montana D'Alessio Barbieri who's known as the Donut Diva. With the array of doughnuts Barbieri offers, an NYgal favorite is the red velvet with nutella cream cheese frosting.
One cannot go wrong with some doughnuts from good ol' Krispy Kreme. Krispy Kreme is a New York staple as its first franchise ever was opened in the city in 1996. This doughnut shop is known to provide consumers with the hot doughnut experience. On National Doughtnut Day, Krispy Kreme is offering one free doughnut per customer. An NYgal favorite would have to be the Orignal Glazed doughnut. Kripsy Kreme is located at Penn-Plaza-Amtrak Level.
Image credit: Atlanta Magazine