Sex and the City was a groundbreaking television series that followed the lives and adventures of four independent and stylish women navigating the complexities of relationships, careers, and life in New York City. The show captured the zeitgeist of the late 1990s and early 2000s and became a cultural phenomenon, resonating with audiences worldwide.
However, we are not going to talk about the drama that is going on but rather the fashion choices on "And Just Like That" that continue to make waves. We cannot overlook the impact they have on the audience. Fans eagerly await the appearance of each character, not only to witness their stories but also to see what they're wearing.
The outfits from Episode 3 have already garnered attention and admiration. We'll analyze the audience's reaction to these looks and explore how the show's fashion influences real-world trends. So, join us as we dive into the fashion highlights of "And Just Like That" Season 2, Episode 3, and maybe even find some inspiration for your own wardrobe.
Carrie's Sequin Fendi Baguette: A Meta Fashion Moment
In "And Just Like That," Season 2, Episode 3, a statement accessory steals the spotlight. Sarah Jessica Parker, portraying the iconic Carrie Bradshaw, is seen filming in a stunning magenta sequin Fendi baguette. The bold hue of the bag perfectly complements her pinkish silky jumpsuit and teal coat, creating a visually striking ensemble.
What makes this accessory even more special is that it is not just any bag. The sequin Fendi Baguette is actually a design collaboration between Sarah Jessica Parker and the esteemed fashion brand Fendi. This collaboration adds a meta element to Carrie's wardrobe, blurring the lines between fiction and reality.
The sequin Fendi Baguette bag exudes glamour and sophistication with its intricate sequin detailing and iconic Baguette silhouette. It serves as a testament to the enduring popularity and influence of the Baguette bag, which became a fashion icon in the early 2000s through its appearances in the original "Sex and the City" series.
For those inspired by Carrie's statement accessory, the Fendi Sequin Baguette Bag is available for purchase, albeit at a luxury price point of $4,900. Paired with a Misook Windowpane-Sleeve Relaxed Jacket, priced at $398, you can recreate Carrie's vibrant and fashion-forward look.
Lisette's Fashion Forward Dress by Ferragamo and Isshi Jewelry
Lisette, Carrie's downstairs neighbour, portrayed by Katerina Tannenbaum, showcases an on-trend look at her party in Bryant Park. She rocks a hooded mini dress from Ferragamo, exuding a stylish and contemporary vibe. What makes her outfit even more intriguing is the fact that her accessory line in the show is actually composed of pieces from Isshi, a queer and multicultural jewelry brand founded by Rolly Robinson and Jeauni Cassanova.
For those inspired by Lisette's fashion-forward ensemble, the Ferragamo Hooded Mini Dress can be purchased for $2,400. To complete the look, consider the Isshi Universo Collar, priced at $1,500, for a touch of unique and artistic flair. Lisette's outfit showcases her fashion sensibility and introduces viewers to the innovative designs of Isshi jewellery.
Lisette's on-trend dress exemplifies the contemporary fashion choices seen in the episode, and her collaboration with Isshi highlights the show's commitment to showcasing diverse and inclusive brands.
Charlotte's Rainy Day Elegance
Charlotte York Goldenblatt (portrayed by Kristin Davis) showcases her unwavering commitment to her posh style, even on a rainy day. Filmed with her adorable dog, Richard Burton, she braves the elements in a chic ensemble consisting of a trench coat, a floral skirt, and white pumps.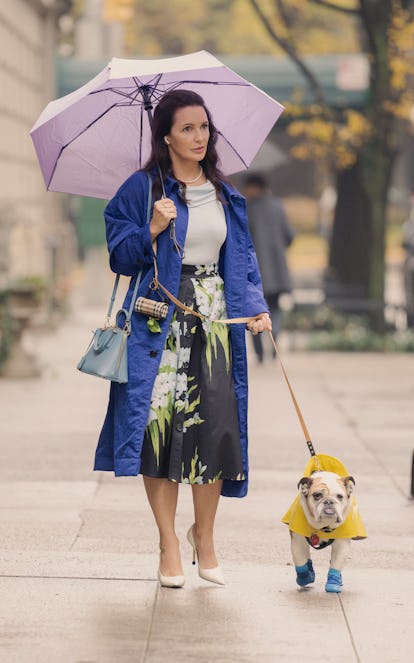 To achieve Charlotte's sophisticated rainy day look, you can opt for a J.Crew trench coat, available for $124 on J.Crew Factory. Pair it with the M.M. LaFleur Nora Top, priced at $195, for a touch of elegance. Complete the ensemble with an Oscar de la Renta Midi Skirt, on sale for $1,245 from its original price of $2,490, to exude timeless style.
Charlotte's fashion choices exemplify her Upper East Side sensibilities, even in less-than-ideal weather conditions.
Miranda's Effortless Urban Utilitarian Jumpsuit with New York City Style
Miranda Hobbes, portrayed by Cynthia Nixon, embraces a utilitarian jumpsuit in "And Just Like That," Season 2, Episode 3. Dressed in a charcoal jumpsuit, she effortlessly exudes a sense of practicality and style. Miranda pairs the jumpsuit with a pair of sandals and a crossbody bag, creating a look that feels quintessentially New York City, reaffirming her Big Apple style that remains intact despite her time in Los Angeles.
To achieve Miranda's urban chic ensemble, consider the Prada Stretch Poplin Jumpsuit, available for $2,100. Complete the look with Gucci sandals priced at $990, combining comfort and sophistication.
Miranda's utilitarian jumpsuit represents a departure from the dresses showcased in the episode, demonstrating her distinctive sense of style and her ability to effortlessly blend practicality and fashion.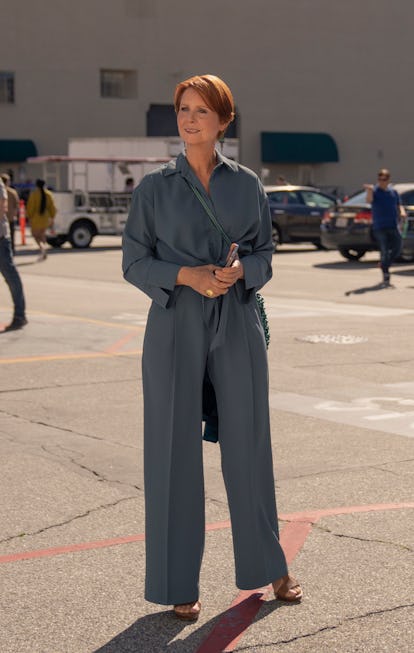 Seema's Vibrant Vacation Vibes
Seema brings a delightful and joyful summer look to the screen. Portrayed by Sarita Choudhury, she exudes vacation vibes with her one-shoulder peach-coloured dress and printed head scarf. Whether she's hanging out at Carrie's apartment or strolling along a beach, this ensemble radiates a feel-good vibe.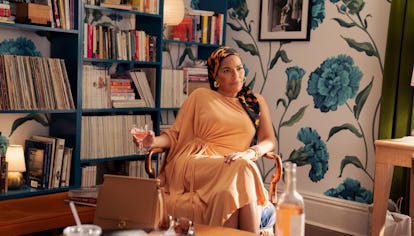 To recreate Seema's summer-inspired style, consider the Taller Marmo One-Shoulder Kaftan, available for $890 on Mytheresa. Complete the look with the Oma The Label Felicia Hoops, priced at $41 (on sale from $69), for a touch of elegance and flair.
Seema's outfit captures the essence of summer, evoking a sense of carefree happiness that is perfect for any warm-weather occasion.
In this sequel series, "And Just Like That," we catch up with the beloved characters of Carrie Bradshaw (Sarah Jessica Parker), Miranda Hobbes (Cynthia Nixon), and Charlotte York Goldenblatt (Kristin Davis) as they navigate the challenges of friendship and life in their 50s. However, the absence of Samantha Jones (Kim Cattrall), who moved to London, brings a new dynamic to the group.
To sum up, in Episode 3 of "And Just Like That" Season 2, the fashion choices left a lasting impression, showcasing the characters' unique styles and the impact of their outfits. From statement accessories to joyful summer looks, the episode presented a delightful mix of trends and inspired fashion moments.
See Also: 7 Best Fashion Podcasts to Spruce Up Your Free Time