Kale is leading as a health food staple as of late, and it's no surprise; Packed with an insane amount of vitamins and nutrients, kale is not only healthy, it's delicious!
NYgal has rounded up five innovative kale recipes that don't stop at the traditional salad. There is even something for the chocolate lovers in your life, so read on!
Kale Rosemary Super Seed Crackers
Perfect for when you're craving something crunchy and salty, these crackers make a great snack for when you're busy taking on the world.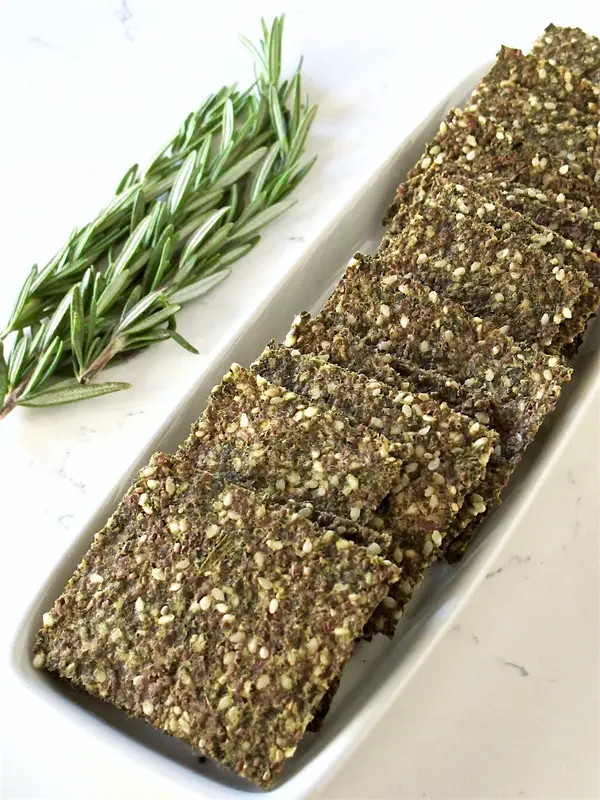 Image Credit: TastingPage.com by Kelly Page Recipe Page
Ingredients:
1 cup of kale
2 garlic cloves (minced)
1 tablespoon rosemary, (minced)
1/2 cup ground flax
1/4 cup chia seeds
1/4 cup sesame seeds
1 tablespoon olive oil
Salt (for taste)
Instructions:
Remove the ribs of the kale and chop it in a food processor
Preheat oven to 200 degrees Fahrenheit
Combine all ingredients into a large bowl and mix with your hands until you form a ball.
Place the ball between two sheets of parchment paper and roll out with a rolling pin. Roll until the dough is as thin as possible, avoiding breakage.
Place the rolled dough on a baking sheet and use a pizza cutter to make small scores in the crackers. Bake for about 45 minutes and then flip them, baking for another 45 minutes or until crispy.
Recipe Credit: TastingPage.com by Kelly Page
Creamy Potato Kale Soup
Yes, we are aware that it's the middle of summer in New York, but that's not stopping us from including this scrumptious soup recipe. File this one away for when you need some good ol' fashioned comfort food with a healthy twist!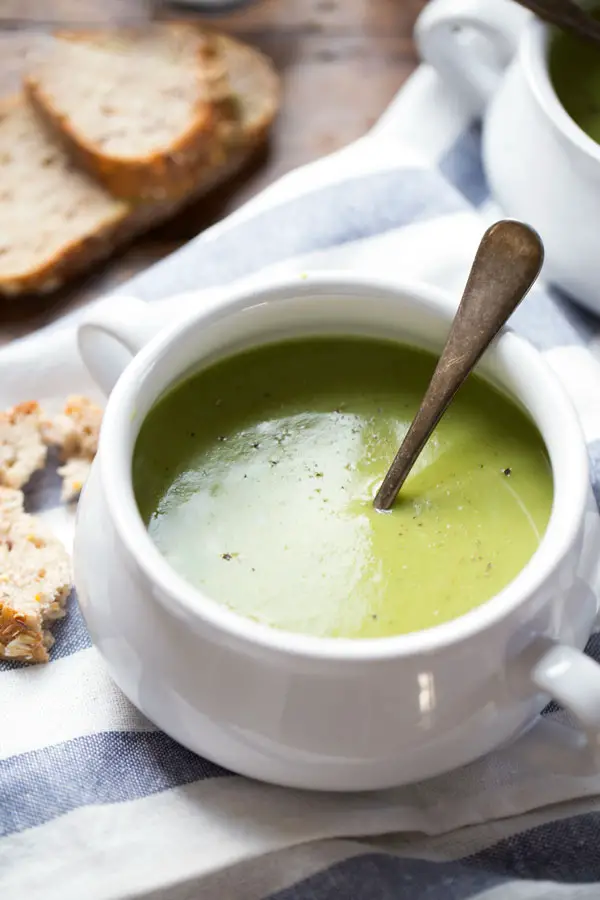 Image Credit:PinchofYum.com by Lindsay Recipe Page
Ingredients:
5 tablespoons butter
1 large yellow onion, roughly chopped
3 large potatoes, peeled and roughly chopped
8 cups chicken or veggie broth
2-3 cups of chopped kale with the stems removed
2 cups of milk
Salt and pepper (to taste)
Instructions:
Heat butter in a large pot over medium-high heat. Add in onions and potatoes, sauteeing until golden brown in color. This should take about 5-8 minutes. Sprinkle with salt and pepper.
Add 6 cups of broth and the kale.
Simmer for 5-10 minutes until the kale softens and becomes a darker shade of green.
Transfer the soup to a heavy-duty blender. Puree for 2-3 minutes or until the soup is completely smooth in texture.
Transfer the pureed soup back into the original pot and stir in the milk and remaining 2 cups of broth (depending on how thick you want the soup to be).
Season with salt and pepper.
Recipe Credit: PinchofYum.com by Lindsay
Kale Brownies
This recipe has chocolate in it. Need we say more? Now you can sneak the kids, your significant other, or your coworkers some kale– chances are, they won't even notice.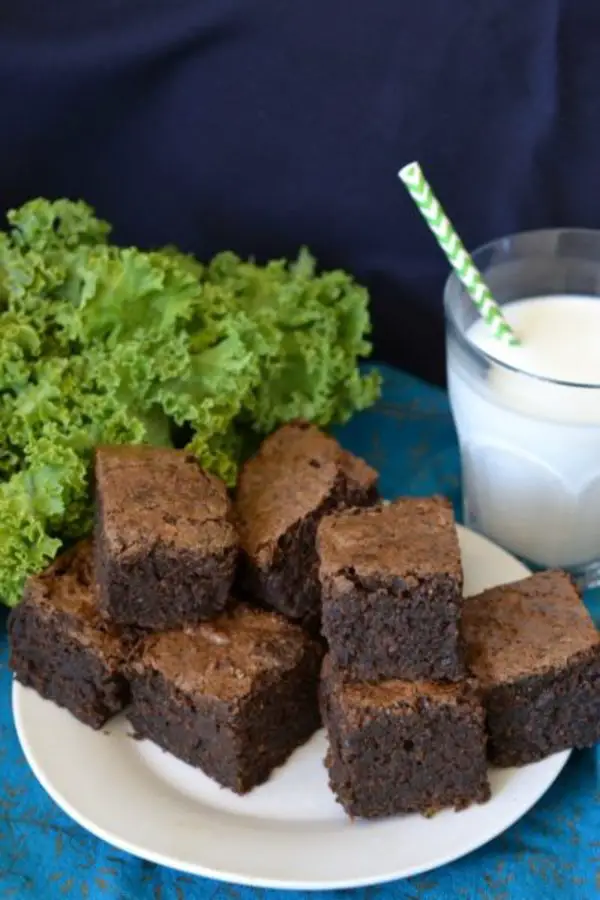 Image Credit: JollyTomato.com by Jeanne Fratello Recipe Page
Ingredients:
1 large bunch of kale
1 1/4 cup of flour
2 tablespoons of cocoa powder
1 teaspoon of salt
1 cup semisweet chocolate chips
3 oz. dark chocolate
1 cup (8oz.) unsalted butter
1 1/2 cup granulated sugar
1/2 cup packed brown sugar
4 eggs at room temperature; beaten
1 1/2 teaspoon vanilla extract
Instructions:
Wash kale and pat it dry. Gently tear the leafy portion away from the thick stems. Place the kale leaves in a steamer and steam until wilted. Place the kale in a food processor and puree it. Drain the excess liquid and set aside.
In a small mixing bowl, combine the flour, cocoa powder, and salt. Mix until thoroughly combined.
In the top of a large double boiler, melt the butter, chocolate chips, and the dark chocolate together. Stir until evenly melted and smooth. Remove from heat and let it sit until cooled to room temperature.
Add the eggs, kale, sugars, and vanilla to the cooled chocolate mixture. Mix well. Gently fold in the flour mixture until barely combined, taking care not to over mix.
Prepare a 13×9 pan by greasing it with butter and then lining it with parchment paper. Carefully pour the brownie batter into the pan and bake at 350 degrees for 35 minutes. You'll know it's done when a toothpick comes out clean.
Immediately after they come out of the oven, lift the brownies up and out of the pan so that they don't overcook and become too dry.
Recipe Credit: JollyTomato.com by Jeanne Fratello
Roasted Garlic Kale Hummus
This roasted garlic hummus is a great addition to the Kale Rosemary Super Seed Crackers recipe we included above. Now you can have your kale and eat it too!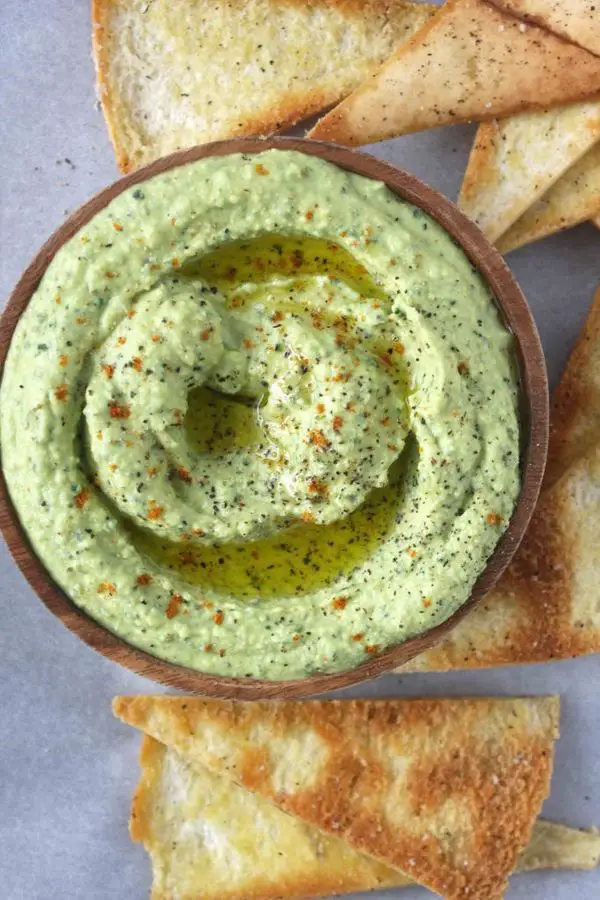 Image Credit: TheGarlicRecipes.com by Annie Chesson Recipe Page
Ingredients:
1 head of garlic
5 kale leaves
2 15.5oz. cans of garbanzo beans (chickpeas)
2 lemons (about 1/2 cup of juice)
1/2 cup of tahini (if purchasing the all natural kind, it will be separated and you will have to stir it until it all comes together)
4 tablespoons of olive oil
1 teaspoon salt
2 tablespoons of water
Cayenne and black pepper (for serving)
Instructions:
Preheat your oven to 400 degrees.
Take apart a head of garlic, but leave each individual clove still in its paper wrapping.
Set one clove aside and don't roast it – we will add that one into the hummus raw.
Place the garlic cloves in a piece of foil, and drizzle a little bit of olive oil over them, along with a pinch of salt and pepper.
Wrap the foil around the garlic cloves so it forms a pouch, and roast for 25 minutes, or until the garlic cloves are tender when pierced with a knife.
Let the roasted garlic set out to cool and bring a pot of water to a boil.
To prepare your kale leaves, slice out the stem all the way up the leaf so that you just have the dark green leaf of kale (the stem can be very tough).
Slice up the kale in about 2-inch strips.
Fill a large bowl with ice and water and set next to the boiling pot.
Add the kale into the boiling water and let it cook for 1 minute and 30 seconds. Transfer the kale into the ice bath to cease the cooking.
In your food processor, add the garbanzo beans, lemon juice, tahini, olive oil, salt, water, kale leaves, roasted garlic, and raw garlic clove.
Process until the mixture is completely smooth.
To serve, transfer to a bowl and drizzle lightly with olive oil and sprinkle on a pinch of cayenne and black pepper.
Recipe Credit: TheGarlicDiaries.com by Annie Chesson
Instant Kale Pesto to Die For!
The name of the recipe says everything you need to know: this kale pesto is to die for! All it requires is a few simple ingredients and you'll have yourself a winner.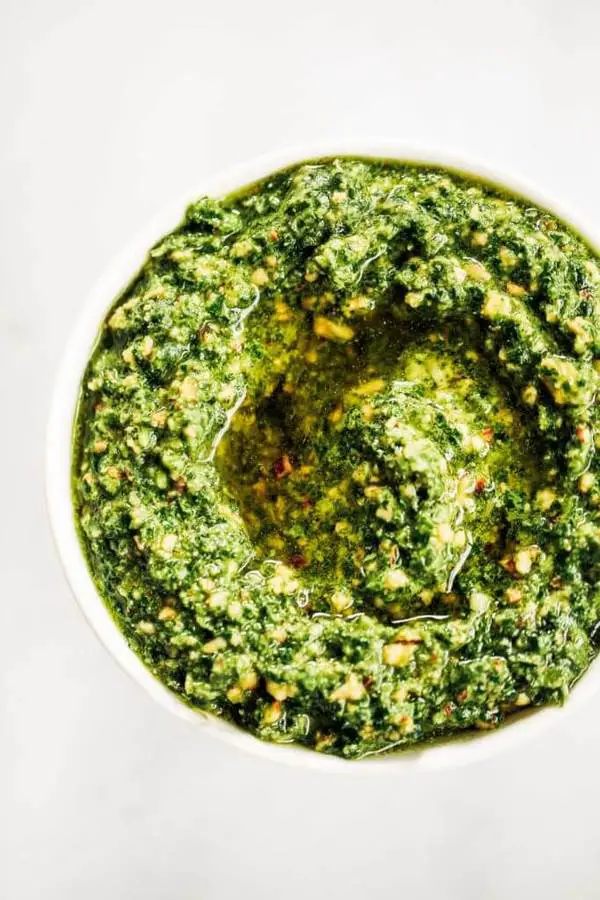 Image Credit: PaleoGlutenFree.com by Kaylie Recipe Page
Ingredients:
1 cup kale
1 cup fresh basil
1/4 cup parsley
1/2 cup olive oil
1/4 cup almonds
1/4 cup raw cashews
Juice of 1 whole lemon
2 garlic cloves
1/2 teaspoon sea salt flakes
Instructions:
Pulse ingredients in a food processor until it reaches desired consistency. Store in the fridge for up to one week.
Recipe Credit: PaleoGlutenFree.com by Kaylie
All this talk about kale is making us hungry. We'll see you in the kitchen, NYgal!
Featured Image Credit: Scott Webb via Unsplash