Last week, startup company Cargo released news of their latest expansion by partnering with the car service, Uber.
The partnership aims to provide customers with snacks, beverages, electronic accessories and even beauty products while simultaneously supporting Uber drivers.
.@GetCargoToday CEO @Cripeosaurus chats about the exclusive partnership with @Uber, which helped create an in-car commerce company for the ridesharing experience. #CheddarLIVE pic.twitter.com/uUlt29PWw5

— Cheddar (@cheddar) July 30, 2018
It's a scene that is all too familiar for regular passengers: You leave your lip balm, coffee or headphones at home, but don't have enough time to retrieve them as the taxi pulls away.
Or you're simply dreaming of a drink or snack in gridlocked traffic remembering the rare and serendipitous moment a taxi driver provided you with free water.
The N.Y.C company wants to make this an issue of the past by fitting their portable and conveniently sized vending machines into Uber cars. Since launching in 2017 there are 7,000 drivers as of now, having earned more than a million dollars and serving over a million customers according to their website.
Hopeful to reach their target of 20,000 by the end of this year, Cargo is now distributing vending machines to drivers in L.A and San Francisco, in addition to the presently included cities of Boston, Minneapolis, Baltimore, Atlanta, Dallas and New York.
Vending machines will include all the aforementioned products, but for NYgal's the beauty saving items are crucial and will help those with hectic schedules and minimize unplanned mishaps to just slight bumps in the road.
Eye patches and lip masks will be available in many cabs for a quick fix to reduce tired and dehydrated looking skin.
Skincare brand Patchology and Cargo have also teamed up and will offer LASHPATCH® REJUVENATING EYE GELS made with caffeine, sodium hyaluronate, Centella Asiatica, hydrolyzed collagen and portulaca oleracea extract that help reduce puffiness while toning and moisturizing- all in the time it takes to reach your destination!
Other beauty items are the Patchology Super Smooth Talker lip masks made with cooling peptides and green tea extracts and Winky Lux Matcha Lip Balm each for $15-$14. All cruelty-free!
These and other items can be purchased by scanning the Cargo code or entering the ID on the website and then selecting the desired product which will be handed over by the driver.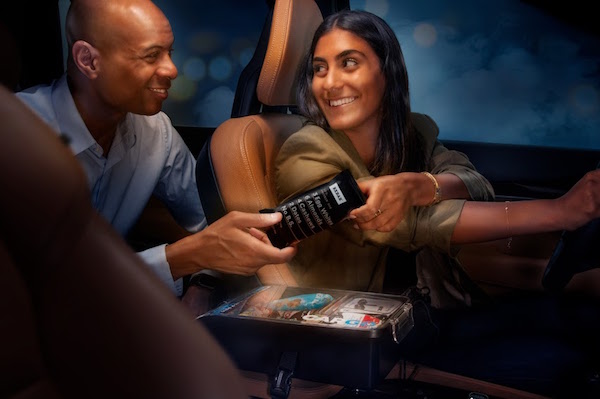 Image Source: Cargo
Around 30% of the products are free samples and for each transaction, free or not, the driver receives 25% commission on sales, plus $1. Uber hopes to tackle drivers increasingly publicized complaints, one of them being that they are underpaid. The average amount a driver will earn is $100 a month and for busier drivers, it can be up to $300, reported Forbes.
On the Driver information section on Cargo's website Uber's business development lead, Keith Hensley said:
"It's always a pleasant surprise when you're in an Uber and the driver offers you a bottle of water or a piece of gum, but up to this point, these perks have usually been on the driver's dime. Cargo took note of this and created an innovative model that aims to bring new value to riders and drivers. We're looking forward to working with Cargo to develop and scale in a way that makes the most sense for our customers."
If you don't use Uber, don't stress. Although the brand is working exclusively with Uber, drivers that work for similar cab services such as Lyft and Juno will be allowed to sell products during different shifts, regardless of the app.
Cover Image Source: Cargo