John J.MCDERMOTT was an Irish American athlete born in Manhattan, NYC to James Mcdermott and Lizzie Gady. He had won the first marathon ran in the United States, Boston in 1896. That day James had completed the 24 miles 39.4 km race in less than three hours. After John J. Mcdermott won the race, the length was later increased to its current distance in 1927.
However, in 1966, a woman of great confidence became the first woman to complete the run, although she ran without a number. She had to be the first women to inspire other women to strive for their dreams. Which brought change for Kathy Switzer, in 1967 from Germany, who changed her name to a male's to enter the race where she ran a 26 miles course.
KATHY SWITZER JOURNEY WITH RUNNING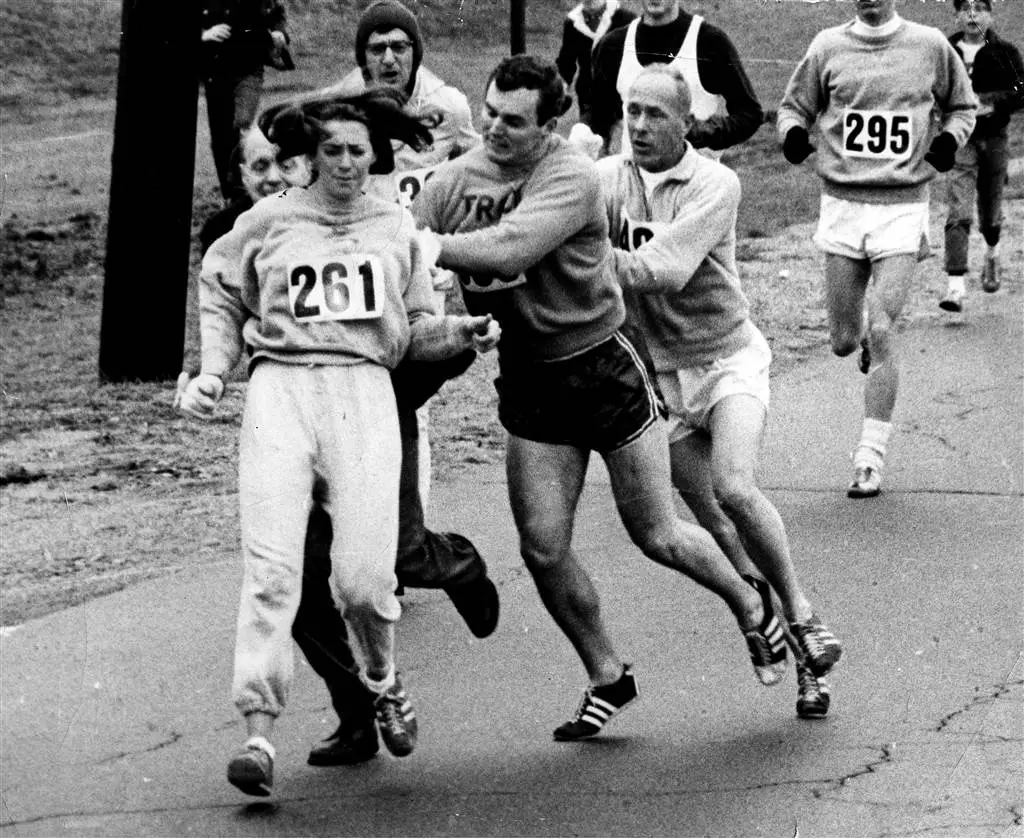 The media's attention was clearly inspecting her actions & societies starting feeling that possibly women could run the same amount of hours as men can. It sent a powerful message to the world.Bringing light to allowing women to be accepted into major marathons as competitors.
This phenomenal woman Kathy Switzer decided to start her career as journalist broadcasting races & women races. Switzer went even further by creating her own non- profit charity called"261 FEARLESS" in efforts to empower women running all over the world. Her attempt to run & complete another race after she was well over age proved that she was still a determined woman who wants to inspire both genders.
THE SIX BRAVE WOMEN SITTING STILL
In 1972 Boston Marathon Became the first marathon race to officially admit female runners. In 1975 Boston Marathon became the first to hold a wheelchair race. It is impressive the changes that had to happen in order for the race to prosper today.
The amazement still manages to continue when Desiree Linden, Born on July 26, 1983, in CA, USA. April 15, 2018, she became the first woman to win the race in 33 years before. She had finished the race in 2 hours 39 minutes 54 seconds, despite the coldness & wetness & headwinds & having to use the restroom within participating in the race.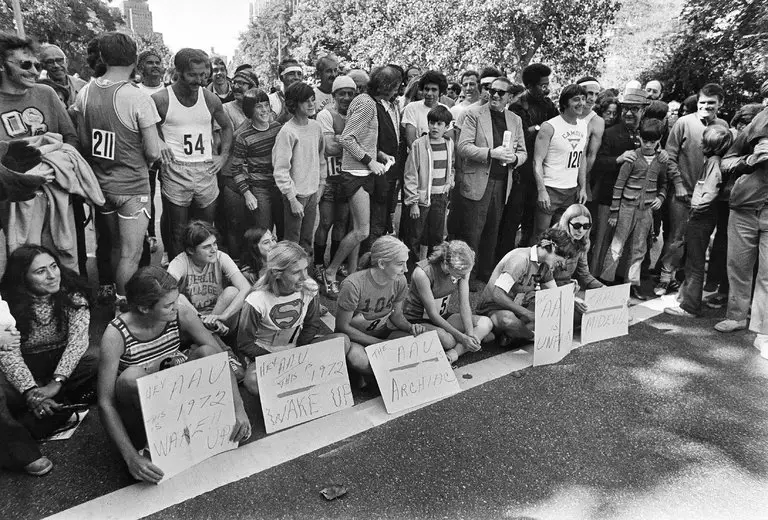 When the Amateur Athletic Union in the United States decided to allow women to run the marathon, if they started 10 minutes before or after men, or start racing in a whole completely new area from men when racing. Six women from New York City decided to challenge the rules that were set in which they changed the marathon forever.
In 1972 NYC marathon six women sat down in front of the finish line.Lynn Blackstone, Jane Muchrke, Liz Franceschini, Pat Barret, Nina Kuscsik, Cathy Miller. Earlier that year Kuscsik became the first woman to officially win the Boston marathon. She went on to be the first woman to finish the NYC Marathon that day in 1972. Because of the bold statements these women did, we should feel forever grateful for their kindness & bravery.
A BIG SAD TRAGEDY IN THE USA
It is true that the situations on April 15, 2013, will be hard to forget or remember given the circumstances with it. On that day two homemade bombs detonated near the finish line at the annual Boston marathon. That incident alone could have made you fearful for just running in the park.
God rest the three victims that passed away that day. God bless the several hundred people that also got injured that day. Of course, security protection had to be boosted the following races after in efforts to prevent such a gruesome attack from happening again. I then would conclude that even though its normal to feel fearful of attending or participating in a race, don't like that incident discourage you as it did me in the past.
CONCLUSION
I can finally say in my opinion that women shape the world. Because of their resilience. Us women shape the world because of our bravery & boldness. We inspire greatness when working together.I myself am inspired to join a marathon in the future to see if I can inspire others as well to come out your comfort zone. Fight for what you believe in & soar.
Just remember the former women's & new yorkers who played a significant role in the Olympics, setting an example people all over the world. It's amazing how people all over the world come to United States Of America just to run. These athletes in the past races became our role models in a way for sticking their ground.The message still lives on that women can work independently or collectively an still can make an amazing difference.