Whether you're a bride-to-be who has been forced to reign in your extravagant plans in favor of a plain "minimony" due to the pandemic, or you've always dreamed of an intimate celebration wearing a simple, elegant dress, we've got you covered. Or perhaps the current state of the world has got you dreaming of an elopement, and you are in search of the perfect, minimalistic dress for your romantic getaway.
These budget-friendly white dresses could be worn on the best day of your life, or they could also be the ideal dress for a bridal shower, bachelorette party, or rehearsal dinner. You could even get away with wearing one as a second wedding dress without giving your fiancé a shock when he sees the price!
During these unprecedented times, brides everywhere are concerned about the rules and regulations of in-person bridal appointments. Purchasing an affordable wedding gown online may make the most sense for a safe and stress-free shopping experience.
ASOS EDITION Embroidered Mesh Over Lace Fishtail Wedding Dress
No one will believe that this white dress is under $300. ASOS Edition Bridal Collection brings you affordable yet elegant dresses for your special day. While sizes are limited, make a date with your tailor to ensure it fits perfectly.
After all, when you spend $300 on a wedding dress, you will likely have the budget for alterations. The embroidered mesh, plunge back, and classic buttons will make this fishtail wedding dress stand out even more.
Reformation Geranium Dress
Reformation has a collection of white dresses that are perfect for the minimalist bride. Luckily, Reformation's budget-friendly dresses certainly don't compromise on style. The Geranium dress has a v-neckline, deep v back, a dainty back neck strap, center back tie, and slightly puffed shoulders. The slim-fitting dress is also sustainably made in Los Angeles with 17.0 gallons of water savings, 1.2 lbs of waste savings, and 12 lbs of carbon dioxide savings. 
Whistles Mia Square-Neck Crepe Wedding Gown
This sleeveless wedding dress with a square neckline is so timelessly elegant that I am beginning to question why anyone spends thousands of dollars on a wedding dress. Not only is the classic A-line silhouette flattering to all body shapes, but the back of the dress is the defining feature. The back is open with a tulle panel that is truly stunning and will be sure to leave your guests speechless.
Reformation Limoncello Dress
Channel some Tuscan vibes in this Italian-inspired Limocello dress at Reformation. While destination weddings are on hold right now, you can still bring a touch of Italian fashion to the US. This off-the-shoulder dress would look great for a romantic elopement to Napa Valley, photographed at the stunning vineyards. Perhaps one of the best parts of this dress is the relaxed fit, elastic waist, and detachable belt which ensures a comfortable fit.
Reformation Sauvignon Dress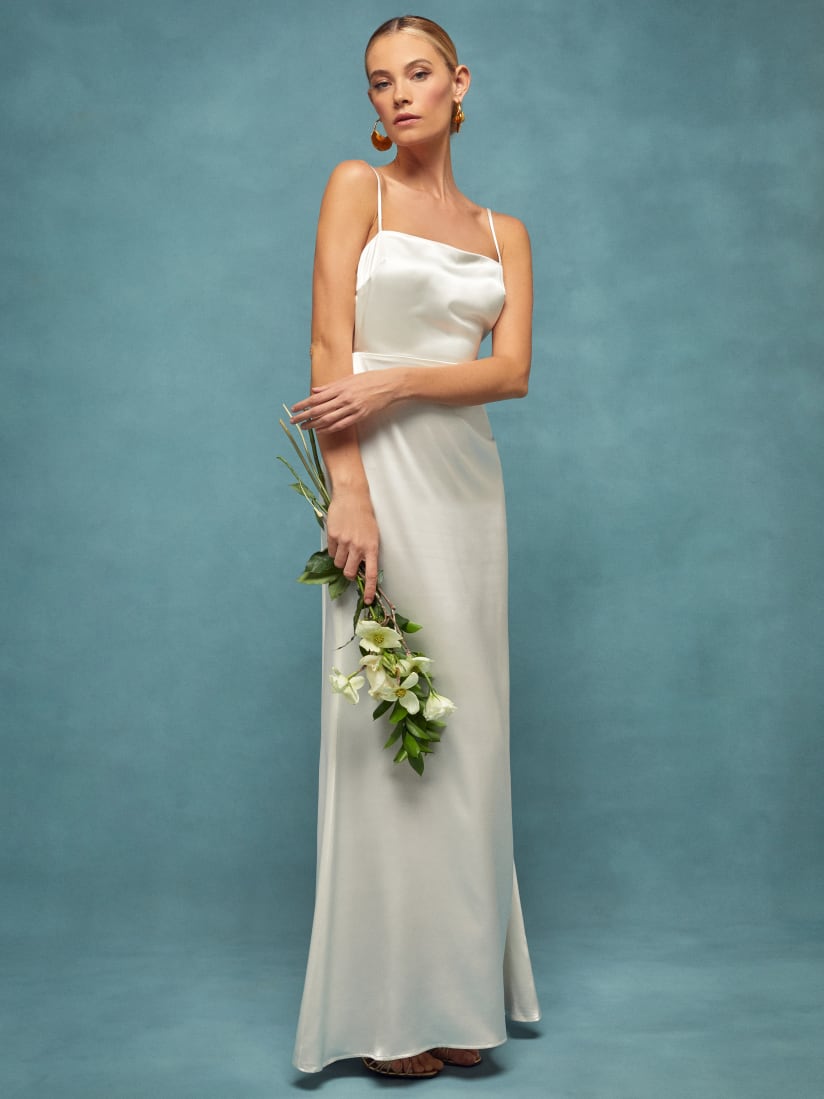 Whether you opt for a courthouse wedding or a beach wedding, this simple dress will wow anyone in attendance. The ankle-length dress has a straight neckline, an open back, and adjustable straps. The slim-fitting bodice and center back tie ensures all eyes are on the bride.
ASOS EDITION Sophia Plunge Lace Wedding Dress With Pleated Skirt
And the award for the prettiest, most affordable wedding dress goes to ASOS Edition's lace white dress. The dress has a plunging neckline with lace inserts, and the pleated skirt enhances elegance on your special day.
Badgley Mischka Lace Strapless Mermaid Dress
If you're looking for something a little different, this lace strapless dress could be a unique wedding dress or be worn for the events leading up to the "I do's." The romantic lace design and mermaid silhouette are what wedding dreams are made of.
Reformation Evelyn Dress
The glamorous Evelyn dress is sold in six stunning colors. The blush, champagne, and ivory colors would each look perfect for all your wedding events. The dress from Reformation has a fitted bodice and a relaxed fit skirt, with a front slit and an asymmetrical neckline, which will leave everyone in awe.