If you've ever felt the urge to smear your ice-lolly or popsicle all over your face on a melting day this latest skincare trend is the perfect answer to that.
And if not, then why not try something new? After all, it does seem like an innovative method to cool off and the summer is hot, right?
French luxury beauty brand, Votre Vu, released their first popsicle product out into the frozen skincare market earlier this year.
Les Sorbet's product description is listed as follows, "French wonder sérum for any area of the face and neck that needs a lift. This frozen pop-up stick is richly activated with 40% anti-aging marine superstars—elastin and collagen—blended with muscle relaxing vegetable peptides."
Simply pour the serum into the push-pop like device and leave in the freezer until needed. Voila!
It includes** Beech (Fagus Sylvatica) Bud Extract, Hydrolyzed Collagen and Hydrolyzed Elastin ** -all of which apparently, "helps protect skin from free radicals while contracting fine facial muscles, boosting circulation and working to help tighten, tone, revitalize and stimulate the complexion."
The company also stresses that Les Sorbet contains no toxins, parabens, artificial colors and any other harmful ingredients found in many skincare items. Plus they don't test on animals, which we LOVE at NYgal!
But alas, the 30ml Les Sorbet costs $140 plus tax, which isn't in the ideal price range, considering how small the product is.
Thankfully, Blush Med Skincare, Maryland and DC-based stores, offer facials, popsicle facials, advice and non-harmful cleansers creams, serums and everything else and they're willing to share their recipe for the perfect summer treat- for your face, that is.
Although, if there are no ingredients that can't be ingested, why not?
Each month on their website Blush features a new popsicle recipe, one that customers in the area are able to try in store in a facial treatment or at home.
Bustle recently reported on this, listing some of their recent ingredients of three popsicle ideas that can be altered depending on the user's skin type and availability of the components.
The same steps apply for a popsicle than for those of a facial popsicle. First, buy or find a suitable tray to freeze the ingredients; combine them, pour the mix into the tray and freeze. Then use whenever needed to reduce puffiness or for a refreshing boost. If you wish, place the lollies back in the freezer for several applications.
Some examples from Blush are: To obtain clean pores while moisturizing combine active charcoal powder with greek, or any type of yogurt. To eliminate redness, puffiness or for a visible hangover– try a soothing blend of cucumber water and turmeric.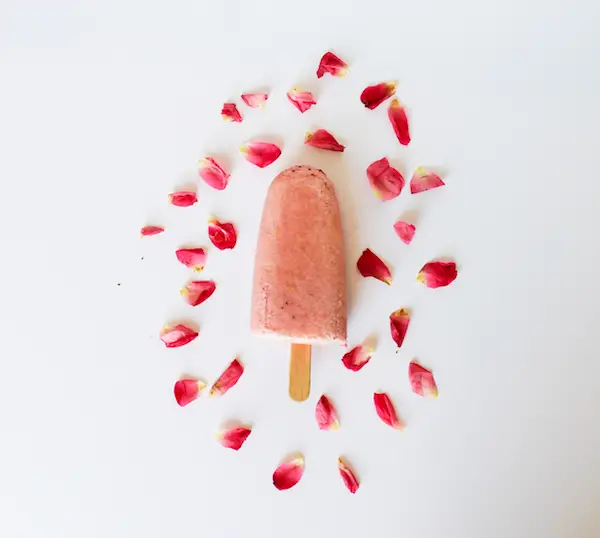 Image Source: Bustle
Rose water and oils are seemingly expanding in the skincare market due to their praised benefits, such as anti-aging and hydration. To create this alluringly shaded popsicle combine rose and coconut water with fresh mint.
July's latest addition is a watermelon skin plumper popsicle that tightens! Consisting of watermelon and hyaluronic acid, the facial increases the collagen levels in the skin.
Get creative and combine some of your favorite fruits and serums to make your own personalized popsicles. Let us know what you come up with!
Image Source: growforagecookferment