Woman all over the world as well as publications were raging about Sex and the City's 20th anniversary on June 6 through social media outlets. As everyone already knows, E! will be airing the whole series from the first episode to the 94th episode on June 8 to June 10.
Before you invite your girlfriends over this weekend to watch the whole series and reminisce on how every single episode changed each and every one of your lives, celebrating appropriately is a must.
With that being said, NYgal rounded up the five "must have's" for your Sex and the City 20th anniversary viewing party.
Drink Something Pink
We all know Carrie, Samantha, Miranda, and Charlotte loved Cosmos, which means you should get your mixology on and whip up a cosmo. If you don't have time to make a cosmo or are just too lazy, then pop some bottles of Rosé. Since the girls were boujee at times, you should try and serve your drinks in martini or wine glasses. If you don't have any of those, then serve your drinks in plastic cups because what else are you going to do. As long as you are drinking, it's all good in the hood!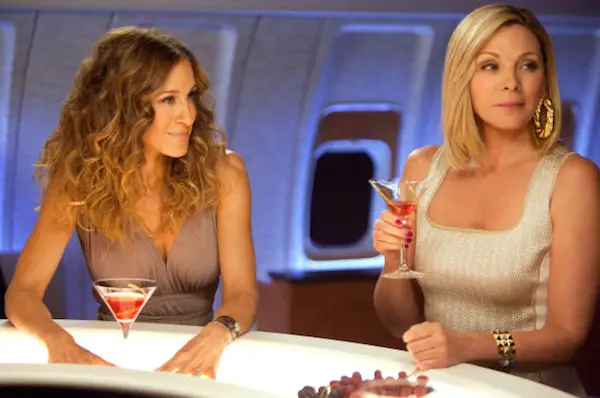 Image Credit: New York Post
Chinese Take-out and Cupcakes
Although the girls dined at top of the line restaurants, they still had their fair share of street food and take-out. In that case, order some dumplings, pork fried rice and all that good stuff because Carrie and Miranda were spotted having some chinese take-out on the New Year's Eve scene in the first Sex and the City film.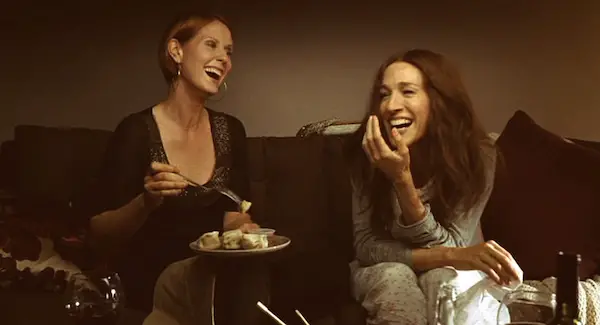 Image Credit: thewomag.com
Also, don't forget about dessert. Once again, Carrie and Miranda were sitting on a bench and munching on cupcakes from the iconic Magnolia's Bakery in Season 3, Episode 5 while Carrie mentions the crush she has on Aiden. If Magnolia's has run out of the vanilla cupcakes topped with pale pink buttercream frosting and the delicate little daisy by the time you arrive, then ask for vanilla cupcakes with any color frosting, as long it's buttercream. Also, if you can't make it to Magnolia's, then you can utilize these recipes to make the cupcakes at home. Just make sure you have the ingredients!
Dress Up
A Sex and the City celebration isn't a celebration if you don't dress up! Although the Carrie, Samantha, Miranda, and Charlotte had different tastes in fashion, they still dressed up and wore their heels to any dinner or function they attended.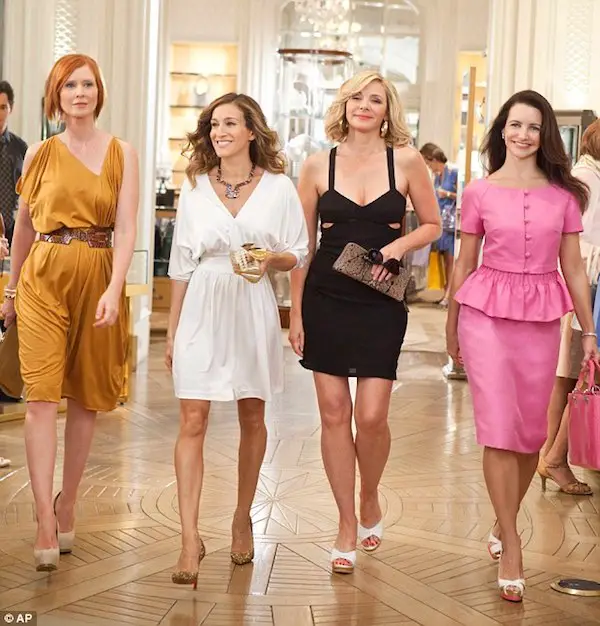 Image Credit: ilovestyle.com
Make your get-together fun by asking your girlfriends to style their best outfit and favorite heels. If you have Manolo Blahnik's or Jimmy Choo's, then you are one lucky gal and if you don't have designer heels, then do not worry about a thing because you're still wearing heels, right?
Once everyone arrives dressed up, prep a mini runway and make sure to play the Aerosmith and Run DMC remix of Walk This Way, since that was the tune featured in the first Sex and the City movie when the girls were helping Carrie clean up her closet before moving in with Big to the penthouse.
Fun and Games
Trivia always gets the party started, especially if its Sex and the City trivia. Before tuning into E! to watch the series this weekend, you can create a trivia game about the show and quiz your gal pals' knowledge of details, facts, or popular quotes from the most memorable episodes.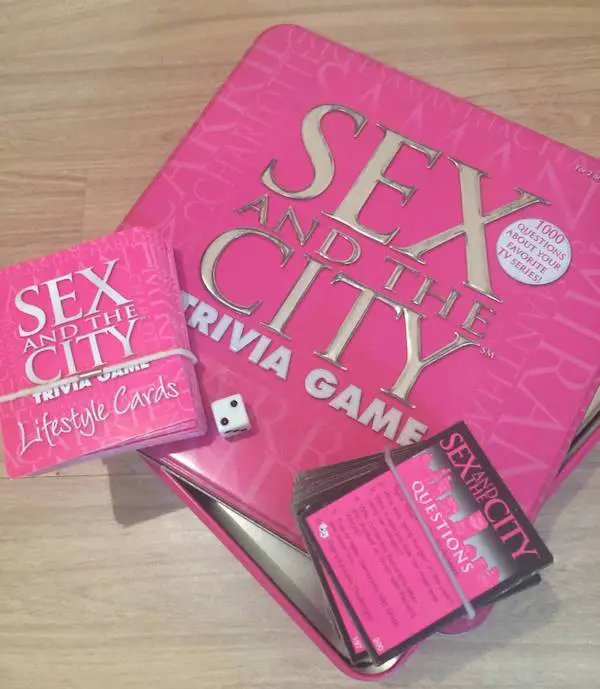 Image Credit: Enjoei
If you rather go all out rather than playing trivia, then creating goodie bags for your gal pals is another option. Try finding shopping bags from high end New York City stores like Berdorf Goodman, Henry Bendel, or Saks, since these stores happened to be some of Carrie's favorites. If you end up finding bags from these stores, they can actually be utilized as your goodie bags. Incase you can't find the original bags, you could always purchase similiar shopping bags and attach your own logo. The goodie bags can be filled with cosmetics and a gift card to a coffee shop, spa, or a department store of your choice.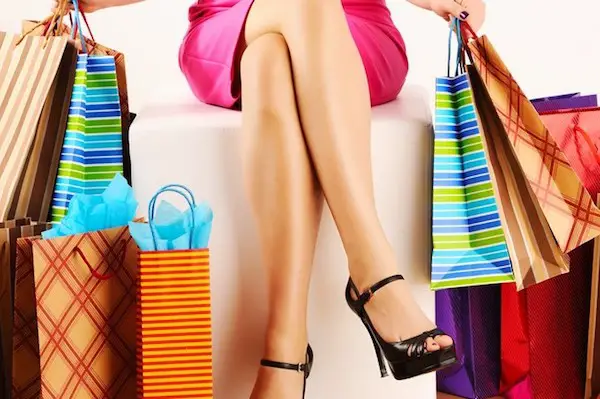 Image Credit: balladins.com
Feature Image Credit: HBO Films