On every corner of the city, NYC has backdrops worthy of marrying themselves to Instagram feeds. Recognized NYC landmarks and the contour of the skyline from a rooftop bar are great- but totally expected. Artwork is everywhere in the city, from Bushwick bathrooms to MTA stations, to graffitied buildings. Artists are constantly embellishing the city in political, social, and exhibitionist displays.
Here are some of NYgal's recommended spots to get that perfect shot. See them before they're gone!
1. Jonathan Villoch – Welling Court Mural Project
This linear piece, overloaded with distorted shapes, melding colors together is located in Astoria, Queens. Created by Brooklyn-based artist, Jonathan Villoch and organized by the Welling Court Mural Project, an organization that supports local and visiting artists to help beautify the neighborhood, it is currently made up of over 150 murals.
2. Divine Mother by Kimyon Huggins
Another addition to the Welling Court Mural Project is Divine Mother by artist, Kimyon Huggins. This piece presents an image of a pregnant woman wearing a headdress in the Lotus position, gesturing the yogi hand symbol, Gyan mudra. It was inspired by the artist's own Tibetan-Buddhist faith. It can be found in Astoria, Queens.
See Also: Post Pictures like Influencers with This 1 Secret!
3. Banksy – The Bowery Mural
The Bowery Mural is constantly featuring new artwork by both emerging and renowned artists. Its most recent showcase was created by legendary street artist, Banksy. Although his appearance and real name are somewhat of a mystery, Banksy's political views are not- clearly reflected through his decades-long activism practicing prodigious urban art. This new piece of his consists of several tally marks, as well as Turkish artist Zehra Dogan, behind barred lines. Dogan remains infamous for being imprisoned for three years after painting a watercolor piece based on a newspaper photograph.
4. I Choose Love by Hektad
First Street Art Park is full of murals awaiting admiration and photos. One of those murals, created by Hektad, features a red heart at the center with the words, I Choose Love. Just in time for Pride Month, this wall is perfect for a couple photo…Or, if you simply just love, love.
5. Hate or Love by Kantapon Metheekul
Also seen in the First Street Park is a more subtle approach to a mural, done by artist Kantapon Metheekul, whose notable work includes a Kim Jong Un and Donald Trump kissing piece that recently flooded the media. His floaty, minimalistic style has made its way to the park on a mostly white painted wall. Metheekul's Hate or Love divides color and gray- Ying and Yang separated by a small black sphere. On one side, a muted toned gun emerges as a rigid stemmed pink flower. Another one of his pieces, Golden Pool, is also located in the park.
6. Birds Eye View by Lady K Fever
To celebrate NYC's, Art in the Parks program's, 50th year, artist Lady K Fever turned the walls of Mosholu Playground, Bronx, into several lively pieces. Birds Eye View, matches the summer bloom of the trees and flowers, adorning the side of the children's play area on a sky blue background, as bugs and flora dance along above the pavement.
7. I Lift My Lamp Beside the Golden Door by Dorothy Iannone
Located at 22nd street, on the High Line is artist Dorothy Iannone's three Statues of Liberty mural, I Lift My Lamp Beside the Golden Door. Described as an ode to the Statue of Liberty, the white wall holds three Statues of Liberty, in multicolored, daring ensembles with the last line of poem The New Colossus by Emma Lazarus, hanging overhead reading, "I Lift My Lamp Beside the Golden Door." The installation will remain there until March 2019.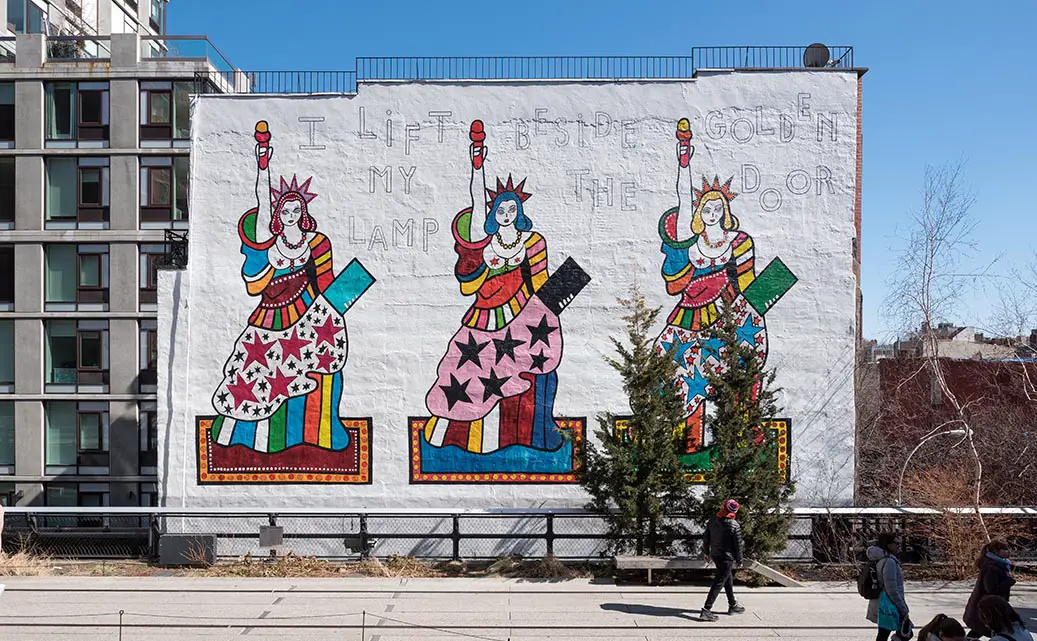 Image Source: art.thehighline
8. Karla & James Murray's Special Project
Husband and wife photographers, Karla and James Murray have documented the ever-changing NYC neighborhoods and the outflow of small, mom and pop owned stores. Okay, so it's not technically a mural, but this exhibition is the documentation of their project, which will eventually be a large wooden installation with each side honoring dissipating businesses inspired by their photograph collection: Cup & Saucer, a delicatessen, a bodega, and a newsstand. It will be located in Seward Park, Canal Street and Essex Street from now until July 2019.
Cover Image Source: art.thehighline.org