Hey there, fashionistas! Are you on the hunt for some fresh nail inspiration to elevate your style game? Look no further than Hailey Bieber's iconic nail art looks! As a top model and fashion icon, Hailey is always serving us some seriously trendy and chic nail art looks that are sure to turn heads. From her famous glazed donut nails to her bold prints, French manicures with a twist, and abstract nail art, Hailey has something for everyone. Whether you're looking to add a touch of metallic glam or play with negative space designs, Hailey's repertoire of nail art is the perfect source of inspiration. So, what are you waiting for? Get ready to take your manicure game to the next level with Hailey Bieber's epic nail art looks!
And let's not forget about Hailey's love of elevated basics like oversized blazers, white t-shirts, and jeans. She knows how to make even the simplest pieces look stylish and put together. Whether she's attending a red carpet-event or running errands in LA, Hailey always looks effortlessly cool.
But what really sets Hailey apart is her ability to accessorize. She knows how to make a statement with the right pair of sunglasses, a handbag, or pair of shoes, and even with her outstanding manicure choices.
So whether you're looking to update your wardrobe, experiment with new styles, or simply admire some seriously chic outfits, Hailey Bieber's fashion choices are sure to inspire.
Here are some of the major nail moments from Hailey:
Hailey Bieber's Glazed Donut Nails
Bieber's famous glazed donut nails were also done by Ganzorigt. Fortunately, the nail artist shared the exact formula to achieve the instantly iconic look at home. For the pearly, neutral hue, Ganzorigt used OPI GelColor Stay Strong Base Coat, OPI GelColor in Funny Bunny and OPI GelColor Stay Shiny Top Coat. She finished it off with OPI Chrome Effects in Tin Man Can.
The Pop Green Coachella '23 Nails
She rocked these nails at Coachella this year, and they were the perfect pop of color she needed for her clean, basic outfit. If there is something she is famous for, it's accessorizing her minimalistic outfits to the max. A beautiful green with abstract 3-D lines of gold.
French Manicure with a Twist
Hailey Bieber is a fan of the classic French manicure, but she likes to add her own twist to it. Instead of the traditional white tip, she opts for different colors and designs. In one of her Instagram posts, she showed off a French manicure with a neon green tip, which was a fun and bold take on the classic look. She has also been seen with French tips in pastel colors like pink and blue.
Bold Prints
Hailey Bieber is not afraid to experiment with bold prints on her nails. In one of her Instagram posts, she showed off leopard print nail art that was both edgy and chic. She has also been seen with zebra print, cow print, and even graffiti-inspired designs.
Classic Yellow Nails
 Hailey tells us that there is nothing wrong with still rocking a simple gel polish, but only when the polish is the right color. She is often seen adorning basic yet stunning colors such as this yellow, a mind-blowing color that is an amazing eye-catcher and a total vibe.
Hailey Bieber's Pink Ombré Nails
Ombré nails are a great option if you want to add more visual dimension to your manicure without getting a detailed design. For this pink ombré look, Bieber went to nail artist Britney Tokyo in 2019. The square-shaped nails added a sharp edge to the soft color.
Negative Space
Hailey Bieber loves to play with negative space in her nail art. She has been seen with geometric shapes, stripes, and other designs that use negative space to create a unique and modern look. In one of her posts, she showed off a black-and-white negative space design that was both elegant and edgy.
Metallics
Hailey Bieber loves to add a touch of metallic to her nails. She has been seen with metallic silver, gold, and even rose gold nails. Metallic nails are perfect for adding a touch of glamour to any outfit, and Hailey knows how to wear them with style.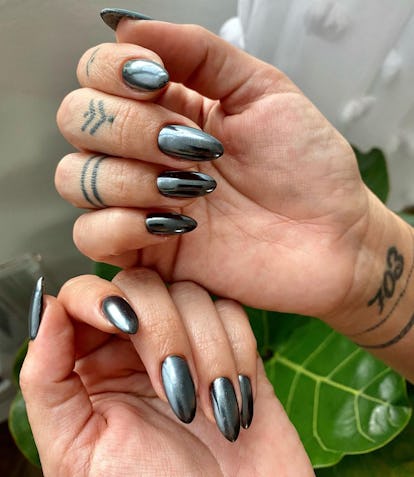 Abstract nail art
Hailey Bieber is a fan of abstract nail art that features a mix of colors and designs. She has been seen with nails that feature different shapes, lines, and dots in various colors. This type of nail art is perfect if you want a unique and playful look.
In conclusion, Hailey Bieber's nail art is a constant source of inspiration for those looking to spice up their manicure game. From bold prints to negative space designs, metallics, and custom nail art, there are so many ways to draw inspiration from Hailey's iconic nail looks. Whether you're looking for a simple and understated manicure or something more edgy and bold, there's something for everyone in Hailey's nail art repertoire. So go ahead, grab your favorite nail polish, and get creative!