Monica Geller, the fashion maven of the beloved TV show "Friends," has become an iconic figure in pop culture. With her impeccable style and unwavering confidence, she has left a lasting impression on viewers around the world.
Monica's fashion sense was as vibrant and diverse as the Manhattan skyline. She was known for her bold, daring, and unapologetically fabulous fashion choices, which reflected her personality.
So, whether you're a die-hard fan of "Friends" or simply seeking some style inspiration, join us as we embark on a sartorial journey through Monica Geller's closet. Get ready to borrow her iconic looks and make them your own. After all, with Monica as your fashion muse, there's no limit to the fashion adventures that await you!
5 Outfits to Borrow from Monica Geller
In the cosy atmosphere of Central Perk, Monica's fashion choices effortlessly steal the spotlight. Whether she's donning a classic ensemble or rocking a bold and daring outfit, Monica's fashion sense never fails to inspire.
1. Dungaree Diva: Monica's Quirky Denim Delight
Monica Geller's dungaree outfits are a perfect example of her ability to blend timeless and trendy pieces to create a unique style. She effortlessly combines comfort and fashion by pairing loose-fitting denim overalls with a simple red t-shirt and sneakers. The versatility of dungarees allows Monica to experiment with different tops and footwear options, showcasing her fashion-forward mindset.
To replicate Monica's dungaree look, choose well-fitting dungarees that flatter your body shape and pair them with a white t-shirt for a classic touch. Complete the ensemble with trainers or sandals for a comfortable yet stylish finish. Don't be afraid to add a pop of colour through statement jewellery or a vibrant purse to personalize the outfit and make it your own.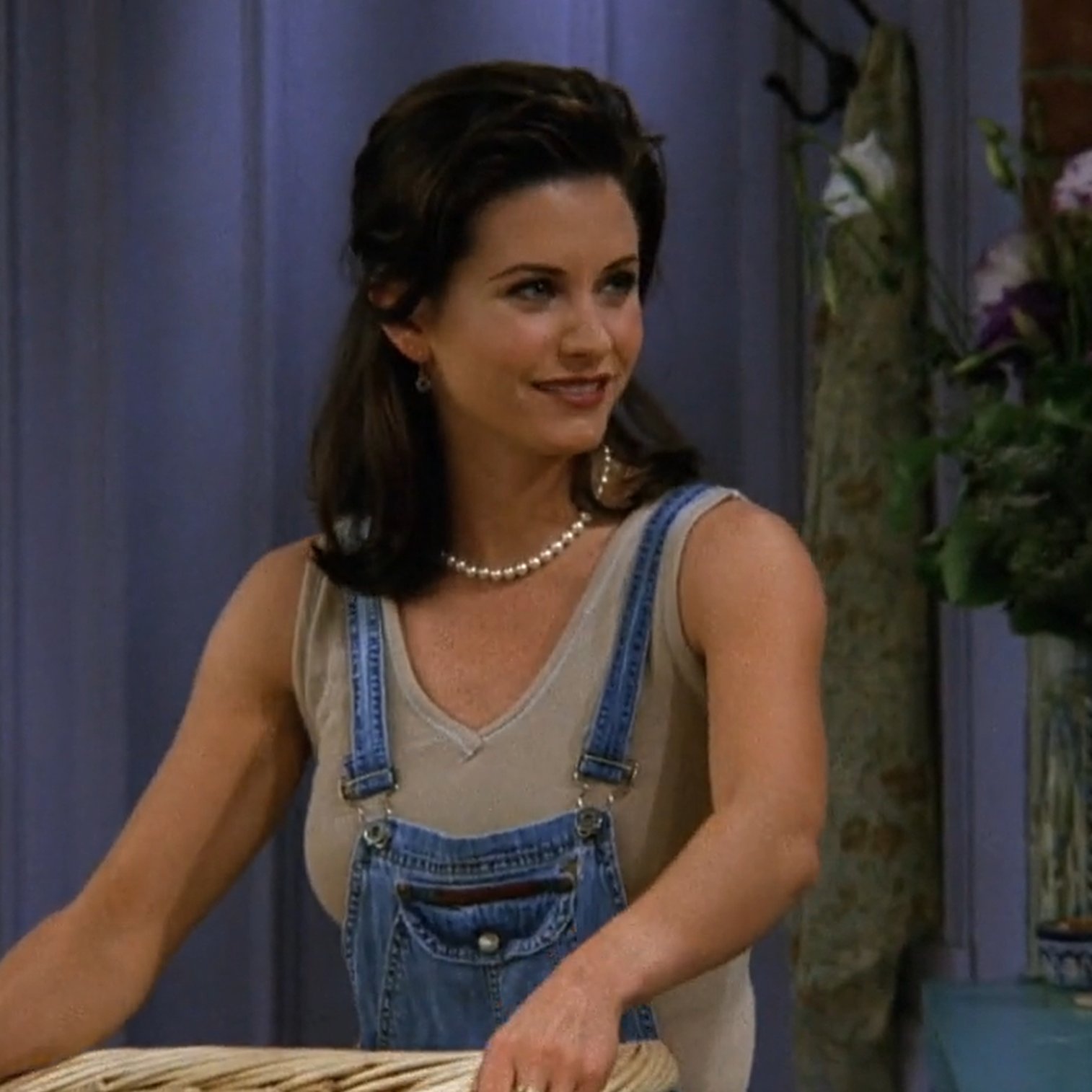 Monica's dungaree outfits showcase her effortless style and serve as inspiration for incorporating this versatile piece into your own wardrobe.
2. A New Year's Sparkle: Monica's Unforgettable Metallic Silver Dress
Monica Geller's metallic silver dress from the New Year's Eve party in Season 1 of Friends perfectly captures her signature style, blending femininity with an edgy twist.
The dark silver satin fabric exudes sophistication and adds a touch of glamour to the outfit, making it ideal for special occasions. What sets this dress apart is its clever design, which strikes a balance between classic and edgy elements.
The front of the dress showcases an edgier vibe with its halterneck cut, embracing contemporary fashion trends while reflecting Monica's bold and confident side. However, the dress takes a surprising turn on the back, revealing a bombshell aesthetic with a low back and leg slit, adding sensuality and allure to the overall look.
Monica's metallic silver dress is iconic for embracing both femininity and edginess in her fashion choices, as exemplified by the contrast between the edgy front and the feminine back.
To channel Monica's style for a special occasion, consider incorporating elements of femininity with an edge. Look for dresses with unexpected design details, such as a unique neckline, an alluring back, or a surprising silhouette.
3. Effortless Elegance: Monica's Cropped Sweater + Floral Skirt 
Monica's outfit, featuring a cropped sweater and floral skirt, is a timeless combination that continues to inspire. Known for her minimalist approach to colour, Monica's choice of a cropped, beige sweater paired with a tan, floral-print circle skirt created a look that was both playful and effortlessly chic. The cropped sweater highlights her figure while adding a touch of modernity to the ensemble.
The floral-print circle skirt adds a feminine and whimsical element to the outfit, highlighting Monica's ability to balance simplicity with subtle patterns. The outfit is versatile and easy to style, and Monica's minimal accessorizing emphasizes the timeless appeal of the ensemble, showing that less is more.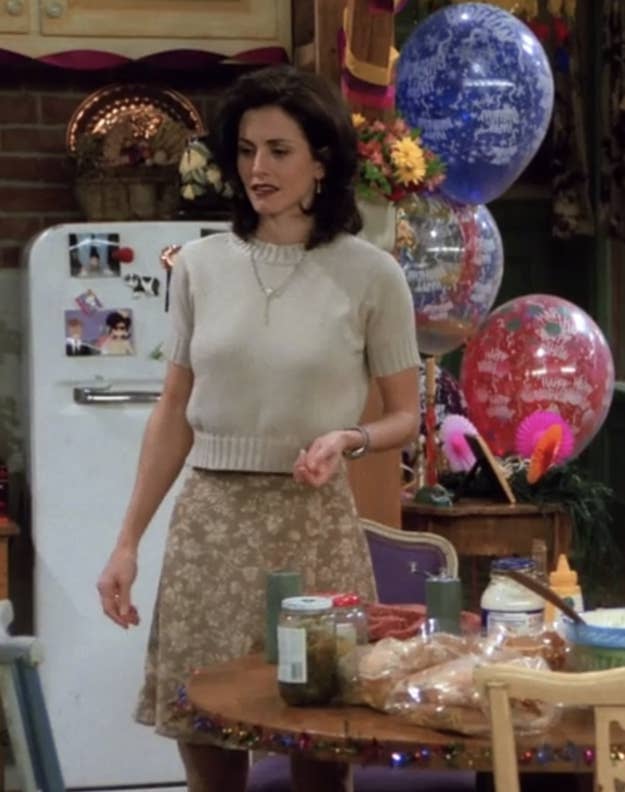 To recreate this iconic look, opt for a cropped sweater in a neutral tone and pair it with a floral-print circle skirt in complementary hues. Keep the accessories minimal to maintain simplicity and focus on the key elements of the outfit. Embrace Monica's timeless style and enjoy the fun and feminine flair of this classic combination.
4. Monochrome Magic: Monica's Stylish All-Brown and All-Black Ensembles
Monica Geller's fashion choices on Friends often showcased her love for monochrome looks. Whether she embraced shades of brown or opted for a sleek all-black ensemble, Monica effortlessly pulled off these monochromatic outfits with her impeccable style.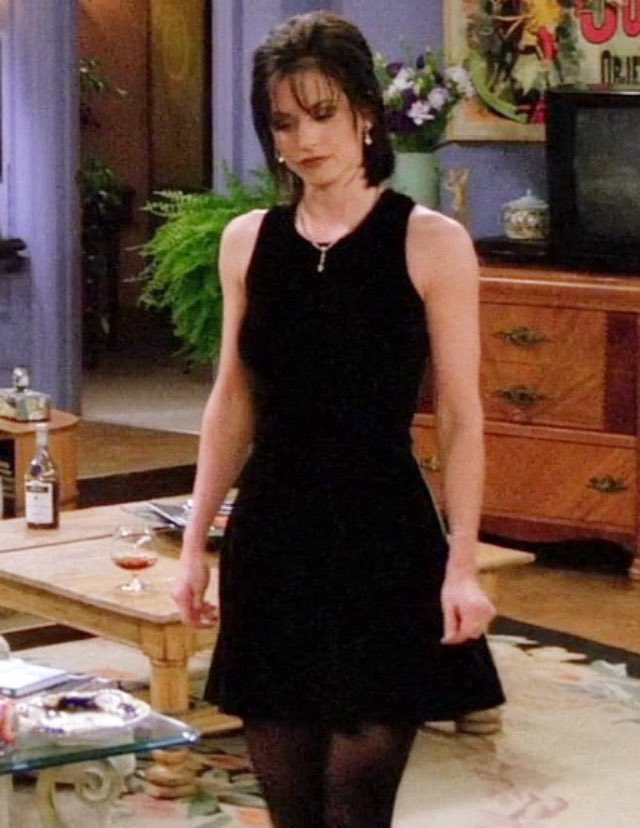 In one memorable scene, Monica stepped out in an all-brown ensemble that exuded autumnal charm. She paired a cosy brown turtleneck with a midi-length skirt, creating a harmonious blend of warm tones. The addition of leather boots added a touch of edge to the outfit, making it a perfect choice for the cooler months.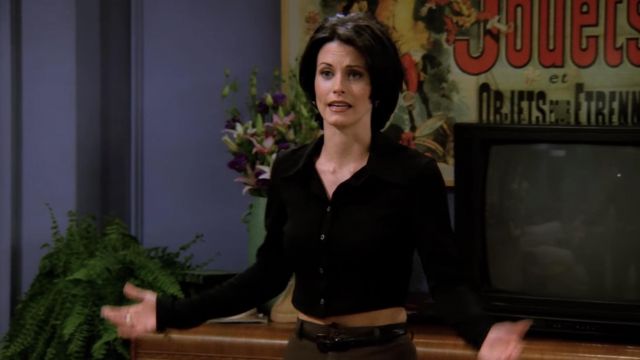 On another occasion, Monica embraced the timeless elegance of an all-black look. From head to toe, she flawlessly combined the top and bottom, creating a sophisticated and sleek ensemble. 
To recreate Monica's monochrome magic, choose a colour palette that speaks to you, experiment with textures and layering, and accessorize thoughtfully to complete the monochrome look.
5. Clean and Crisp: Monica's White Shirts 
Monica effortlessly incorporated the perfect white shirt into her outfits, creating looks that were both classic and chic.
The versatility of the white shirt is evident in Monica's wardrobe. She expertly tied them in the front, creating a playful and casual vibe when paired with jeans. The combination of a white shirt and denim is a timeless duo that exudes effortless style.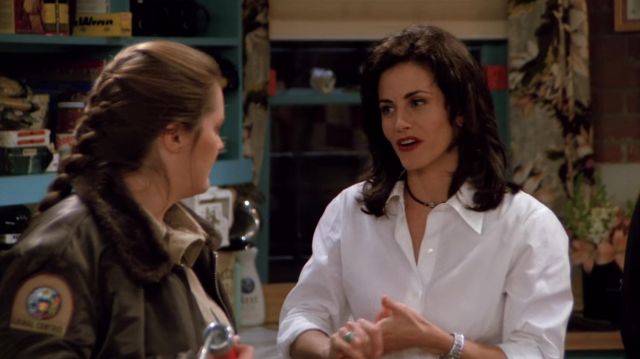 Monica paired her white shirts with tailored trousers to add a sophisticated edge to her outfits, demonstrating the versatility of the white shirt.
Monica's ability to infuse personality and playfulness into her looks while maintaining a polished appearance is exemplified by layering white shirts under dresses.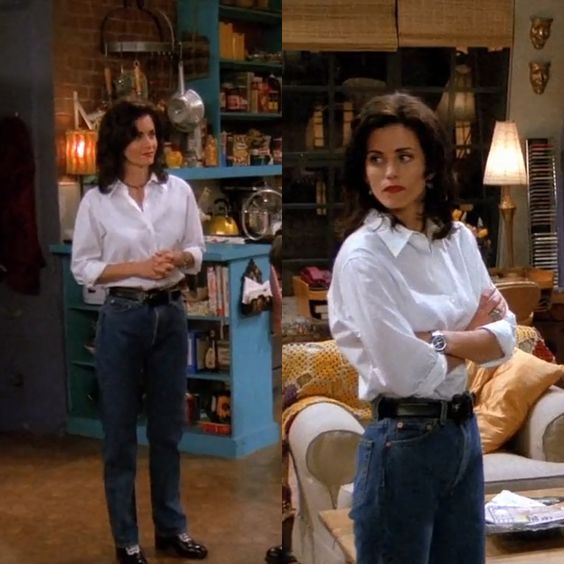 Invest in a fine white shirt that suits you if you want to emulate Monica's mastery of the white shirt. Try dressing it in several ways, such as by tying it in the front, tucking it into a pair of fitted trousers, or layering it beneath dresses. Accept the neat and polished look that a white shirt offers, and let it be the finishing touch to your attire.
Monica Geller's style on Friends continues to inspire fashion enthusiasts with her timeless and effortlessly chic outfits. From denim overalls to metallic dresses and clean white shirts, her fashion choices showcase a perfect blend of comfort, versatility, and personal flair.
See Also: 9 Best Spots in NYC to Enjoy a Solo Date