It may be January but we are already manifesting summer vacations by the pool this year to make up for last year. Luckily, spring will be here before we know it and sunny days are just around the corner. The warmer weather requires new accessories and the Gucci slides are the perfect addition to your wardrobe.
Slides are more than just a fad, as they have only increased in popularity over the last few years. Every celebrity from Dakota Johnson to Hailey Bieber has been pictured in the slip-on Gucci shoes, establishing them as a summer essential.
While slides may have originated as a simple pool, beach, and shower shoe, they have evolved into so much more. They are now a staple that can be worn off the beach and away from the pool with jeans and dresses. The laid-back sandal is the perfect answer for a casual dinner, backyard barbeque, or exploring on vacation.
It feels like every designer brand from Nike to Givenchy has released their own version of slides, but Gucci has the most versatile collection of them all. Read on for a list of the best Gucci slides that are practical, comfortable, and on-trend.
Original Gucci Slides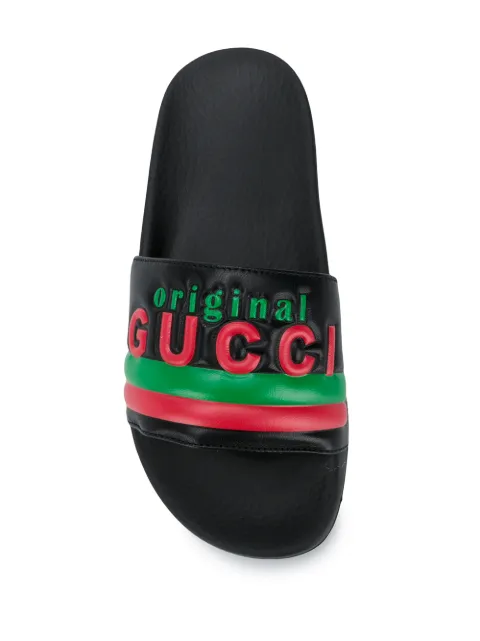 If you want something that is classic Gucci, the original slides are for you. The original slides feature the signature green and red stripes that are the mark of the luxury Italian fashion brand.
Floral Slides
Slides have a casual feel, yet Gucci still manages to make them look high-fashion. These floral slides are a perfect example of an elevated style of slides. The floral design is perfect for the Spring season and with the well-cushioned sole, you'll never want to take them off.
White Pool Slides

Visualize yourself by the pool this summer wearing these subtle Gucci logo embossed slides. The slides have a molded rubber footbed, so you don't have to sacrifice comfort for style.
90s Vibes Sandals
These blue, patent slides are perfect for spring and summer and bring the 90s vibes. The pastel color and chunky heel will look cute paired with a summer dress. You may need more than one pair because the slides come in six other colors: pink, yellow, red, green, black, and white.
80s Vibes Slides
These fuchsia pink, rubber slides evoke an 80's feel with the bright color and an inspired Gucci vintage logo featured. The colorful slides will give your summer outfit a pop of color and will make sure you are noticed.
Strawberry Slide Sandal
For a unique look, choose these colorful strawberry slides for a very cute summer look. Pair these slides with a sundress for a day outside sipping drinks with friends at a vineyard, or wear them for an evening meal on vacation. In addition to their adorable look, these canvas slides are responsibly sourced from materials with a low environmental impact so you can feel good about yourself while showing them off.
Original GG Sandals
If you're looking for a little extra height, these slides are the best option. The 2.4″ platform makes these slides a little dressier and perfect for pool and beach parties. The GG canvas design is unmistakably Gucci and the neutral, beige color will go with all of your bikinis.
Disney x Gucci Donald Duck Slides
The Gucci x Disney collaboration brought us many great pieces, but these Donald Duck slides stand out. For Disney fans, these slides are a must-have for sandal season. The fun slides will look great paired with the Gucci x Disney tees and purses.
An Investment Piece
Gucci slides are one of the more affordable pieces that the brand carries. So if you are a fan of Gucci, their slides are a good way to buy into the brand without spending thousands. Since Gucci slides continue to be the must-have purchase for the warmer months, they are a great investment piece. For more affordable designer pieces, read The Best Value Piece from Each Luxury Brand to Invest In.
The slides are also made in Italy so you can be sure that the quality of the slides will be maintained for seasons to come. With so many different styles and colors, you can match your slides to every outfit and mood.
Read Also:
The Power of a Capsule Wardrobe: 10 Staple Pieces for Fall
The Best Value Piece from Each Luxury Brand to Invest In
What to Wear to a Zoom Wedding
8 Non-Boring Blazers That Will Boost Your Confidence
11 Things You Need to Know About Veronica Beard's 2021 Winter Collection