A stylish blazer is a wardrobe essential that can be a great investment piece. Classic and versatile, blazers give your outfit a refined quality that can immediately boost your confidence.
Blazers have the power to dress-up the outfit that they are paired with. Wearing jeans and a blazer for a night out at the bar? You have elevated informal denim into a smart, casual outfit. Adding a blazer over your blouse for an important meeting at work? You have gone from smart to professional and confidently assured.  
Long gone are the days when blazers were stuffy and poorly fitted. Now they are tailored, fashionable, and fun.
BLANKNYC The Nightingale Faux Leather Blazer
This faux leather blazer from BLANKNYC has a double-breasted silhouette and comes in black and tan. Manhattan-based BLANKNYC is known for its cool, trendy pieces that are modern basics, and the Nightingale faux leather blazer certainly delivers on that.
All Saints Aleida Shimmer Blazer
The Aleida blazer is made from a glitter fabric that gives the blazer a subtle shimmer, which is perfect for the holidays. The stylish black blazer from All Saints has a relaxed fit with fluid fabric and two flap pockets.
Stella + Lorenzo Dexter Blazer
This striking electric blue blazer from Stella + Lorenzo will make a strong statement, whether that's in the office or on a night out with the girls.
All Saints Alva Blazer
Sold in a soft nude and lilac, this blazer from All Saints has a loose, fluid silhouette. This stylish blazer has a modern, minimalistic aesthetic that is very 2020.
& Other Stories Sequin Velvet Hourglass Blazer
If the subtle shine of the All Saints shimmer blazer doesn't quite do it for you, this & Other Stories metallic sequin blazer will definitely impress. The velvet blazer has a flattering hourglass silhouette with a fitted waist. Style it with the matching sequin pants for the ultimate confidence boost.
& Other Stories Tailored Gingham Blazer
Elevate your outfit with this pretty, tailored gingham blazer from & Other Stories. You will feel extra chic in the soft lilac check pattern that will definitely enhance your self-confidence.
Ann Taylor Long Double Breasted Blazer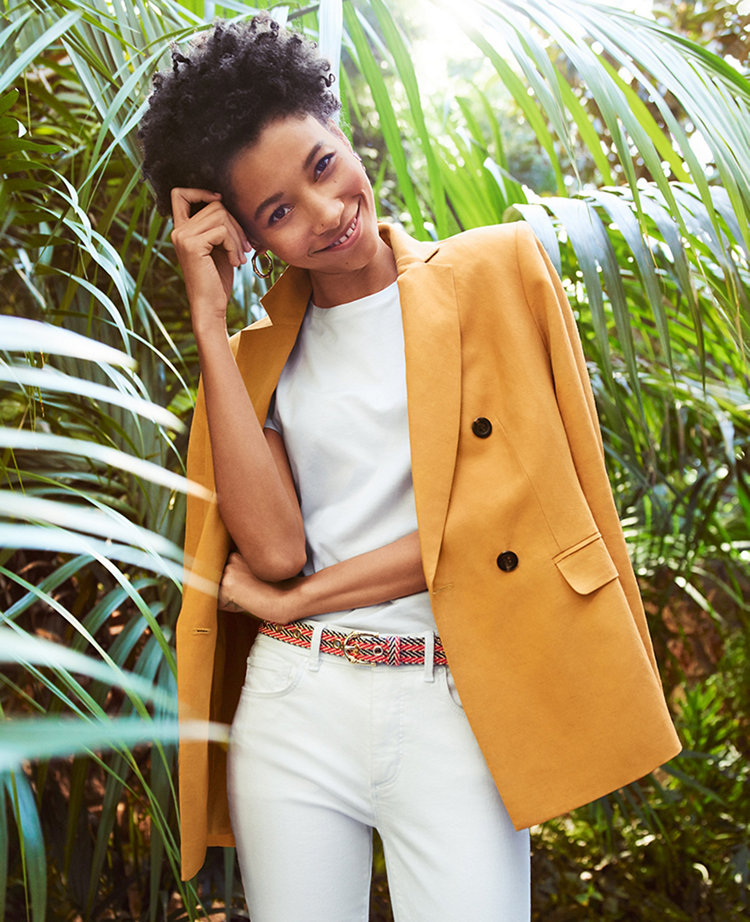 Add a pop of color to your wardrobe with this mustard-yellow stylish blazer from Ann Taylor. The woven, double-breasted blazer has tailored details and is of great quality for when you want to feel like a boss.
& Other Stories Cropped Tailored Blazer
This peachy blazer from & Other Stories definitely exudes the 1950s vibes. The cropped, tailored twill blazer has shoulder pads and buttoned cuffs that will make your entrance stand out.