Doja Cat's latest magazine cover for V Magazine's Fall Preview 2023 issue has once again thrust her into the spotlight. In a fearless and empowering move, she freed the nipple, capturing attention and sparking conversations.
The sheer black mesh dress, adorned with edgy accessories, serves as a canvas for a profound expression of empowerment and self-expression. Doja Cat's recent V Magazine cover shoot has captured the attention and admiration of fans and fashion enthusiasts alike.
Today we will dive into the details of the shoot, highlighting the collaboration with renowned photographer Hedi Slimane, the daring dress designed by Celine, the stylish makeup by Patrick Ta, and the overall impact of the cover on Doja Cat's fashion icon status.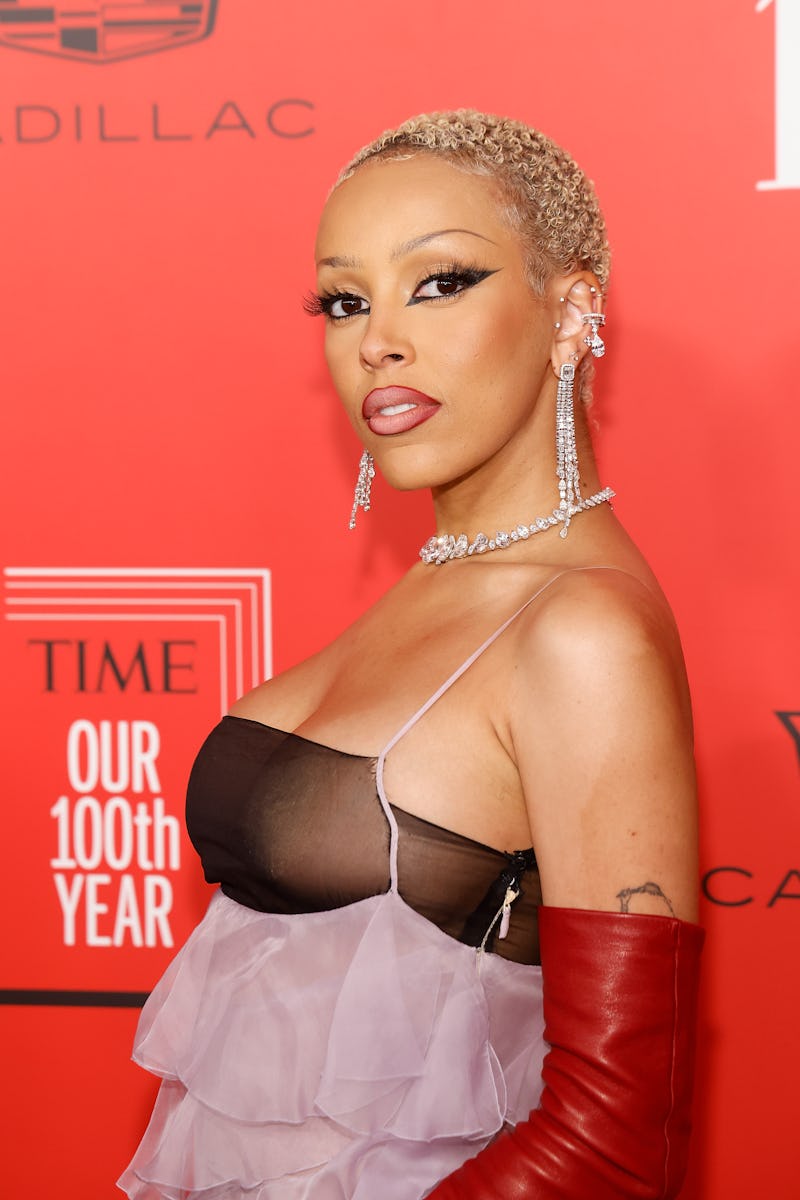 Breaking Boundaries With Doja Cat's Freed Nipples
In the Fall Preview 2023 issue of V Magazine, Doja Cat drew inspiration from iconic '90s supermodels like Kate Moss and Naomi Campbell. The cover shoot paid homage to the timeless allure and audacity exhibited by these legendary figures.
By infusing her own unique style and personality into the shoot, Doja Cat created a contemporary twist on the classic '90s aesthetic, embodying a powerful and self-assured presence. Doja Cat expressed her desire for the shoot to be both sexy and edgy while still staying true to herself. Through her collaboration with Hedi Slimane, she was able to convey her artistic vision, combining elements of sensuality and self-expression.
Part of Celine's Fall 2023 collection, the dress combined elements of revelation and elegance. Crafted from a lightweight mesh fabric, it accentuated Doja Cat's figure while maintaining a sense of mystery and allure.
To accentuate the captivating allure of the sheer black mesh dress, Doja Cat was adorned with an assortment of striking accessories. The chain necklaces, dangling crucifix earrings, and crystal-encrusted cross pendant curated by the stylist Carlyne Cerf de Dudzeele perfectly complemented the dark and gothic undertones of Hedi Slimane's aesthetic. Together, these accessories enhanced Doja Cat's unique style and added a touch of individuality to the overall look.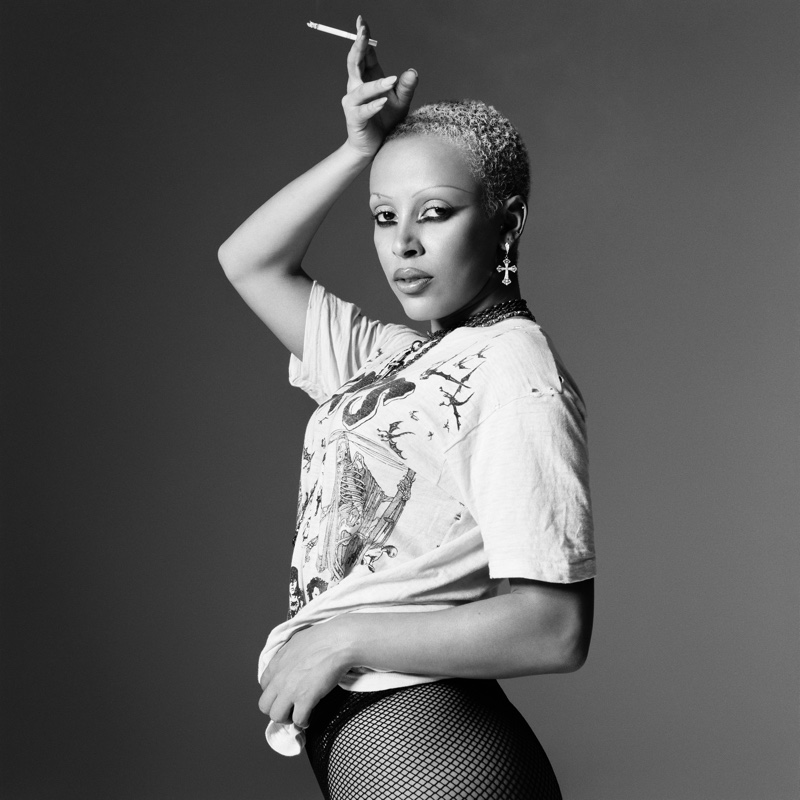 By fearlessly exposing her nipples in the sheer black mesh dress, Doja Cat challenged societal norms and empowered others to embrace their bodies without hesitation. Her bold fashion choices and fearless attitude have solidified her reputation as a trendsetter and a role model in the industry.
The People Behind Styling and Makeup
Celebrity makeup artist Patrick Ta lent his expertise to Doja Cat's look for the cover shoot. Creating a simple yet captivating makeup style, Ta opted for a reverse cat eye, lined lips, and a touch of highlighter. The result was a look that emphasized Doja Cat's features and added a touch of drama to the overall aesthetic.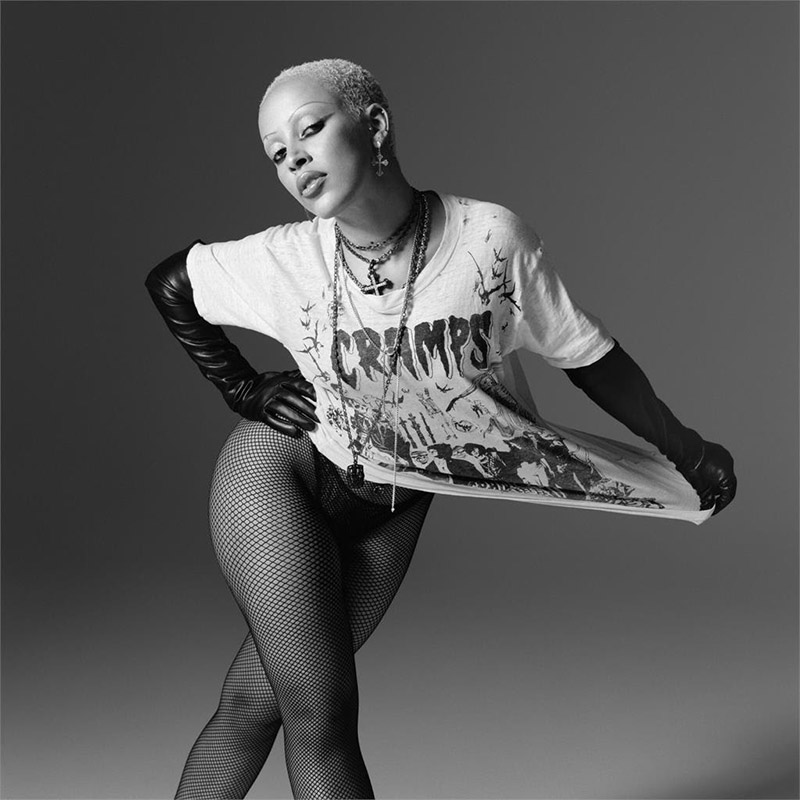 Renowned fashion stylist Carlyne Cerf de Dudzeele, known for her work with iconic figures like Lady Gaga, Rihanna, and Beyoncé, brought her fearless approach to Doja Cat's styling. Cerf de Dudzeele curated a selection of edgy accessories to complement the mesh dress, including chain necklaces, earrings with dangling crucifixes, and a crystal-encrusted cross pendant. These striking pieces added a touch of glamor and individuality to the ensemble.
Doja Cat Gathers Acclaim for This Style
The V Magazine cover featuring Doja Cat garnered widespread acclaim from fans and fashion critics, solidifying her position as a rising fashion icon. Refinery29 lauded her unwavering courage, describing her as a "bold and fearless fashion icon," with the cover serving as a perfect embodiment of her unique style.
Billboard recognized Doja Cat as a trailblazing modern-day pop star, noting that she sets new standards and fearlessly embraces her individuality, making her truly special. Vogue echoed this sentiment, emphasizing Doja Cat's unrivaled innovation in fashion and underlining her fearlessness in pushing boundaries. The resounding praise for her cover shoot serves as a testament to her status as one of the most captivating and daring fashion figures in the world.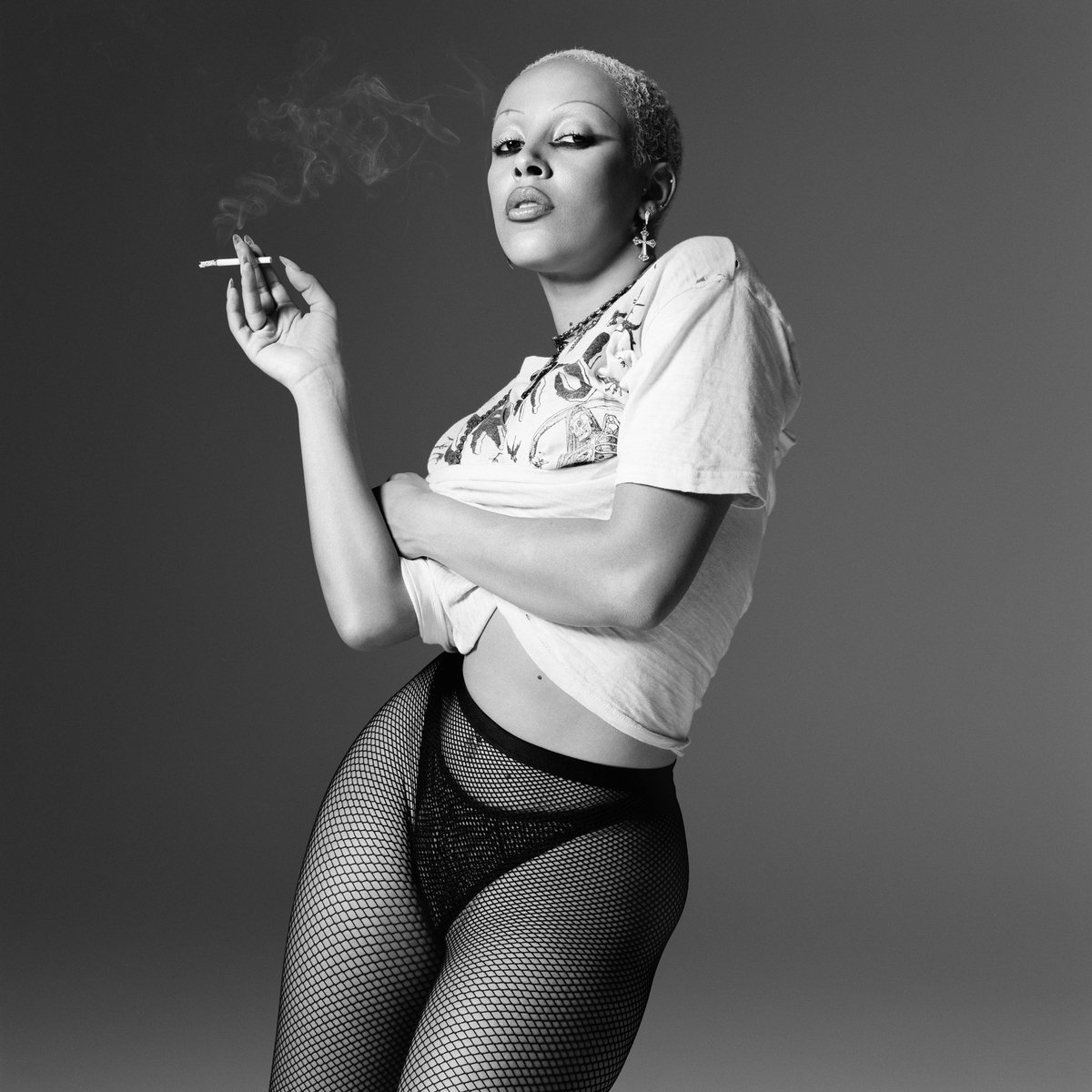 The issue of V Magazine featured exclusive interviews with Doja Cat, Hedi Slimane, and Carlyne Cerf de Dudzeele, providing valuable insights into their creative processes and inspirations.
The cover, however, sparked a range of reactions, with some applauding Doja Cat's boldness and confidence while others voiced criticism for what they perceived as excessive exposure. Despite the mixed responses, the cover achieved remarkable commercial success, further elevating Doja Cat's already soaring profile in the entertainment and fashion industries.
Our Testament? 
In our view, Doja Cat's cover shoot for V Magazine serves as a powerful statement about personal empowerment and the freedom of self-expression in the world of fashion. The provocative nature of the shoot, featuring a sheer black mesh dress that exposed her nipples, has undoubtedly pushed boundaries and challenged societal norms.
By showcasing her unique style and confidence, Doja Cat continues to inspire others to break free from conventional fashion constraints and embrace their own daring and distinctive sense of style.
See Also: Sydney Sweeney Goes Pantless for Harper's Bazaar Photoshoot