I don't know if you've heard, but Netflix has some killer content. We wait and wait for new episodes to be released, but no matter how long we wait, it always seems to be worth it! Last week, the latest season was released for one of my all-time favorite shows, and if you haven't jumped on the band wagon yet, you need to.
Although it has a horrendously long title, it gets straight to the point. The brainchild of Jerry Seinfeld, known for the widely acclaimed '90's sitcom Seinfeld, brings us Comedians in Cars Getting Coffee where he takes the great masterminds of comedy to go driving in classic cars on their way to a diner for coffee and more conversation. Obviously, being full of comedians, the show is full of laughter and revelation.
An Incredible Cast of Characters
Think of a big name in comedy over the last 40 years; Seinfeld has had them all. Think of the classics like Lorne Michaels, Steve Martin, Ellen DeGeneres, Jim Carrey, Will Farrell, and Chris Rock.
Then you have comedians who have more recently broken into the scene like Kristen Wiig, Amy Schumer, John Mulaney, Kevin Hart, Hasan Minhaj, Aziz Ansari, and even Miranda Sings.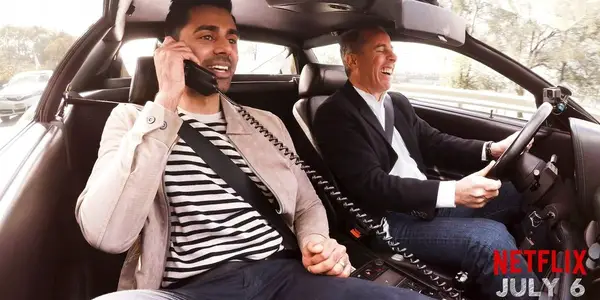 Image credit: Road & Track
My personal favorites are many of the contemporary late-night hosts past and present like John Oliver, Jimmy Fallon, Jon Stewart, Stephan Colbert, Bill Maher, David Letterman, Jimmy Kimmel, Seth Meyers and Trevor Noah.
Seinfeld even secured a sitting president for the show.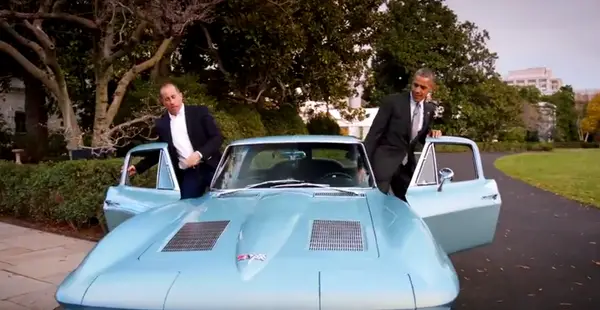 Image credit: Fox 61
The Cars
I can't say enough about the cars. Seinfeld explains his rationale for picking the particular car to suit the comedian he is having on the show each week. He secured a horrid 1978 AMC Gremlin for Jon Stewart because that was Stewart's first car, before transitioning into the sleeker 1968 AMC AMX.
A similar circumstance popped up with Sarah Jessica Parker, where Seinfeld picked out the 1976 Ford LTD Country Squire because it was her family's first car. Even more fun, the incredible, but temperamental classic cars have broken down during filming, like the 1954 Siata 8V during Steve Martin's episode.
It's not even always cars – Jimmy Fallon had a very special, two-part episode, where they transition from a 1956 Chevrolet Corvette into a boat, and then to a 1994 Land Rover Defender 90.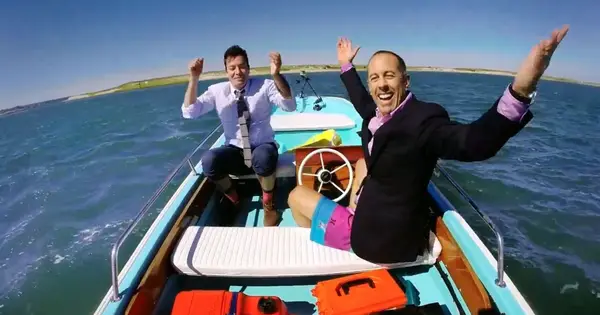 Image credit: USA Today
You Can Actually Visit Many of Their Filming Locations
Although some of the show is filmed in Los Angeles, a lot of filming happens in and around New York City, so you can visit many of the coffee establishments yourself.
Fine NYC establishments include Roebling Tea Room in Brooklyn for his stop with Seth Meyers, Floridita Restaurant in Harlem from his episode with Tina Fey, and The Bel Aire Diner in Astoria with Howard Stern.
However, if you're feeling adventurous, you can head out to Colony Diner in East Meadow on Long Island, where Seinfeld took Sarah Jessica Parker, or John's Famous Pancake House in Montauk, where Seinfeld brought Jimmy Fallon.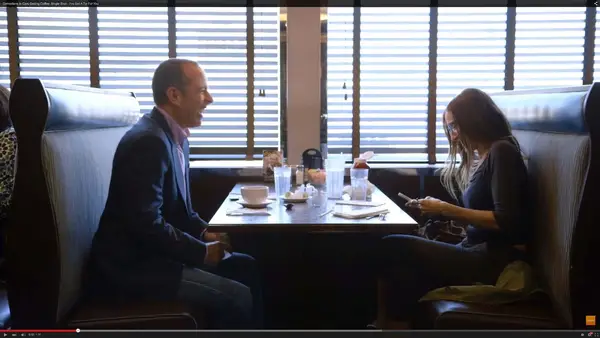 Image credit: People
If you're still not convinced, start with an episode featuring a comedian you absolutely love and see what you think. You never have to watch these episodes in order, so feel free to mix and match what works for you. Check it out and let us know what you think!
Feature image credit: Wikimedia