Raise your hand if you've ever wanted to fly… While we haven't found the secret to becoming a human bird, NYgal is going to let you in on the next-best thing: Bungee fitness!
Not only do you get to defy gravity as you glide through the air, you also burn calories and build muscle in the process. Who knew working out could be such a blast?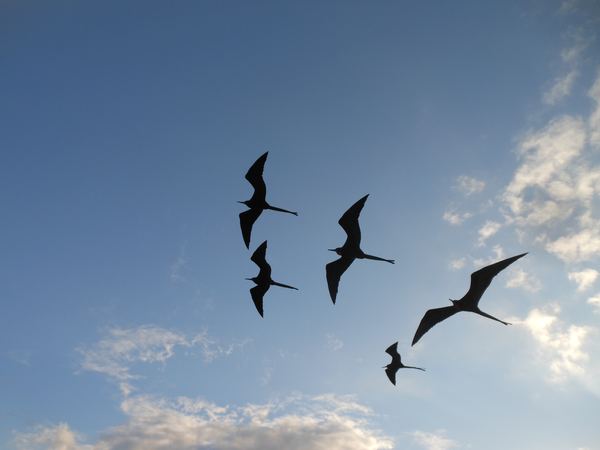 Image Credit: Bill Gierke via Unsplash
What Is It?
According to the gym Om Factory, "students will manipulate the tension provided by the bungee cords against the floor to create beautiful, floating, and flowing movements in the air. Each participant will be suited up in their own bungee harness at the start of class and alternate in and out of their bungee point."
As a high intensity, low impact workout, it will sculpt and tone your body without damaging your joints. Whether you choose to make this your main exercise or a supplement to your current program, you'll never be bored.
Anything Else I Should Know? Um, Yeah!
Sounds intriguing, doesn't it? NYgal knows you can't wait to get yourself strapped in and bungee-ing like a pro. With this in mind, we've researched a list of three studios in NYC to get you started.
Before we begin, here are a few words of warning:
1). Don't eat much before going, for obvious reasons.
2). There is a slight learning curve, so stick with it!
3). Several places recommend wearing a second layer of bike shorts under whatever pants you're wearing.
4). If you haven't exercised in a while or have underlying medical concerns: a visit to the doctor is warranted to ensure this activity is safe and healthy for you to engage in.
Get to the List Already!
Without further ado…
Crunch Gym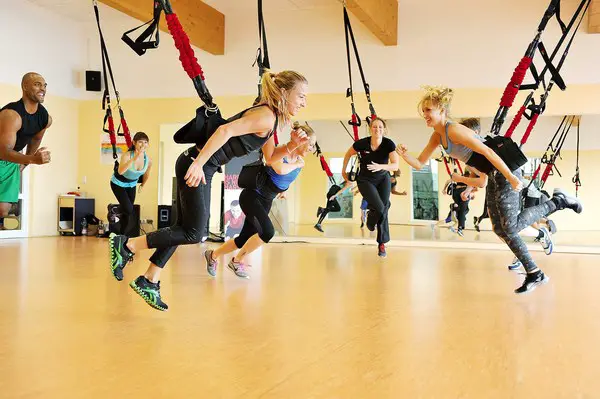 Image Credit: Fun107.com article by Nancy Hall titled "Bungee Cord Training Comes to Rhode Island"
With locations scattered throughout New York City and across the nation, there is sure to be a gym near you. Check them out at Crunch.com!
Om Factory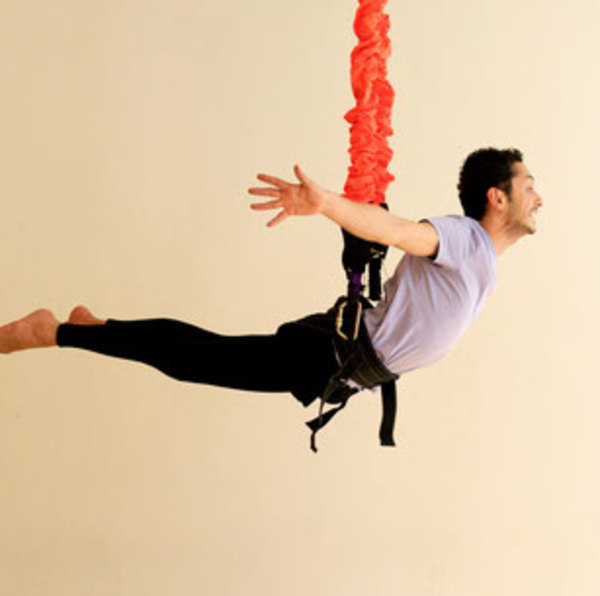 Image Credit: Om Factory Class Page
No experience necessary! This beginner-friendly studio offers two different bungee classes: Bungee 101 and Bungee Party. The former incorporates groundwork and the latter has you strapped in from the beginning of class.
Both are no less than an hour of high-flying fun! You can find them in the fashion district at:
265 West 37 Street @ 8th Avenue
17th Floor
New York, NY 10018
AND at:
Union Square
873 Broadway @ 18 Street
Suite 202 (BUZZ 058 for access)
New York, NY 10003
PS: Right now, Om Factory is offering your first Bungee class for only $25 dollars!
Chaise Fitness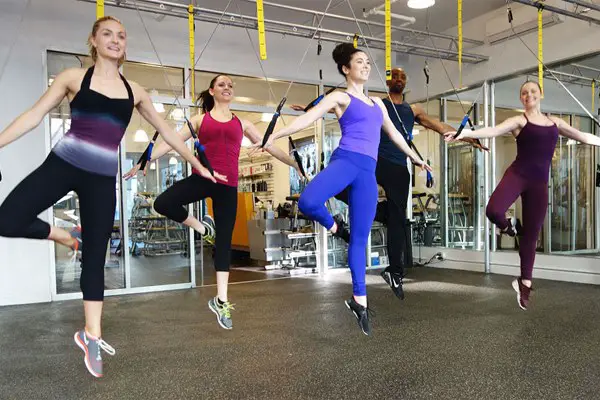 Image Credit: Vanityfair.com article by Sarah Ball titled "Ballet Bungee: A New Resistance-Band Workout for Wannabe Bunheads"
Bring your sneakers and get ready for an insane workout. Chaise offerest two niche classes; BalletBungee and Bungee Mat. The first one is exactly as it sounds: you'll be using dancelike moves to work your arms and your abs. Don't be fooled by the name, though. Ballet dancers are some of the most hardcore people, so you'll definitely have your work cut out for you here.
The second class is closer to a traditional strength and cardio session, but utilizing bungee cords for a more focused workout.
They're currently having a 3 for $33 class special, so there really is no excuse not to try it out! Find them in Flat Iron:
40 East 23rd Street 3rd Floor
New York, NY 10010
AND on the Upper East Side:
1204 Lexington Ave
New York, NY 10028
Still Not Convinced?
Take a look at the video below. If this doesn't convince you, we don't know what will!
Featured Image Credit: Bruce Mars via Unsplash