The fashion cycle has come full circle, bringing back the timeless charm of maxi skirts! These effortlessly chic skirts have stood the test of time, going in and out of fashion. For many, they have become an essential piece in their wardrobe, owing to their versatility and ease of wear. Maxi skirts can adapt to any season, pairing seamlessly with light tees during the summer or donning high boots for a winter look. Whether it's a formal event or a casual outing, the styling possibilities are boundless.
If you're seeking inspiration on how to style your maxi skirt, or perhaps considering reviving an old one, look no further! This article has got you covered with a plethora of exciting ways to flaunt your maxi skirt. And guess what? I've saved my favorite style tip for last, so be sure to keep an eye out for it while reading!
Pair it with a Tee
Elevate your fashion game with a timeless twist by pairing your chic maxi skirt with a cool tee! Embrace the art of contrast by matching a printed skirt with a simple, solid tee, or vice versa—a printed tee with a plain skirt. The result? A relaxed yet sophisticated vibe for your daily attire Take it up a notch by completing the ensemble with a pair of trendy white shoes or sandals, perfect for maintaining that effortlessly casual charm.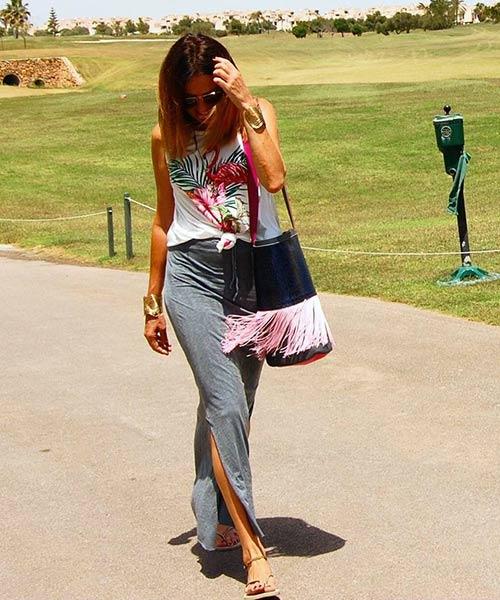 Layer it Up
If you find yourself in a chillier locale or simply adore the notion of casually draping a jacket, feel free to pair your maxi skirt and t-shirt combo with a stylish jacket or chic shrug. Opting for a leather jacket will infuse your appearance with a touch of fierce femininity, while a flowing, extended shrug will radiate an undeniably adorable aura.
Button-Down Magic
Elevate your style by teaming a sophisticated button-down shirt with a flowing maxi skirt. This dynamic duo effortlessly combines timeless charm with modern flair, creating a fashion-forward look that stands the test of time. Opt for a maxi skirt that embraces structure, boasting a fitted waist or an elegant A-line cut.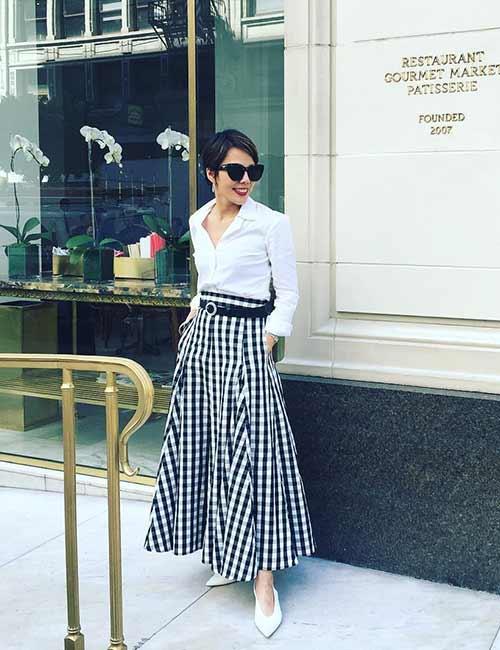 For a sleek and chic ensemble, tuck a crisp white button-down into a high-waisted, alluring black maxi skirt. Give it a touch of finesse by rolling up the sleeves and adding a subtle yet elegant necklace. To achieve an extra dose of sophistication, slip into a pair of stylish heels. This ensemble is the epitome of grace and class, perfect for any occasion that calls for an exquisite touch.
Slit Skirts
Flowing skirts featuring a tantalizing side slit serve as a flirtatious touch, gracefully enhancing your ensemble. Whether you're strolling along the beach or enjoying a sun-soaked summer day, these maxi skirts are the perfect match for a chic crop top. And to take your style to new heights, tie up those lace sandals and watch your look ascend to the pinnacle of fashion.
Belt it Up
Embrace the charm of maxi skirts that elegantly embrace your waist's daintiest nook. And for those craving, even more curve-highlighting allure, cinch a belt atop the waistline for that coveted hourglass finesse. The skirt's graceful, billowing silhouette is poised to harmonize beautifully with your body's contours.
Quick Wedding Guest Outfit
Got a sudden urge to crash a wedding and need a quick outfit fix without seeming too last-minute? Fear not! Grab that fabulous maxi skirt from your closet and pair it with a stylish top, like an off-shoulder crop top adorned with frills. You could also opt for something a bit fancier. The flowing maxi skirt will work its magic, giving the impression of a gorgeous gown or a perfectly wedding-appropriate dress. Complete the look with a formal hairstyle, and voilà, you're all set to elegantly waltz into the next wedding like you were meant to be there all along!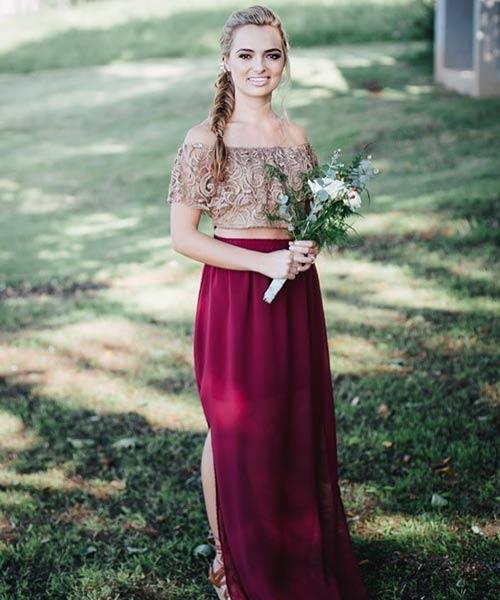 Pleats Please
Yearning to don a flowing maxi skirt for that upscale occasion, yet eager to steer clear of the customary floral motifs? Craving an alternative to the lackluster plain designs? Enter the realm of pleated maxi skirts, where elegance and allure intertwine seamlessly. Crafted from lustrous satin, these skirts exude an air of sophistication while retaining a dash of haute couture. The artful pleating bestows a touch of formality, skillfully intertwined with a contemporary edge, making for a fashion statement that's both refined and trendsetting.
Striped Skirts
For those of you who are on the daintier side or if you simply have a fondness for all things stripey, consider donning a fabulous striped maxi skirt and strutting your style with confidence. While stripes might add a touch of breadth, don't hesitate to rock that sensational striped skirt if it's working its magic on you! Personally, I find that teaming up these stripes with a charming denim shirt creates the ultimate fashion harmony.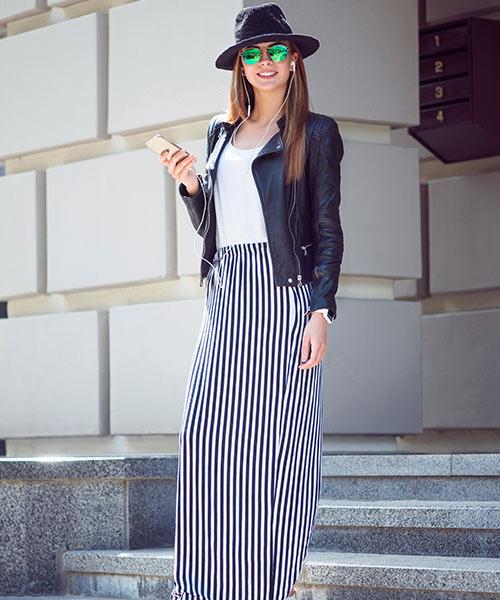 Maxi Dress
Saving the best for the grand finale! Just as promised, I've kept the most fabulous style technique until the end. Embracing the trend of donning maxi skirts as dresses has undoubtedly become my ultimate fashion love affair. In the realm of Instagram, where outfit repetition is a cardinal sin, the art of reimagining one skirt in countless ways brings an overwhelming sense of liberation. Whether cinched with a stylish belt for that touch of sophistication or playfully knotted with a shirt at the front, this type of styling unleashes a whole new level of creativity and flair. So go ahead, unleash your fashion muse, and rock those maxi-skirt-turned-dresses with boundless charm!