Ah, Birkenstocks. This German shoe brand, a household name since the 18th century, made a grand comeback in the past few years and proved they're here to stay. It's time to say goodbye to the stereotype that Birkenstocks are for gardeners or unfashionable comfort-seekers. With their iconic cork footbed and sturdy leather straps, they're now a go-to for fashion-forward individuals who value comfort just as much as style. Let's delve into some effortlessly chic ways to style Birkenstocks.
1. Birkenstocks and Jeans: A Match Made in Heaven
Pairing Birkenstocks with jeans is a no-brainer for a casual day out. Whether you opt for skinny, flared, or straight-legged jeans, this combination is a sure winner. Throw on a crisp white t-shirt or a flouncy blouse to elevate your look. Want to take it up a notch? Add a leather jacket or an oversized blazer for the perfect day-to-night outfit. Brands like Zara and H&M offer a range of jeans and tops that would complement your Birkenstocks flawlessly.\
2. Breezy Dresses and Birkenstocks
Contrary to what you might think, Birkenstocks can perfectly complement a feminine, breezy summer dress. The contrast of the rugged, chunky sandals with a flowy dress creates a look that screams comfort and style. Pair a floral dress with the Arizona Birkenstocks or try a sundress with the Gizeh for a boho-chic vibe. If you're looking for chic summer dresses, Free People and Urban Outfitters have a fantastic selection to choose from.
3. Birkenstocks with Shorts: Summer's Best Friend
Birkenstocks are summer essentials, and nothing screams summer more than shorts. Team denim shorts with a bright-coloured top and Birkenstocks for a laid-back yet trendy look. For a more polished outfit, opt for tailored shorts and pair them with the Madrid Birkenstock slide. For shorts and vibrant summer tops, check out ASOS and Gap for some great options.
4. The Professional Birkenstock Style
Think Birkenstocks don't belong in the office? Think again. Combine a pair of the more streamlined models, like the Milano or the Mayari, with tailored pants or a sleek midi skirt. Top it off with a fitted blazer, and you've got yourself an office-appropriate outfit that your feet will thank you for. For business casual attire, J.Crew and Banana Republic have excellent choices that could pair excellently with Birkenstocks.
5. Cosy Up with Birkenstocks
When winter rolls in, don't tuck away your Birkenstocks. Pair them with chunky socks for a unique, cosy style statement. This look isn't for everyone, but it's a fun way to keep your Birkenstocks in rotation during the colder months. For winter-friendly Birkenstock styling, Uniqlo offers a variety of thermal socks that can make your Birkenstock winter transition smoother.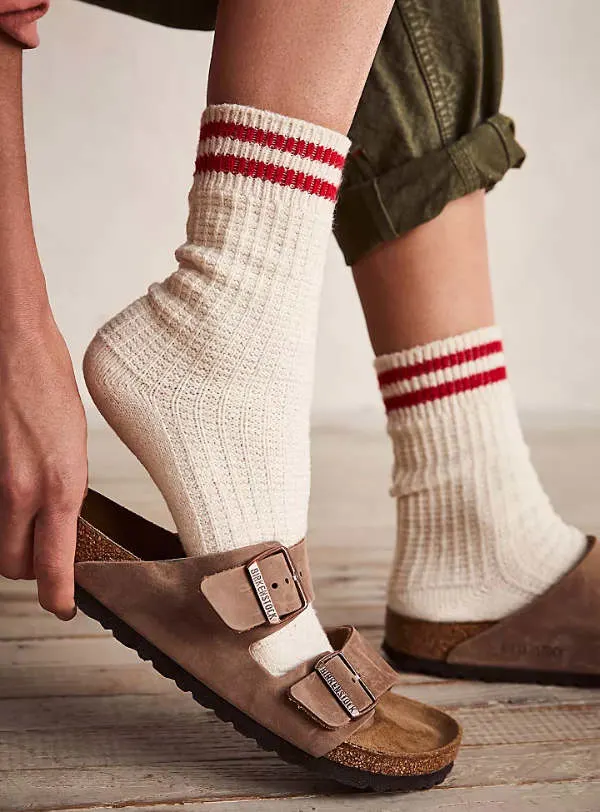 6. Jumpsuits and Birkenstocks: The Power Duo
One more excellent way to style your Birkenstocks is with a jumpsuit. This one-piece wonder is not only comfortable but also incredibly versatile, making it a perfect match for your equally versatile Birkenstocks. For a relaxed, everyday look, pair a casual, loose-fitting jumpsuit with your Arizona Birkenstocks. A linen jumpsuit would be ideal for this combination. Throw on a wide-brim hat, and you're ready for a sunny day out! For an evening look, choose a sleek, tailored jumpsuit, preferably in darker shades or with an elegant pattern. The more slender Mayari Birkenstocks would complement this outfit well.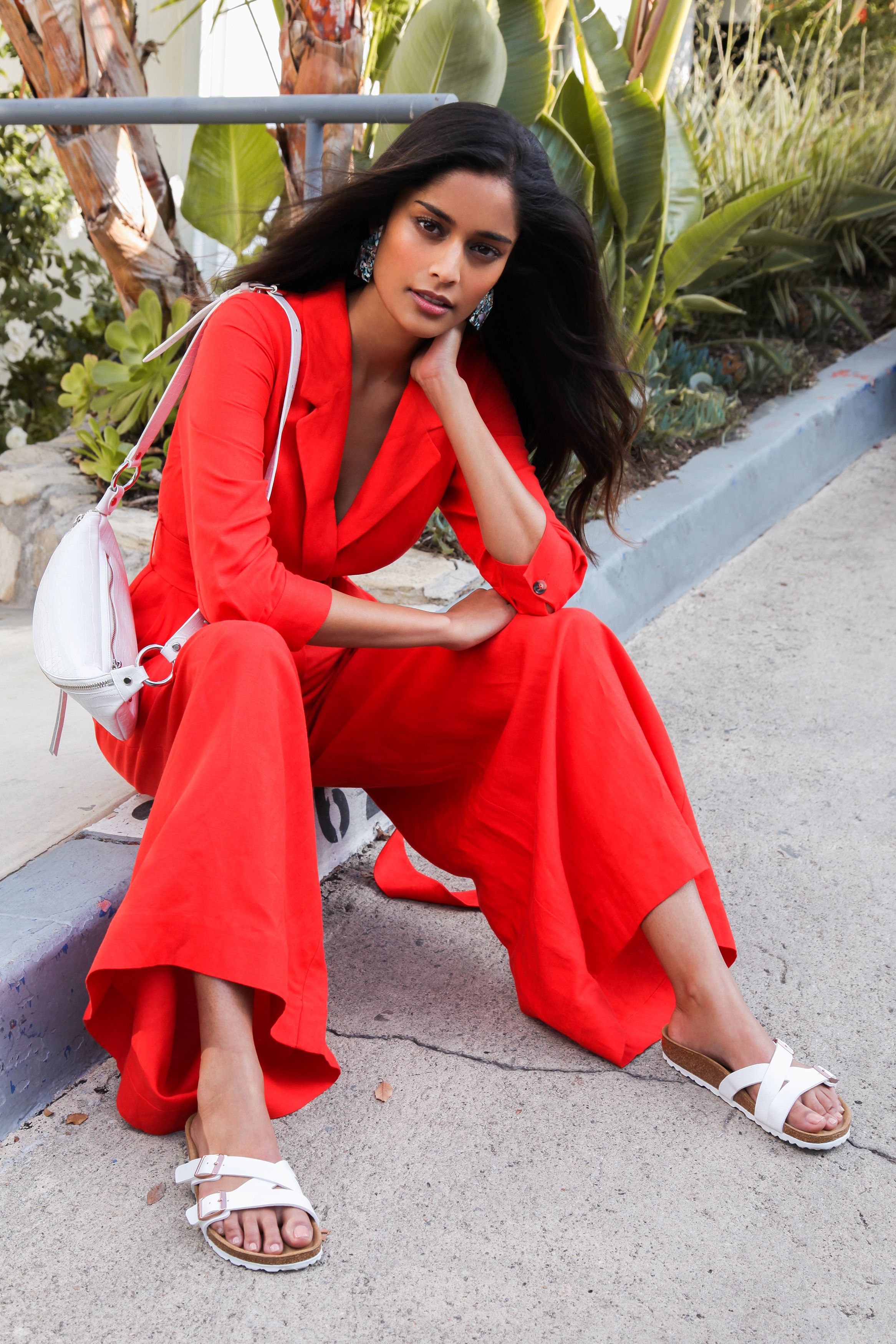 7. Pairing Birkenstocks with Accessories
Accessories can make or break your outfit. While styling Birkenstocks, choose minimalist accessories that won't overpower the robust nature of the sandals. Delicate anklets, a simple tote bag, or a classic watch can complement your look without taking away from your Birkenstocks. Brands like Madewell and Everlane offer minimalist accessories that can effortlessly accentuate your Birkenstock style.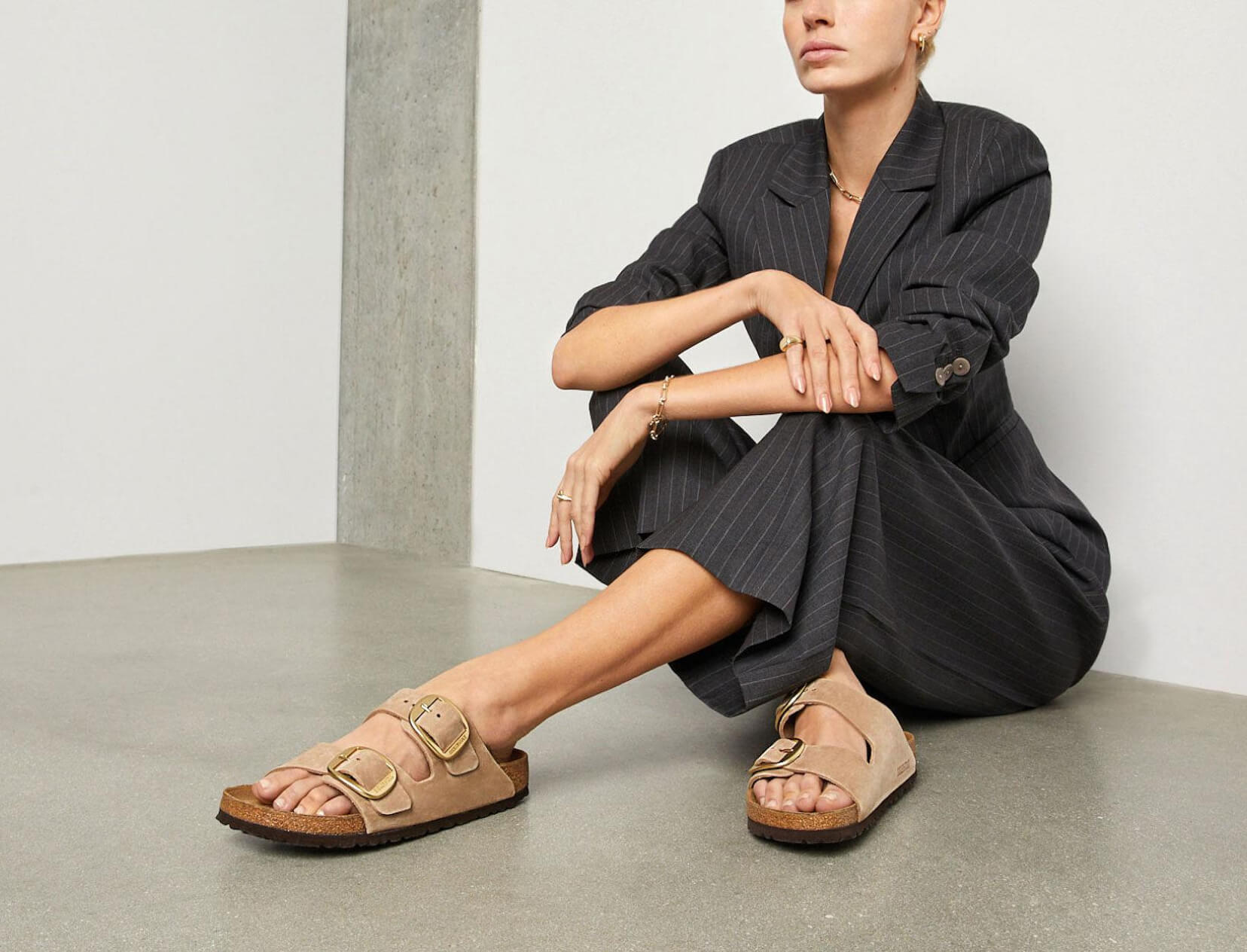 8. Colour-coordinate Your Birkenstocks
Birkenstocks come in a plethora of colours, and choosing the right one can transform your outfit. The classic brown Birkenstocks are versatile and can be paired with almost any outfit. But don't shy away from experimenting with brighter colours or metallic finishes for a fun twist.
Birkenstocks have truly emerged as a fashion staple, marrying style and comfort seamlessly. They're versatile, and practical, and offer an understated charm to any outfit. So, whether you're a minimalist at heart or someone who loves to experiment with fashion, there's a pair of Birkenstocks and a style waiting just for you. Don't let the old stereotypes hold you back. Embrace the Birklife and strut in style and comfort!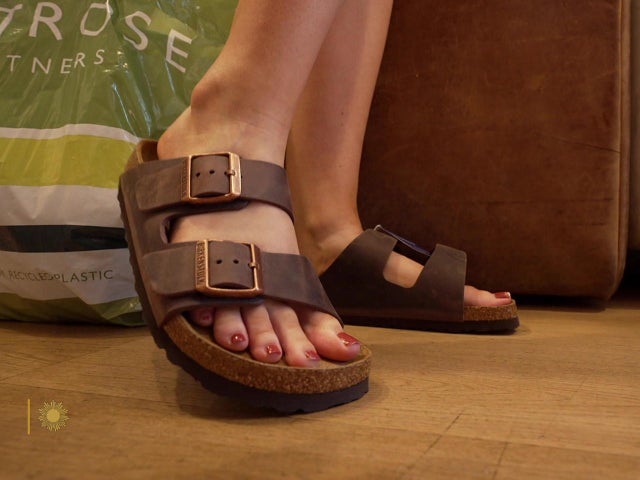 Remember, it's all about how you carry your style, and with Birkenstocks on your feet, you're already halfway there! If you're looking to buy Birkenstocks, check out their official website or visit Nordstrom, which carries an extensive selection of their styles. And while you're there, why not check out some of the recommended brands for your perfect Birkenstock outfit? Step out in style this season with Birkenstocks, the fashionable comfort footwear that's here to stay!
See Also: 9 Beach Outfits to Spice Up Your Summer