Are you ready to feel the warm sand between your toes and soak up the sun's gentle caress? , As you go on a summer adventure like no other! The beach, with its rhythmic waves and endless horizon, is the ultimate playground for relaxation and rejuvenation.
And what better way to make a splash than with your stunning beach outfits? Gone are the days when beachwear was limited to simple swimsuits and oversized tees. It's time to unleash your inner fashionista and let your beach style shine!
Whether you're heading to a tropical paradise or your local coastline, we've got you covered with a delightful array of outfit ideas that will take your summer fashion game to new heights.
Today, we'll guide you on a fashion voyage that will leave you feeling like a true beach goddess. So grab your sun hat because, as you scroll, you are going to feel the heat. Let's make this season memorable and beach fashion a reality!
Outfit #1: Boho Beach Babe
This beach outfit is all about embracing free-spirited style and exuding effortless charm. Start with a crochet bikini top that adds a touch of vintage-inspired allure to your look. Pair it with high-waisted, flowy pants in a breezy fabric.
To accessorize this boho look, layer up your necklaces for a touch of eclectic charm. Stack bangles on your wrists, creating a jingly and eye-catching effect. Complete your look with a wide-brimmed floppy hat.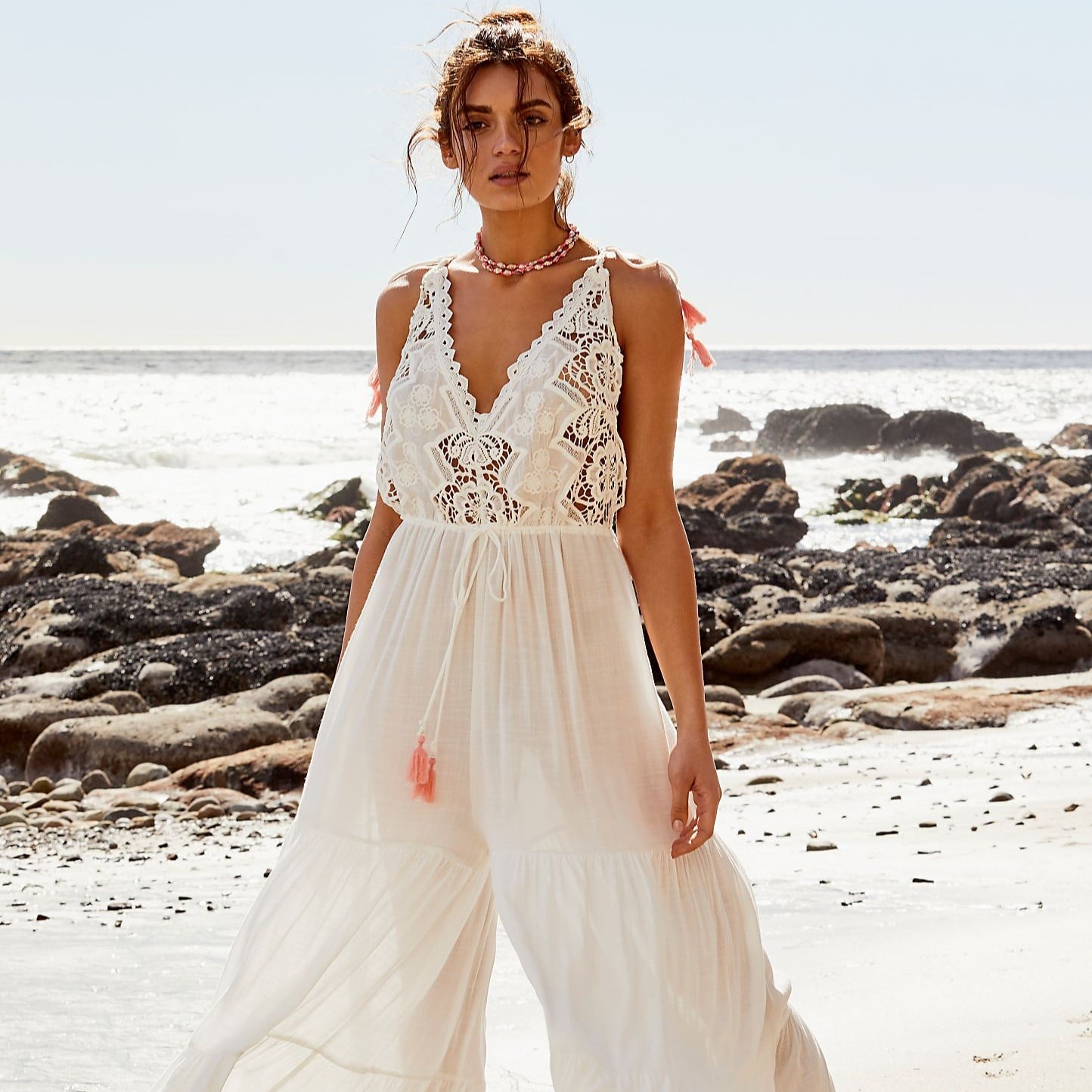 This will not only protect you from the sun but also add a bohemian flair to your outfit. Slip into embellished sandals that showcase intricate details and patterns, adding a touch of glamour to your beach attire. Lastly, grab a fringe beach bag, the epitome of boho chic, to carry your essentials in style. And voila! You are ready to radiate carefree energy and sway to the rhythm of the waves.
Outfit #2: Retro Chic
With the help of a high-waisted polka-dot bikini that enhances your curves and has a beautiful halter top, take a step back in time. Put on a pair of cat-eye sunglasses that ooze old Hollywood elegance to complete the retro look.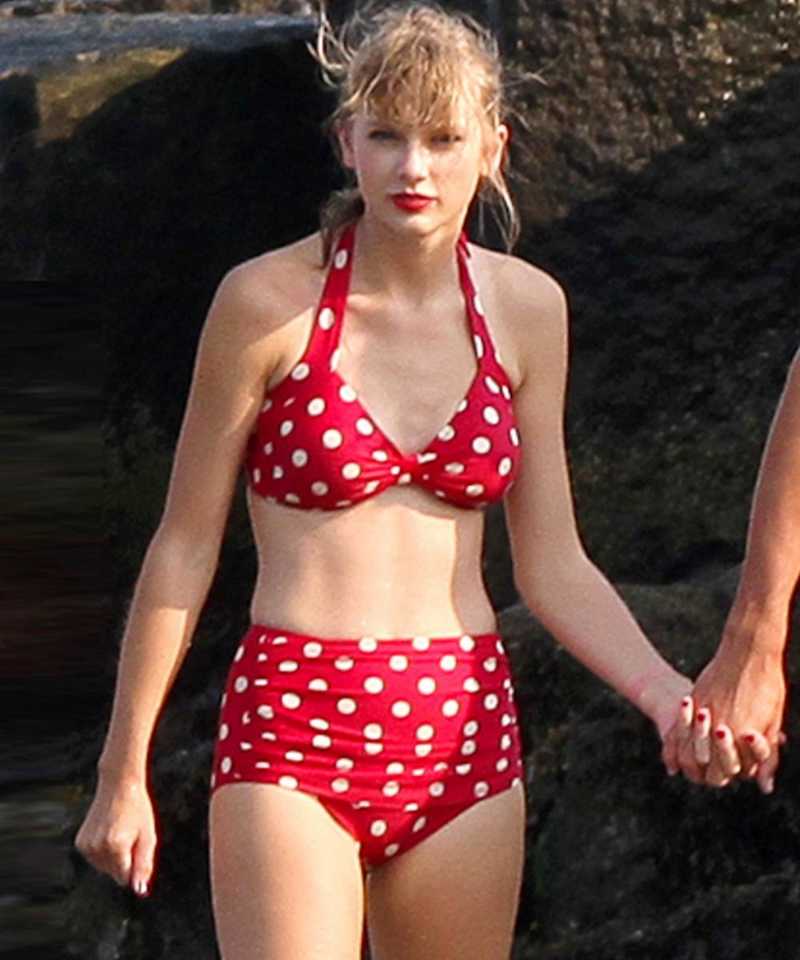 For a dash of antique allure, wrap a headscarf in that style around your head. High-waisted denim shorts are great with a bikini, and platform espadrilles will dress up your look.
Outfit #3: Tropical Paradise
This exotic beach outfit is my favourite. Opt for a colourful one-piece swimsuit with a plunging neckline, making a bold statement under the sun. Wrap a floral-print sarong around your waist and top it off with an oversized straw hat for added flair and sun protection. Choose barefoot sandals to adhere to the relaxed atmosphere and a woven beach tote to transport all of your beach necessities.
Outfit #4: Sporty and active
For those seeking an active beach day, this outfit is just what you need. Choose a sporty bikini or spandex swimsuit set with a racerback top and high-waisted bottoms, ensuring a secure fit while you enjoy various water activities.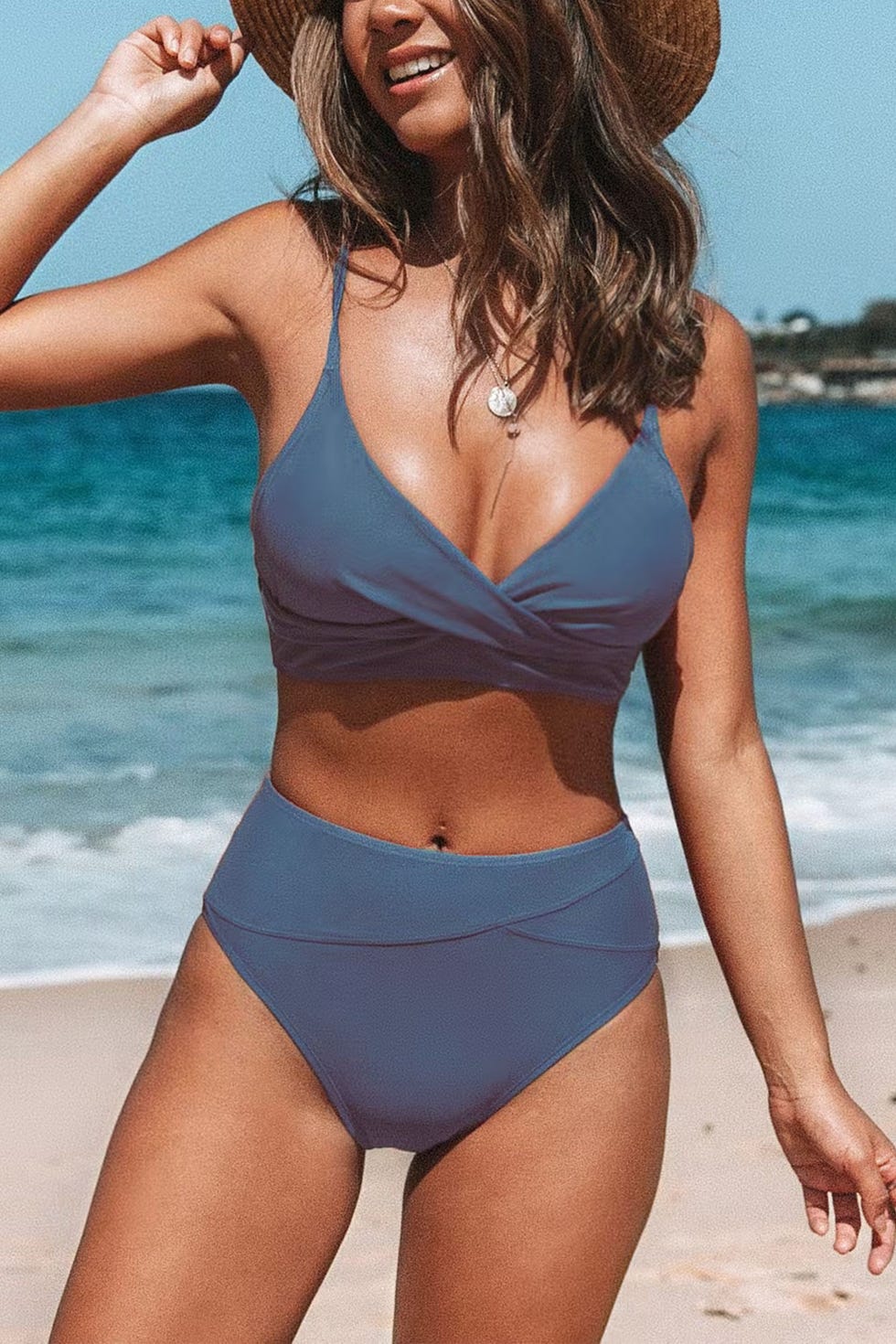 Pair it with athletic shorts and a breathable tank top for comfort and flexibility. Don't forget to slip on sneakers or water shoes to protect your feet and a waterproof waist pack to keep your essentials safe and within reach. I would say this outfit combines practicality and style.
Outfit #5: Elegant Resort Vibes
Well, this will help if you are out with your partner. Opt for a flowing maxi dress in a vibrant, tropical print that epitomizes vacation elegance. Accessorize with statement earrings, and carry your essentials in a sleek clutch.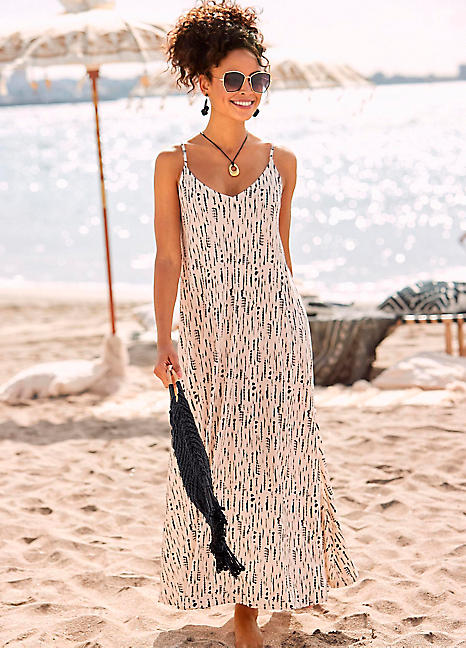 Complete the look with strappy wedge sandals that elongate your legs and a wide-brimmed straw hat for a touch of glamour and sun protection. This look exudes sophistication and resort-worthy style.
Outfit #6: Surfer Chic
For those who love to catch the waves, the look blends style and functionality. Choose a rashguard or surf-inspired bikini paired with comfortable board shorts for a sporty and fashionable vibe. You can add on a breezy T-shirt. Top it off with a trucker hat and mirrored sunglasses to protect yourself from the sun while maintaining a cool and laid-back aesthetic.
Slip-on sneakers or flip-flops provide easy mobility, and a waterproof watch ensures you stay on schedule while riding the waves. Embrace the surfer lifestyle with this trendy and practical beach outfit.
Outfit #7: Nautical Glamour
Bring out your inner sailor with this beach outfit. Opt for a navy and white striped bikini featuring a bandeau top for a timeless nautical look. Pair it with sailor-inspired shorts and a navy blazer to add a touch of sophistication.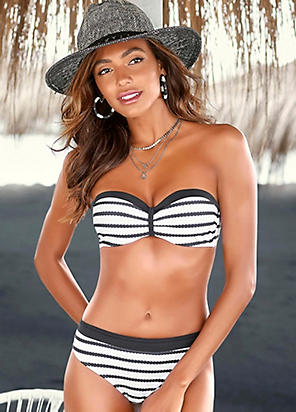 Anchor-printed espadrilles complete the maritime theme, while a straw beach bag adds a practical and stylish element to the ensemble.
Outfit #8: Minimalist Beauty
If you prefer a minimalist and chic beach look, you can choose a simple monochrome one-piece swimsuit that exudes timeless elegance. Layer it with an oversized linen shirt and high-waisted shorts for a relaxed and effortlessly stylish appearance.
Slide sandals offer easy comfort, and a sleek straw clutch adds a touch of sophistication to the ensemble. C'mon, simplicity and the sea go hand in hand.
Outfit #9: Effortlessly Chic
This outfit defines itself. Layer a white lace cover-up over your bikini for an elegant and feminine touch. Complete the look with statement sunglasses and a floppy straw hat that exudes a sense of laid-back sophistication.
Metallic slide sandals add a hint of glamour, and a straw tote bag allows you to carry your beach essentials with ease. This outfit effortlessly combines ease, style, and a hint of luxury for a chic beach look.
You can check out these sites for these nine Beach outfits to spice up your summer:
So, get ready to sizzle under the sun with these beach outfits that will make your summer hotter than ever! Enjoy the waves, sand, and stylish vibes because this summer, you'll be the ultimate beach fashion diva.
See Also: 12 Celebrity Athleisure Outfits to Copy