It's no surprise that lube can make sex just a little more fun; a little more slippery, a little more smooth, and a little more, well…intense. Keep reading for a free sample that'll help you achieve just that!
For some, lubricant, is just an added accessory to their sexual routine, but for others, it is an absolute necessity!
Vazoplex is a female intimate moisturizer arousal gel that takes your sex to the next level. This lubricant is a REAL sex enhancer that will lead to better sex, and who doesn't want that?
The cool thing about Vazoplex is that it is designed specifically for women. The special formula will give women a confidence boost as they feel a sensual sensation after application of the product. It is designed to feel like your own natural sexual moisturizer, so it's not as thick, sticky, and artificial feeling as other lubricants.
Being designed for women, it is formulated with a light PH balance, ideal for regular use. There are no negative side effects- just positive, such as achieving pleasure, resulting in orgasm almost immediately from its famed botanicals!
According to their site, New York local Heidi says…
"Wow! I am so excited about Vazoplex! For the first time in years, I am experiencing orgasm every time. It's my magic secret for great sex! My husband says he feels like we are on our honeymoon."
Oh, Heidi… you've got NYgal pretty convinced we should give this a try!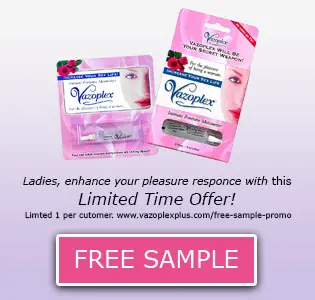 Although this lubricant was specially designed in order to combat issues such as vaginal dryness, loss or lack of libido, arousal, and orgasm, it is also for the girl who just wants a little extra lift in her sex life by promoting physical sensitivity to really make her feel every move in the sheets!
The way this lubricant works is through active ingredients that increase blood flow to the area in which it is applied. While increasing blood flow, it increases sensitivity and also improves cellular function!
We suggest taking a small amount on your fingertip and applying it directly to your clitoris. When applied you will feel an instant warm tingling sensation that will have you hot, ready, and confident for some fun with your partner.
NYgal can continue to tell you all the reasons you should use Vazoplex as your go-to lubricant, but why don't you just give it a try?
Follow the link below for a free sample!
Stay freaky NYgals!
Feature image credit: Unsplash