With the dawn of the new season come limitless state-of-the-art styling options and statement pieces. However, when you are running late, going through a fashion block, or simply want to keep it casual, it is classic clothing that comes to rescue your last-minute fashion crisis. Even economists would agree that an investment in timeless and basic apparel is a wise investment (the economist is certainly not Karla Welch). One must have guessed by now that the classic clothing piece we're talking about is a standard white t-shirt.
A blank canvas on which you may either paint experimental abstractions while wearing skirts and bold lips, or you can use it to paint the safest landscape while donning a pair of blue jeans.
Dress it up or dress it down, and in the meantime, fancy the freedom to style it from an off-duty model look to a recreation of Angelina Jolie's Girl, Interrupted rebel look.
From a pool of options, we have singled out a few styling options that will help you flair your darling white tee in rotations:
Fresh Fashion Breath with Longer Lengths
If you are a lover of old-school styling or drop your heart every time anything vintage crosses your eye, then you should unquestionably start styling your white tees with a denim maxi skirt. Whites and denim are like a match made in heaven, and as a sequel to the "denim-tee story", let's notch it up by exchanging denim skirts for those mom jeans.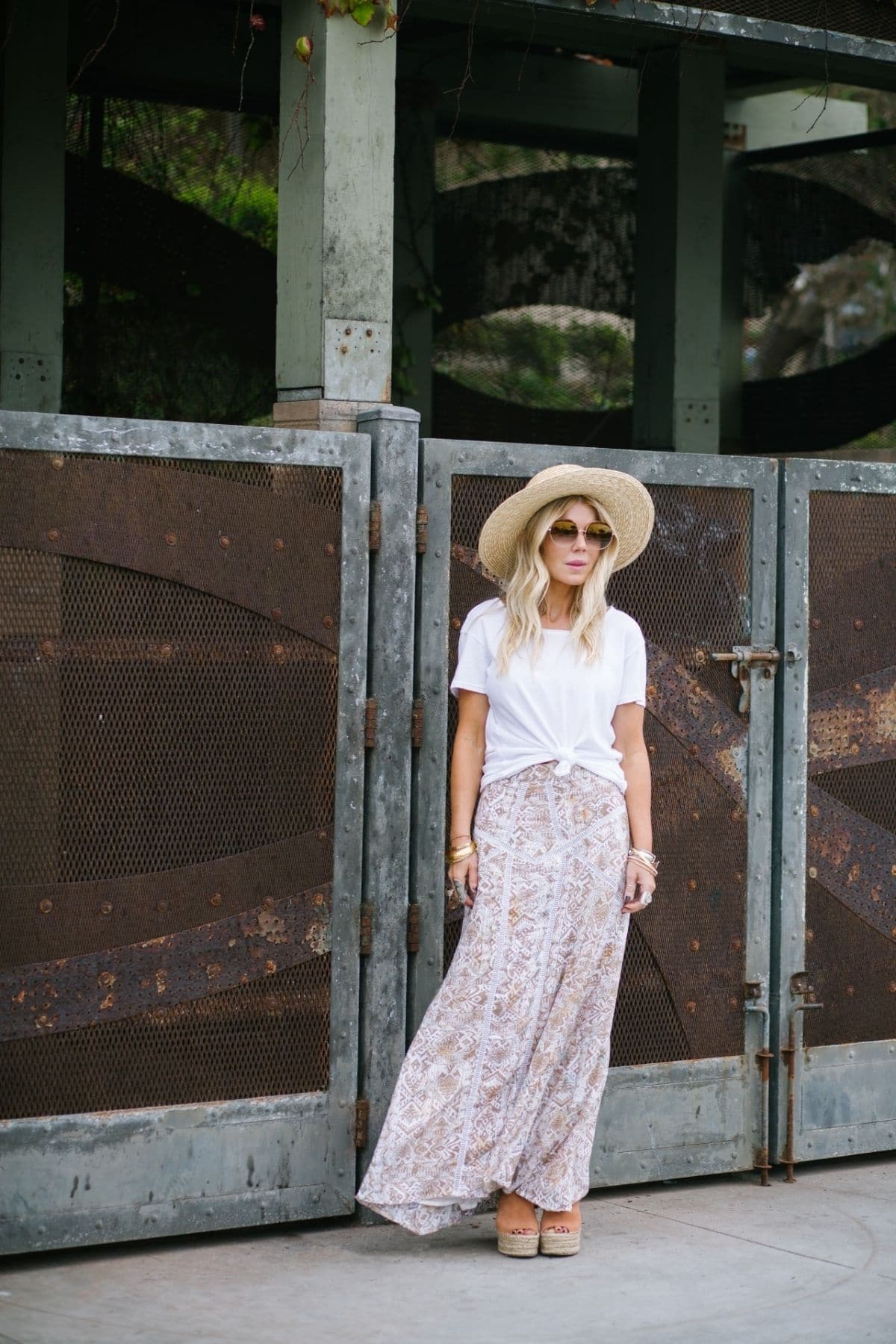 Over the White Tee
Here, we do not tell you to get over your white tee obsession but to amplify it by adding contrasting elements to make the perfect OTT. Any stylist worth their salt will recommend layering and adding extra character to the fit. With the white tee being the minimalist element, go all out and top it up with a slip dress and call it the perfect spring outfit. You may also raise the bar and wear your bralettes and lacy tops outside the bed and pair them with a white tee, classic mom jeans, sneakers, and minimalist jewelry.
Make it Official
White t-shirts are generally considered too casual for office wear, but with the right styling, they may be worn from nine to five rather successfully. Tuck it into a powerful linen suit to polish a perfect office look. Furthermore, to strike a perfect balance between elegant and effortless, add little hints of glamor by pairing it with an heirloom watch and gold accessories.
Have Fun with Vests and Cardigans
Styling is all about having fun, enjoying the process, and getting to know how fashion best defines your personality. If you like to keep it casual and fun and formals are not your thing, we get it. For all the Chuck Bass out there, keep the white t-shirt as a base and pair it with oversized vests or cardigans. Go for fabrics like denim, linen, a patterned cotton vest, or a crochet cardigan.
After Party with Leather and Tshirts
Fashionistas talk about classics and end the conversation with leather. From street style to evening wear, a white t-shirt might not sound like a fail-safe option, but with leather, you can take the fall. A t-shirt balances out the outfit and lets you experiment.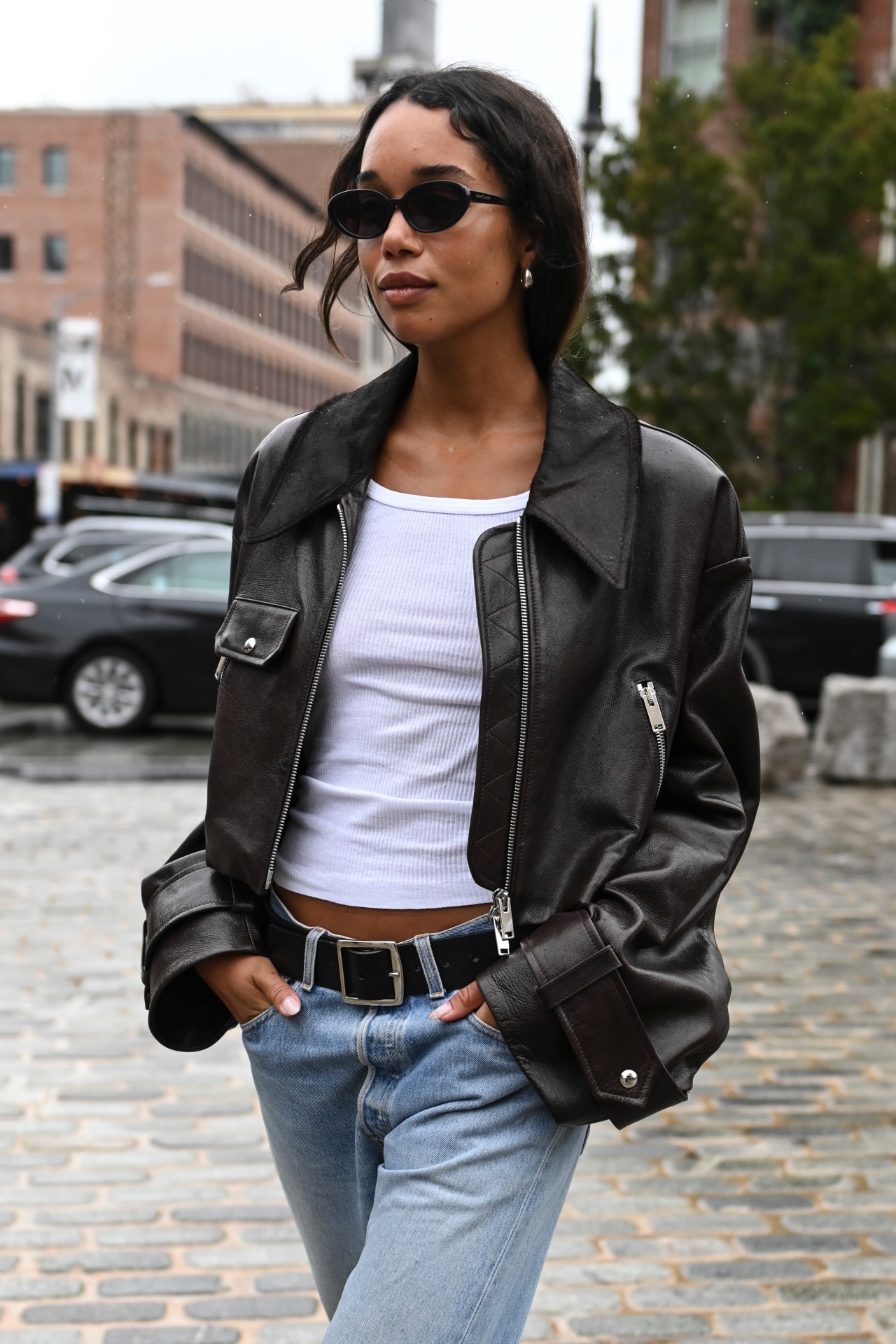 Before hitting the road, go for a band favorite leather jacket and scarlet lips, all tied together with a white t-shirt underneath. If you are taking that road to a house party at your friend's or a date with the love of your life, keep the scarlet lips and change the leather jacket for a leather skirt or wide-legged leather shorts.
Below a Button-up
For a fit that fits both comfort and style, there is no better option than a button-up. No matter if you stole it from your boyfriend's closet or bought it from a thrift store, it always comes in handy when going out for brunch or merely running errands. The next time you step out, keep the buttons open and put a white t-shirt underneath to give it a stark twist. Carry it with white knickers to match the white of the shirt, hoop earrings, and a massive tote bag.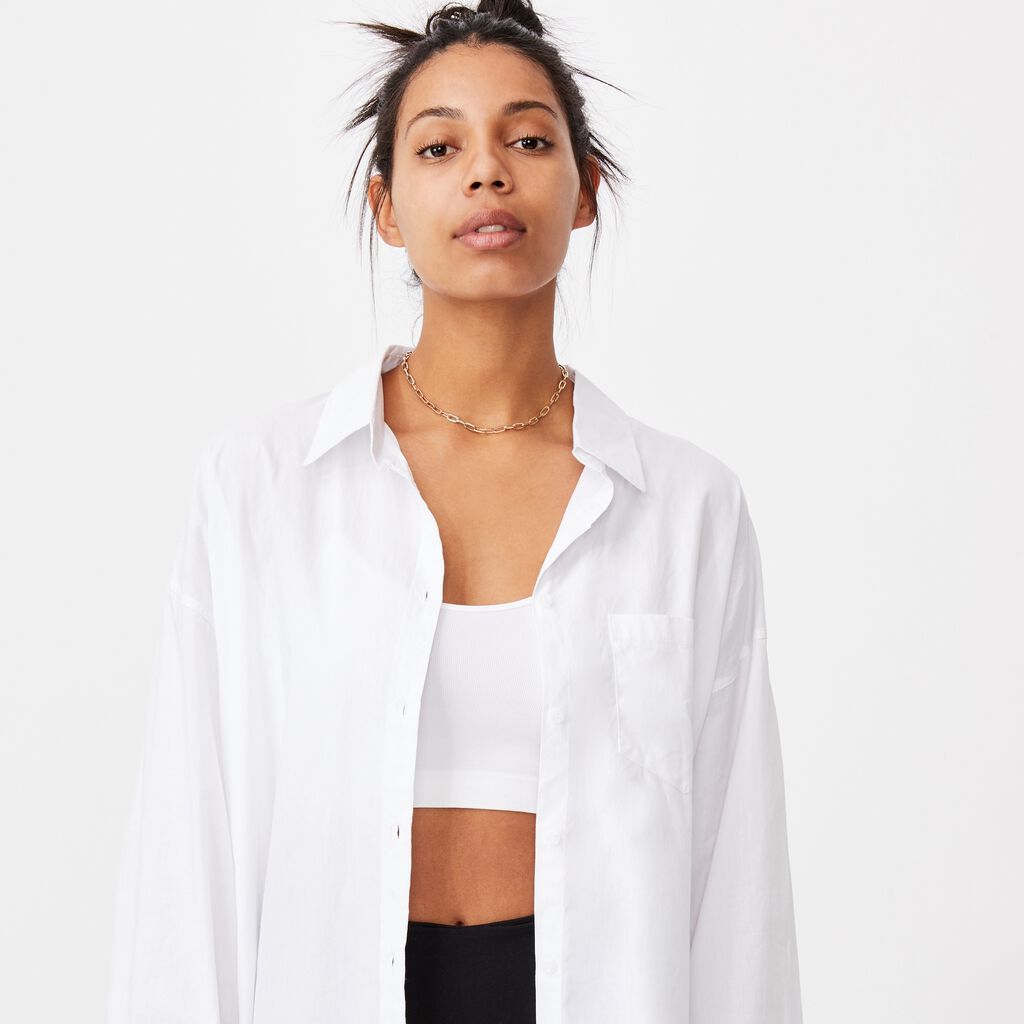 Pair it with Pants, Palazzos, and Pinnafore
Add color with quirky and unique bottom wear. Denim is a staple styling piece that people hold close to their hearts and thus do not experiment much when it comes to bottom wear. With white tees paying an ode to the color wheel, one must bring on those red pants or a patterned palazzo into the scene. Colored bottoms make the outfit look extremely put-together and speculative at the same time. That being the case, you may even add color by pairing them with striking biker shorts and platforms to stay comfy without compromising the fashion quotient. A fanny pack, statement earrings, and sunglasses will add the necessary contemporary flair to the look.
See Also: 10 Trendy Ways to Style Your Black Jeans