Baked tofu, tofurkey for Thanksgiving, and black bean burgers, are constantly being requested as the veganism trend is on the rise. Back in December 2017, popular European delivery service Just Eat, predicted veganism to be the food trend of 2018.
In case you were wondering, Manhattan is packed with vegan restaurants you can go to in case you're transitioning into living the vegan life or simply don't want to ruin your diet.
NYgal's top five vegan restaurant choices are as follows:
Dirt Candy, 86 Allen Street, New York, NY 10002
If you're interested in having a vegan dish with a pop of color at a stylish looking restaurant, then Dirt candy is the place for you to go to. Tucked in the Lower East side and owned by award-winning chef, Amanda Cohen, Dirt Candy offers all of the comfort food you can imagine, but in a vegan version. A must-have at this locale would be the Zucchini pancakes with the squash blossom butter for brunch with a Bloody Carrie on the side which is a smoked bloody mary containing grilled carrot juice and mezcal.
by Chloe., 185 Bleeker Street, New York, NY 10012
Craving a burger and fries? If so, by Chloe. has you covered. A must-order item at by Chloe. would have to be the Classic Burger. The burger patty is made up of tempeh, lentils, walnuts, along with chia seeds and is topped with pickles, lettuce, tomato, onion, beet ketchup, special sauce, and a potato bun. On the side, ordering some Oh So Fancy Fries would be ideal. The fries are baked and contain spicy seitan chorizo, whiskey onions, chipotle aioli, and tofu crema. Although there are so many by Chloe. locations in the city, the location in the West Village would be your best bet as Sweets by Chloe is right next door in case you want your pastry fix after having a burger and fries.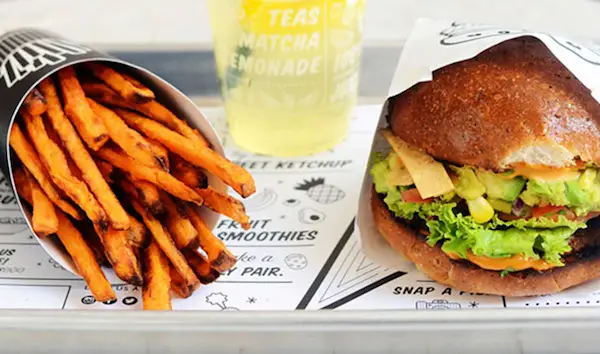 Image Credit: Veg News
The Cinnamon Snail, 7th Ave & West 33rd Street, New York, NY 10005
"Who said Vegan food had to be bland and boring?", asked the folks who run the Cinnamon Snail. The Cinnamon Snail is considered to be one of the country's most popular food trucks which actually opened its first storefront in the Pennsy Food Hall. This locale offers a wide variety of items on the menu. Items all the way from sandwiches to salads are offered. There are some tasty options you can have for breakfast or lunch, however, the vegan donuts offered are to die for. Perfect donuts to grab from the Cinnamon Snail this Spring would be the Lemon Curd and S'mores flavors.
If you're feeling boujie and want to go to a fancy vegan restaurant with some top-notch dishes, then grab your little black dress and heels because you're going to Blossom! Since you're feeling extra fancy, ordering the lasagna and a glass of rosé is a must. The lasagna is made of shiitake, cremini, king trumpet mushrooms, arborio rice, and miso-mustard-cashew cream, which happens to be gluten-free.
Are you in the mood for some Asian inspired tapas? At Franchia Vegan Cafe, Asian fusion is taken to another level and is a place you can pop in to for a quick pick me up or dinner with a couple of good friends. With Bao Buns being so popular, Peking Buns would be a quintessential choice as they are stuffed with crispy vegetarian 'duck' and scallions. You can pair the buns with a small plate of Combination Pancakes which contains Sweet Corn Cilantro,
Scallion and Spicy Kimchi Pancakes.
Image Credit: Good Life Cookin