Thou brushed your hair while thy lover waited for you at the breakfast table, lost in the beautiful honey-colored ramparts at your ear. They loved you for who you are, as well as for your yellow hair.
It is therefore rightly quoted, "Love is in the hair". The hair has the power to lock a sight and let it adrift in its trap. However, we believe, and for all the right reasons, that a stronger love lies in a thumbed-through hair care routine. When you get right down to it, these luscious locks deserve some level of attention on a daily basis. Once you figure out what products work the most efficiently for you, what ingredients to look for at the drugstore, which product combos could work miraculously, and which step to pair with which, a hair care routine will almost certainly be added to the list of things you enjoy doing for yourself.
With pollution, excessive weather conditions, and poor lifestyle choices chasing after the life of your hair, we present to you our hero's guide to promoting and building a healthy hair care routine.
Begin with the basics: Clean
What do you do to take care of your body? Clean
What should you do to take care of your hair? Clean.
Your scalp is essentially skin, so it should be thoroughly cleaned on a weekly or biweekly basis. Keep in mind that you do not necessarily need to wash your hair every day. This will increase breakage and frizz in addition to robbing your hair of its natural oils. It is suggested that you wash your hair gently once or twice a week with a sulfate-free shampoo, using your fingertips rather than your fingernails.
However, the requirement of the shampoo and of a wash depends completely on your hair type. If you are a gym person or sweat a lot, you might need to get the grease out of your hair every other day, but if you go to school or the office, once a week might be enough.
The crux of the point is that you need to get rid of the sebum buildup, sweat, dirt, dandruff, or residue from styling products by gently washing your hair with a moisturizing shampoo in preferably lukewarm or cold water.
PRO TIP: Dilute your shampoo in an ounce of water to reduce any direct harm the harsh ingredients might cause.
Calm the Conditioning Cravings
The hair requires additional nourishment post-shampooing. Shampoos are meant to clean the scalp, but the lengths of your hair need a good amount of moisture to regain their shine and bounce. Thus, conditioning becomes an extremely important step in a good hair care routine. It helps to replenish the dead and dried tangles.
To avail yourself of all the benefits that a conditioner has to offer, you must first squeeze out any and all excess water from your locks and then apply the conditioner only to the lengths and not the scalp. After letting it work its magic for 2-4 minutes, rinse it with cold water to lock in the moisture and get a fresh, flowing scent.
Dare to Detangle
Detangling is the perfect solution for flowy, presentable hair. It sorts out any unwanted knots and minimizes breakage. It improves blood circulation in the scalp and promotes healthy-looking hair. Depending on your mane demands, you can either opt to comb your hair after the application of conditioner as it smooths out the knots or post-drying. For detangling your hair outside the shower, you can either use a leave-in conditioner or essential oil to avoid pulling your hair like a maniac.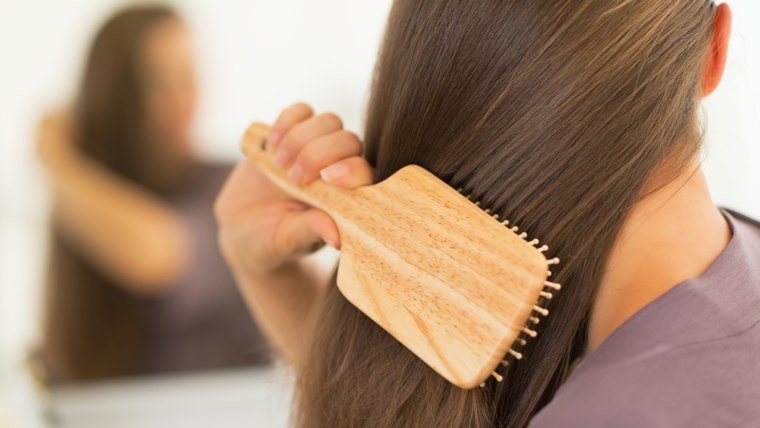 PRO TIP: Work your way upwards, which means start combing the lower lengths first and then reach for the top. Also, using a wooden, wide-tooth comb will help with the frizz.
Masks and Oils to the Rescue
To restore the luster of your ringlets after a dull and tiring week, treat them with an organic hair treatment that includes customized hair masks. Research the type of your hair, your hair concerns, and the goals that you want to achieve. Based on the combination of answers, look for what might work best for your hair type and prepare or invest in a deep-conditioning hair mask.
For instance, a flaxseed hair mask might work best for somebody who is looking to have silkier hair, or an egg mask or patchouli mask might be useful for adding volume.
Treat your hair with its favorite kind of deep nourishment once a month for an added boost of conditioning.
Besides hair masks, massage your scalp with a mix of base oil and essential oil to promote growth and restore wholesome quality hair. While oiling, part your hair and focus on smearing the entire scalp with oil. Do not go overboard with the oil as it might be of no use; just the appropriate amount to soak the roots would do the job just as efficiently. Braid your hair to let the oil seep in and seal the advances by keeping the oil overnight.
See Also: Fight Hair Fall with these 5 Natural Oils
Prep, Prime, and Style
The aforementioned signals will pretty much prepare your hair for whatever styling you have in mind. Even so, you must use a heat protector before using any heat on your tangles because styling may only be beneficial in the short term, but a protectant will be useful over time. Whichever style your heart desires—a high puff, a low bun, tight curls, or beachy waves—just cut back on the use of any dangerous chemicals or gel that can be avoided. Instead, applying an oil or a hair primer can produce the same results. So be it! Brush your messy hair, embrace a bun, and take on the world!