Few items in men's fashion can compare to the class and refinement of a well-made pair of dress shoes in terms of their ageless appeal. Dress shoes enhance your style while also reflecting your personality and level of attention to detail. The correct pair of dress shoes may make all the difference, whether you're attending a formal event or just want to dress up your regular business clothing. 
A shoe for smart casual or more formal occasions is known as a dress shoe in American English. Usually, a dress shoe is compared to an athletic shoe.
This post will look at some of the top dress shoes for men that elegantly blend comfort, style, and practicality.
Oxford Sneakers
Every man's wardrobe should have an Oxford shoe pair. Oxford shoes radiate a feeling of vintage sophistication with their closed lacing system, streamlined design, and low heels. Because of their simple, basic style, they go well with a wide range of clothes, including tailored suits and business casual wear. For a simple yet elegant style, choose a pair of premium leather shoes in black or brown.
Derby Boots
Derby shoes, commonly referred to as Bluchers, provide a slightly more laid-back and adaptable substitute for Oxfords. Derby shoes, unlike Oxfords, have an open lacing mechanism that enables a more flexible fit and makes them appropriate for men with broader feet. Derby shoes are a great option for both professional and social settings since they achieve the ideal mix between formal and informal. For a dash of uniqueness, think about a pair in deep brown or rich burgundy.
Monk Strap Shoes
If you want to give your ensemble a little flair, monk-strap shoes are a great choice. The upper part of these shoes is fastened with a special buckle strap, giving them a distinctive and fashionable look. Monk strap footwear is available with a single or double strap, and it is easily adaptable from the boardroom to a night out. When worn with formal trousers or fitted suits, they appear very sharp.
Loafers
Loafers are the footwear of choice for a more casual yet stylish appearance. For events that call for a smart-casual or business-casual dress code, these slip-on shoes are ideal.
There are several different types of loafers, such as penny loafers and tassel loafers, and each one adds a distinct element of elegance. For a refined yet relaxed style, pair them with formal pants, chinos, or even jeans.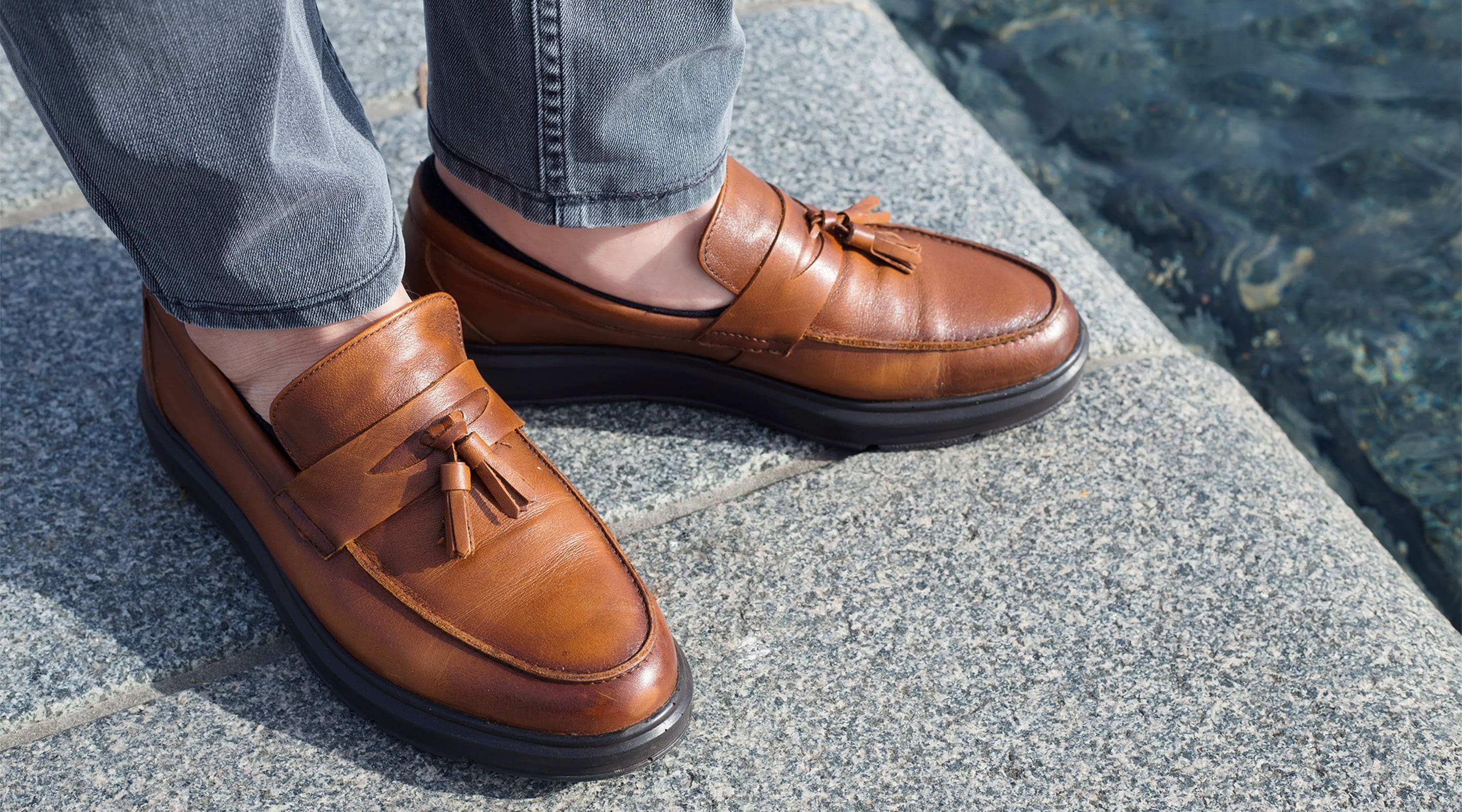 The leather or suede used in loafers is frequently soft and supple, letting your feet breathe and ensuring all-day comfort. They may be paired with shorts, linen trousers, or even chinos for a casual yet put-together look.
Whole-cut Shoes
Whole-cut shoes are the height of luxury for the sophisticated man who values fine craftsmanship. These shoes have a seamless look due to their single piece of leather construction, which highlights their elegant and streamlined design.
Whole-cut shoes are the height of elegance and are frequently worn only at formal occasions or black-tie gatherings. For a really exceptional and elegant combination, pair them with a fitted tuxedo.
Wingtip Shoes
Commonly referred to as brogues, they are a traditional and fashionable option that adds a dash of design to your outfit. These shoes have a unique and upscale appearance thanks to their ornamental perforations and wing-shaped toe tips. Wingtip shoes come in a variety of hues and materials, from classic black and brown to daring blue and burgundy. They are a flexible addition to your wardrobe because they go with both formal and smart-casual clothes.
London Boots
Chelsea boots are a great choice for guys who want to add a touch of elegance to their clothes while retaining a trendy and contemporary style, even if they aren't exactly formal shoes. With an elastic side panel, these ankle-high boots are simple to put on and take off. Chelsea boots are ideal since they often feature a slender profile, clean lines, and a sleek shape. They provide a chic and sophisticated style when worn with slim-fit pants or dark denim.
Cap-Toe Shoes
Cap-toe shoes are a traditional and timeless option that goes well with a variety of formal and business attire. These shoes have a characteristic cap-like coating of leather over the toe region, as the name would imply, providing a touch of refinement. Cap-toe footwear comes in a variety of designs, such as Oxfords and Derbies, and colours, with black and brown being the most common options. These adaptable shoes are appropriate for weddings, business meetings, and any other occasion where a refined image is sought.
Dress Boots
Dress boots are a fashionable and useful option for colder months or events that call for a slightly more robust appearance. With these boots, you have the toughness and practicality of boots with the style of dress shoes. Dress boots generally have a streamlined shape with few embellishments and are made of premium leather. They come in a variety of designs, including Chelsea boots, fancy lace-up boots, and chukka boots. For a chic and adaptable look, pair them with dark denim or fitted pants.
Always keep in mind that comfort and elegance should be taken into consideration while selecting the best dress shoes. Make sure your shoes fit properly, are made of high-quality materials, and look beautiful. This will help to guarantee that they are comfy all day. You can easily improve your style and make a strong impact everywhere you go with the perfect pair of dress shoes.
The best way to improve your personal style and project an aura of elegance is to invest in a good pair of dress shoes.
The proper pair of dress shoes will elevate any ensemble, whether you choose timeless Oxfords, functional Derbies, chic monk strap shoes, cosy loafers, or opulent full cuts.
For optimal comfort and style, buy shoes made of high-quality materials like real leather and make sure they fit properly. In light of the fact that your perfect choice in dress shoes will make a lasting impact everywhere you go, go out with confidence.