New York City is known to offer so much to tourists and its transplants, all the way from restaurants, museums, shopping options, and so much more. With that being said, fitness studios have been booming, not just in Manhattan but all throughout the planet.
In Manhattan, you'll stumble upon SoulCycle locations, Overthrow Boxing, CrossFit boxes, along with other fitness spaces. One recently opened space, however, has caught the attention of many NYgals. This state of the art fitness space is Rise By We.
Nestled in Manhattan's Financial District, Rise By We opened on October 2017 and is WeWork's idea of an absolute wellness club where social fitness is utilized to elevate the mind, body and spirit. Rise By We's concept is based on being uplifted, energized, and positive in a literal and figurative way where you rise when getting up in the morning, rise as a physical motion when working out along with rising above and feeling uplifted.
Rise By We is the first wellness facility offering community-based group fitness, multiple boutique studios, wellness programs, personal training and a full spa experience all under one roof, which means you won't have to travel from studio to studio anymore. At Rise By We you can find an array of classes and services all the way from Muay Thai to massages, yoga to private training sessions, sauna intervals to meditation, among many others. Like WeWork, Rise offers something for everyone as well as a community for you to motivate, relax and rejuvenate with. You can always bring friends or even make new ones when dropping in.
The menu of classes at Rise By We are as follows:
Insight Studio: Mind Body connection through yoga, meditation and pilates.
INSIGHT is a holistic experience that allows you depart from your day to day demands. INSIGHT is more than a studio as it is a sanctuary to relax, restore, and rejuvenate. At this studio, you are guided through the foundations of yoga — yama (codes of social conduct), niyama (self-observance), asanas (postures), pranayama (breath), dharana (concentration), dhyana (meditation), and samadhi (self-realization) which will provide you with the chance to harmonize your body, mind, and energy.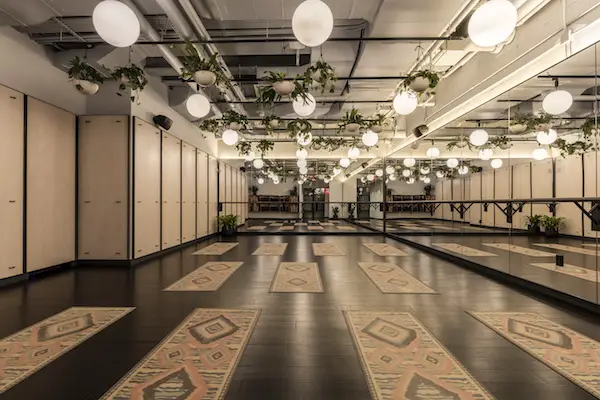 Image Credit:Kris Tamburello
Flight Studio: Run, row and functional training.
At the FLIGHT Studio, you'll push yourself to new limits, increase your stamina, stability, and overall strength.The high-intensity journey consists of jumps between intervals of sprints, rowing, and full body strength movements to burn calories and create aerobic endurance. Your body will be dripping with sweat and your heart will be pumping since it's a fully engaged and functional workout.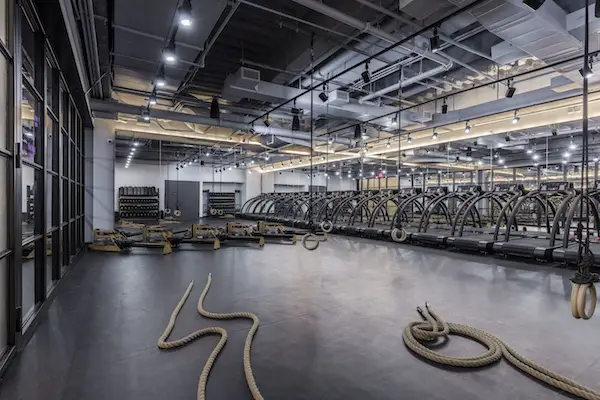 Image Credit:Kris Tamburello
Fight Studio: Suspended Muay Thai bags to support kickboxing, boxing, and MMA-based classes.
Grab your boxing gloves and head to the FIGHT Studio where you'll find the strength to power through any challenge and release stress. FIGHT is designed to build tenacity, stamina, and mental acuity as Rise combines the ancient martial art of Muay Thai with traditional boxing methods to unleash your inner champion.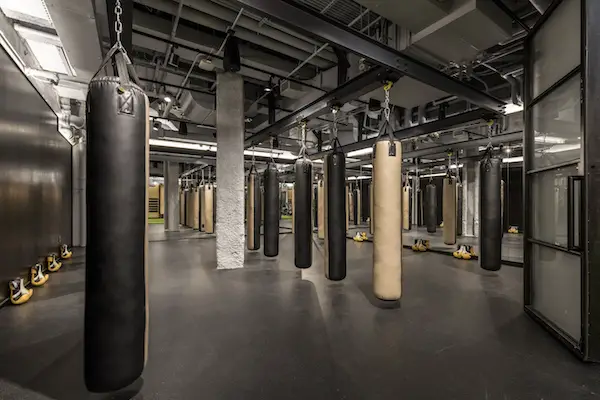 Image Credit:Kris Tamburello
Turf: Set goals. Motivate. Train.
If you don't want to go to a CrossFit box, then you should go to the TURF Studio. TURF is a high-performance training program that uses science, technology, and expert coaching to achieve optimal results for your well being where you'll build muscle, burn fat, and improve overall performance. Before starting classes at TURF, you'll take the Rise Assesment, which includes an in-depth medical and fitness questionnaire, body composition index, and a FIT3d body scan. Afterwards, your coach will then utilize this information to point out your goals and create a personal plan for success.
Once your plan is good to go, you'll get into your Performance Prescription alongside your coach and fellow teammates in which you'll be able to track your progress in real time with your Performance Portal. Equipment utilized at TURF includes Keiser Functional Trainers, Keiser Half-Racks, Concept2 Rowers, VersaClimbers, Schwinn Airdynes, kettlebells, free weights, sleds, ropes, tractor tire, and many others.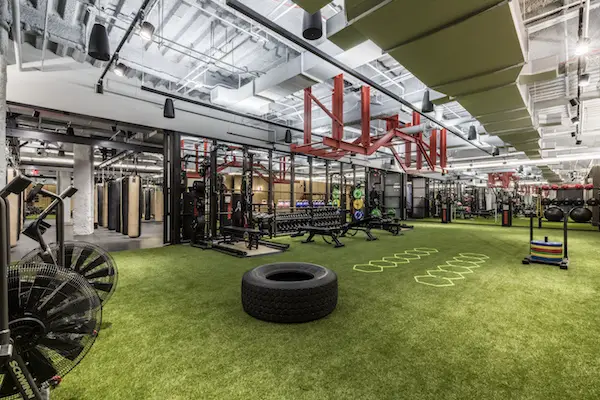 Image Credit:Kris Tamburello
Superspa:
Rather than rushing out of Rise as you do at other gyms, take some time to stop by the spa. The spa at Rise offers aromatherapy, steam and sauna rooms, a communal hammam area and a cold water plunge in addition to featuring a buffet of massage offerings.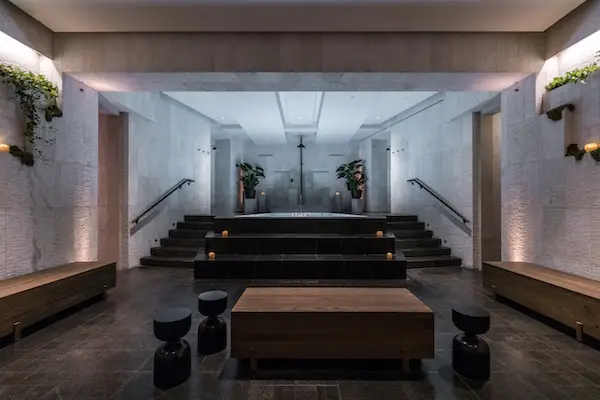 Image Credit:Kris Tamburello
Lastly, Rise By We offers a wide variety of healthy snacks and meals for you to grab after training or a spa session in addition to clothing available for purchase. Rise by We features products from WeWork member companies, including Olie Biologique, PiperWai, Supergoop, Alana Athletic, WOLA CO, Barnana, and This Granola is Nuts. The clothing sold at the space is provided by their apparel partner, Respect Your Universe (RYU).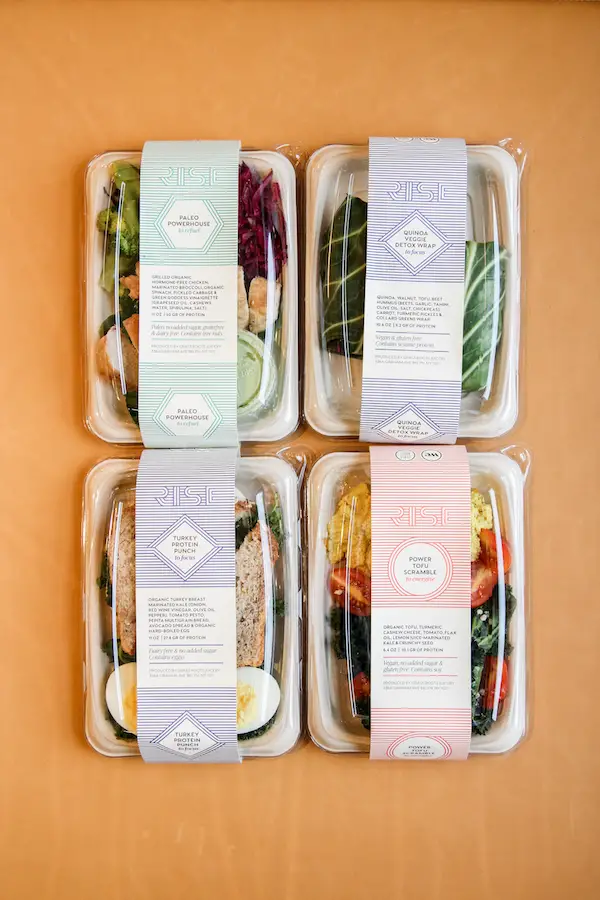 Image Credit:Rise By We
To get a taste of Rise By We before stopping by, follow them on Instagram @risebywe.
Feature Image Credit:Kris Tamburello