Now infamous nanny Yoselyn Ortega has finally been sentenced for stabbing two children in her care to death in the fall of 2012. Ortega pleaded not guilty by reason of insanity, claiming that the devil took over and she didn't remember anything before waking up in the hospital. Evidence proved that the attacks were intentional, however, and she was found guilty on two counts of first-degree murder and two counts of second-degree murder. She will face life in prison at her sentencing hearing on May 14th. If you live under a rock and have no idea what I'm talking about, keep reading for the horrible details.
On October 25, 2012, I was on West 76th Street, reading Goodnight Moon to a bright six year old girl and adorable 2 year old boy before bedtime. Their mother stepped in from the next room to kiss them goodnight before heading out for the evening, holding them much tighter than usual. As I closed the door quietly behind us, she mournfully asked me, "did you hear?" I hadn't heard. I will never forget the dismay in her voice as she recounted the horrific crimes that had taken place just a block away.
Two innocent babes of the same age, Lucia Krim, 6, and Leo Krim, 2, were brutally murdered by their nanny, Yoselyn Ortega. Marina Krim was with her daughter Nessie, 3 at the time, waiting for Ortega to arrive with the children at Lucia's ballet class. Becoming increasingly concerned as to why they had yet to arrive, she hurried back to her building, La Rochelle, finding every light in the house off. Marina returned downstairs, asking the doorman if the nanny had left with the children. He said no. Marina quickly returned upstairs and began to search the house.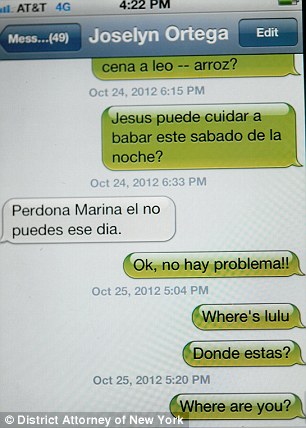 Image credit: District Attorney of New York
Texts sent by Marina moments before she found her children dead.
What she found would haunt her forever. The nanny she loved and trusted had stabbed Lucia and Leo to death in the bathtub with a kitchen knife. Prosecutors reported during the trial that little Leo was stabbed five times, and brave Lulu was stabbed over 30 times as she attempted to fight back. Ortega waited for Marina to return before attempting to take her own life. It was theorized that she morbidly desired to see Marina's reaction before stabbing herself in the throat. Marina and Kevin had lost "2 of our 3 best friends, and we miss them so much," the bereaved mother described on her blog, Little Miss Lucia.


Image credit: Little Miss Lucia
The last blog post Marina wrote about Leo, just a few hours before his death.
For 5 and a half years, the trial has dragged on. During Marina's testimony, she "spoke of the sickening, desperate moments when she saw her children's vacant eyes, their small bodies perforated by stab wounds," as CBS reports. Kevin Krim was on a business trip when the murders happened, thus was escorted from JFK to the hospital where his worst nightmare began. "They still had this perfect skin and these long eyelashes. They had like sandy brown hair. […] You could see they tried really hard to wash all the blood out, but there was still kind of an auburn tint to it that I remember to this day," he somberly detailed.
Today, the Krims have continued to build a beautiful life, refusing to give up despite the horrors they have endured. They have since added two new members to their family, Felix, born in 2013, and Linus, born in 2016.
Marina and I want to thank the judge and the jurors for their commitment to justice and their public service over this long and difficult trial. We are deeply indebted to the district attorney's…
Check out the video below to hear about their intiative, Choose Creativity, which is designed to empower "children and adults through a curriculum to engage with the 10 Principles of Creativity to build resilience, creative confidence, and social-emotional skills." May the Krims find peace in justice and their new ventures.
After five years, the criminal trial in our case is starting. Lulu and Leo and the story of our family will be in the news once again. The next few months will be very emotional and we're here to ask…