My mother named me after the Doctor Seuss book, Daisy Head Mayzie, the only other place I've seen the name Mayzie spelled that way, which meant that I never found anything with my name on a souvenir and gift shops as a child.
I appreciate my unconventionally spelled name now, although close friends and even family members struggle to grasp the Z in it. I like being the only Mayzie I know. Still, the narcissistic millennial in me yearns for personalized items. For months, I've been wanting a Pop and Suki Bag, which allows a name, word, or fun emoji to be printed on the bag, even going as far as customizing the color.
Around this time, I came across another personalized item, unrelated to fashion, on Instagram- Care/of Vitamins.. These vitamins are arranged for your body's needs and are sent to you with little daily prescribed packets that have your name printed on them.
Founded in 2016 by Akash Shah and Craig Elbert, the NYC based company aims to supply consumers with vitamins specifically recommended to each individual. The website states that, "Everyone has a different path to personal health, and we're here to help you find yours."
The process begins with a quiz and unlike many of the quizzes I find myself on What type of bread are YOU?, which is a test that doesn't feel as procrastinating. I enter my name and start to pick the answer best suited for myself. I chose that I am somewhat informed on vitamins, the other options were Skeptical and Curious. In 50 questions, ranging from various categories, all the way from Basic, Goals, Lifestyle, to Values, Care/of now is aware that I'm a vegetarian, 22, female, exercise as regularly as I can, stress a lot and want to focus on my skin.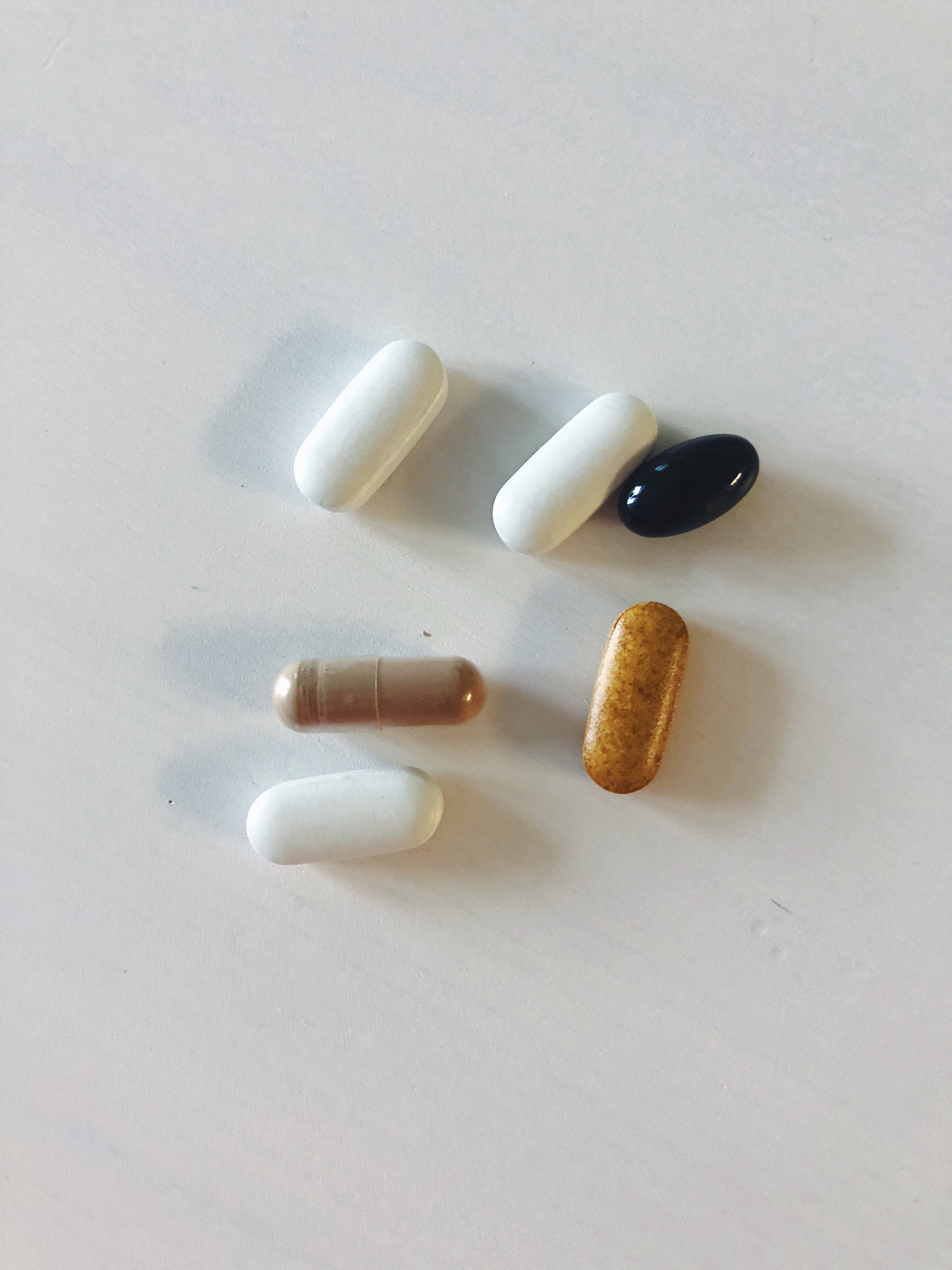 The website's database calculates my information, giving me a list of vitamins I should be taking, according to my answers. It seems excessive. I normally take a Vitamin C tablet, a women's multi-vitamin and an iron supplement twice a day. Care Of listed eight tablets that would come in the daily packets.
The cost is over $50 per month, which is also expensive. Once I cut out the iron, which I already have and reduced my stress recommended pills to just one since I already take a prescription drug for my anxiety, it came to just under $40, similar to the amount I usually spend.
One alluring feature is the breakdown of each pill: Why they recommended it, it's ingredients, research, study examples and even what it doesn't contain: Dairy, wheat, eggs and so forth.
I then needed to wait about 5-7 business days to receive my month's Care/of supply, which was 20% for my first order. The package arrived a week later and a long rectangle box came inside a secured, bubble wrapped cardboard. The main packaging was a white simple, clean and professional design, with a small, cartridge like slit in the bottom to take out the vitamin packs, which had my name printed on along with a small tip, question, or fact of the day.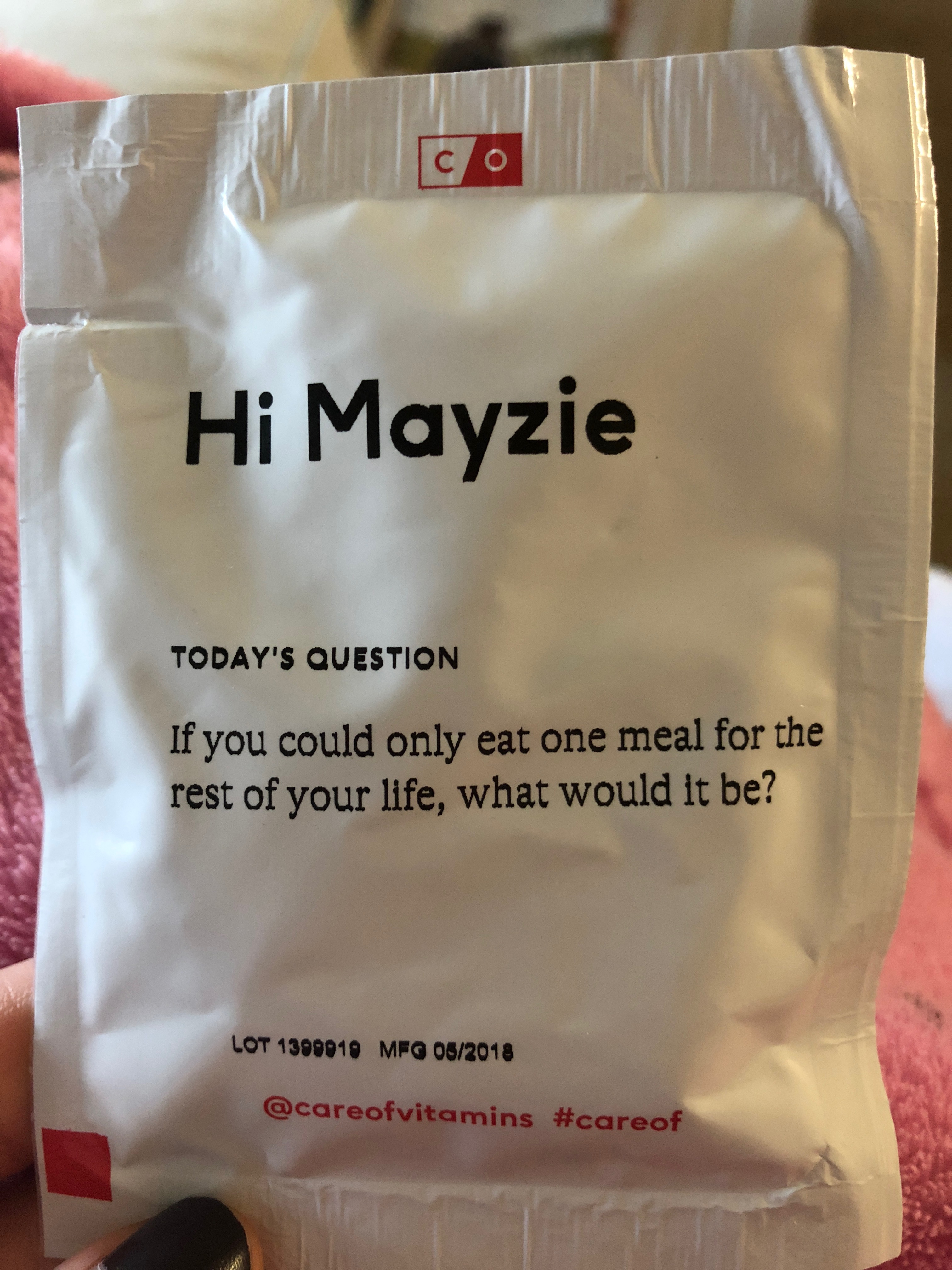 I've taken about half of my first order and I've already felt the benefits. Despite eliminating the iron supplements from my list on Care/of to keep taking my own, my energy levels have improved. I'm sleeping better and feel less lethargic upon waking up. I even feel less irritable in general, which could be related to my lack of tiredness.
When exercising, I've noticed my strength is improving. I only practice yoga for exercise and I've noticed that my flexibility and durability to remain in strenuous positions has developed rapidly in the last fornight, much more than in the first months I forcefully initiated regular exercise as a four time a week chore.
Care/of breaks down the costs of regular vitamins versus their own brand, claiming that their subscription will save money. Yet, I wouldn't usually buy as many as they recommend, so I did end up spending more than I previously had done.
I listed myself as informed because I take vitamins for the things I think I need: Tiredness, overall women's health and Vitamin C to help absorb iron better. This and healthy eating and exercise still left me feeling tired and after my teenage years no longer being a student, I began attributing it to be part of my personality. I always preferred to relax and stay in than do anything that required leaving my apartment, however, Care/of vitamins managed to discover what I was lacking.
Cover Image Source: The New Potato