The safest way to see our loved ones this winter is outdoors, so it makes perfect sense to get into the holiday spirit and create a winter wonderland outdoors for responsible entertaining. Switch over from fall decor and add these festive touches to your outdoor space for a comfortable and safe winter season.
Umbrella Propane Patio Heater
Outdoor heaters may have single-handedly saved the dining industry in New York this winter. You, too, can get in on the outdoor coziness that has taken New York by storm with this umbrella heater from the Home Shopping Network. The propane patio heater comes in bronze stainless steel and has an approximate run time per tank of eight hours on low and four hours on high. So there is plenty of time to enjoy your outdoor space this festive season.
Curtain String Lights
Christmas wouldn't be the exciting and illuminating holiday it is without the joy of seeing twinkling lights, and nothing says winter wonderland more than a string of lights. These curtain lights are energy-efficient and will add to the festive ambiance.
Red Santa Stop Here Sign Pole
Delighting children across the country, Dr. Fauci recently announced that Santa is immune to Covid-19. So be prepared for the annual visit with this Santa "Stop Here" sign that will ensure you get everything on your wish list. Not only is the sign a guarantee that your house won't be forgotten during the festivities, but it is also a great decoration to add North Pole vibes to any household.
21″ Round Concrete Wood Burning Fire Pit
Fire pits are a perfect way to rank up the coziness this holiday season. Whether you are having a glass of wine while looking at the twinkling lights, toasting smores with friends, or simply enjoying a crisp winter night with the warmth of the dancing flame, a fire pit is a must.
Kurt Adler 5-ft. Pre-Lit Potted Artificial Christmas Tree Set
These five-foot, pre-lit, potted artificial Christmas trees will make the perfect addition to your outdoor space throughout the Christmas season. While taking up little of your outdoor space, these trees make a big festive impact for you and your guests to admire.
Grizzly Peak Plush Sherpa Throw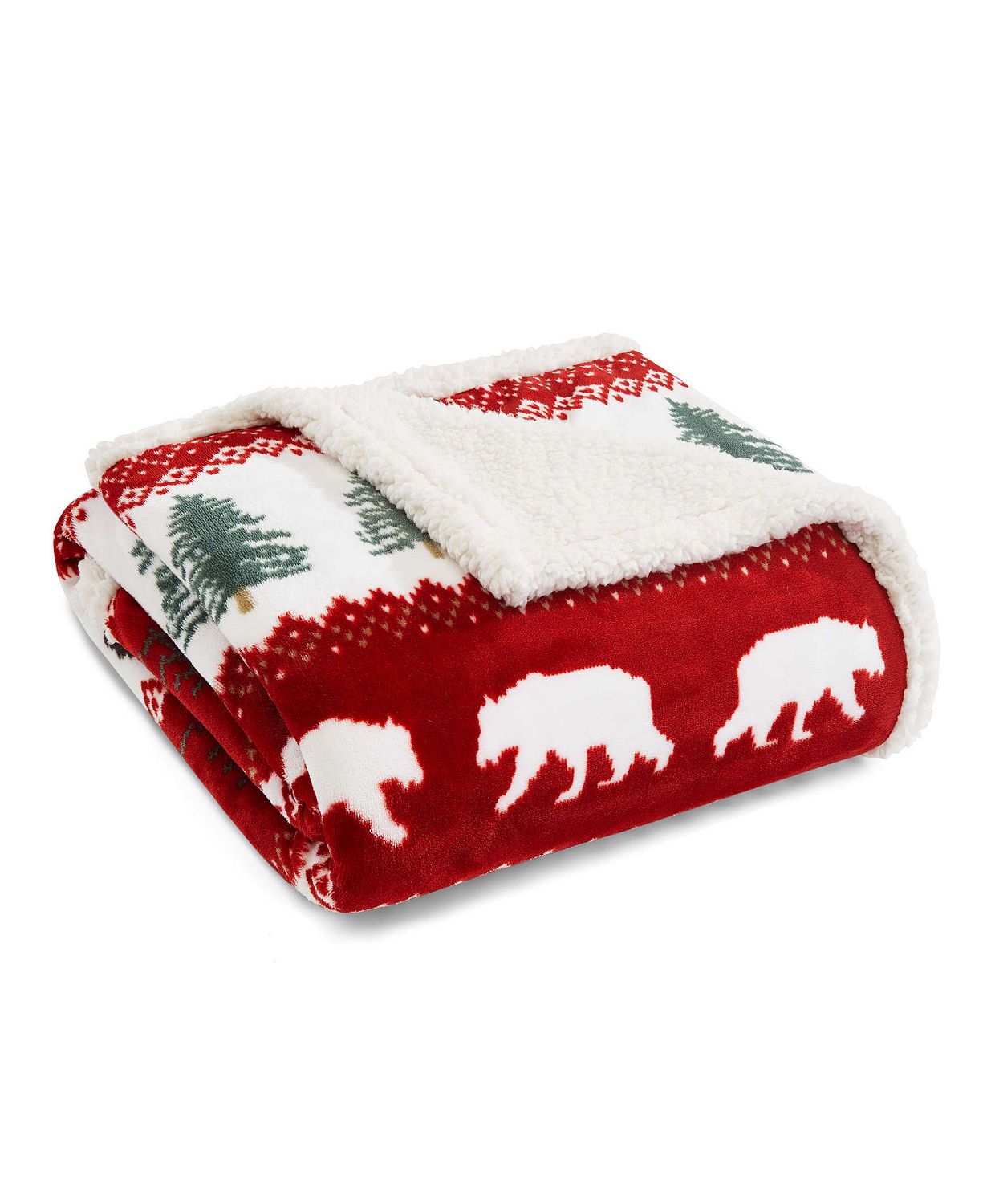 Even if you decide to invest in heaters and fire pits, there is no harm in adding a throw blanket to your outdoor seating. This plush throw from Macy's is covered in bears and pine trees and will keep you feeling extra toasty and festive while curling up next to the fire on the shorter days this winter.
Triple Snowflake Throw Pillow
Whether you are dreaming of a white Christmas this year or hoping it stays mild, these red, snowflake cushions from Macy's will bring all of the holiday cheer to your outdoor space.
Poinsettia, Cactus, and Holly Berry Christmas Artificial Arrangement
Accentuate your outdoor space with this artificial arrangement full of holly, berries, and poinsettia. Nothing puts you in the holiday spirit like surrounding yourself with symbols of Christmas, provided to you by this beautiful, maintenance-free arrangement.
National Tree Company Light-Up Reindeer & Sled
To take your outdoor space above and beyond, include this illuminated reindeer and sleigh. Adults and children alike will revel in the magic of this festive piece.