Brace yourselves, fashion enthusiasts, because Camila Cabello just dropped a fashion bomb at Paris Couture Week, setting the red carpet on fire with her sizzling ensembles! From her jaw-dropping makeup to her fierce footwear and those show-stopping cut-out dresses, let's dive into the mesmerizing world of Camila's daring fashion choices and relish every scorching detail!
As the lights dimmed and the cameras flashed, Camila Cabello emerged on the runway, leaving everyone gasping for breath. Her entrance was accompanied by a pulsating beat that mirrored the excitement coursing through the veins of every fashionista in the room. And boy, did she deliver!
Makeup
Camila's makeup was a work of art, crafted to perfection. Her eyes smouldered like embers, thanks to a meticulously executed cat-eye liner that extended beyond the outer corners, creating a mesmerizing feline gaze. The eyeshadow palette she chose featured rich, earthy tones that blended seamlessly, creating depth and dimension. Her lashes were long and fluttery, framing her eyes like feathery wings ready to take flight. And those fiery red lips, perfectly contoured and glossy, exuded confidence and power.
Hair
Now, let's talk hair because Camila's locks were pure magic! Picture this: her cascading curls danced in the air, bouncing with every step she took. The hairstylist worked wonders, enhancing her natural texture and transforming it into an ethereal masterpiece. Each curl was meticulously defined, creating a glorious halo of voluminous waves that framed her face and accentuated her every movement. It was a testament to the fact that curls are not just a hairstyle; they are a statement of unapologetic beauty and fierce individuality.
Footwear
But let's not forget about the footwear that completed Camila's ensembles. Her shoe game was on a whole new level, setting pulses racing and tongues wagging. The first look featured thigh-high stilettos that demanded attention, elongating her legs and exuding confidence with every step. The second ensemble showcased strappy sandals with heels so high they seemed to defy gravity, adding an extra dose of allure to her already fiery presence. These shoes were not just accessories; they were weapons of fashion destruction, leaving a lasting impression wherever she went.
Outfits
Diving into the real showstoppers—the cut-out dresses Camila turned up the heat and left us gasping for air with each daring ensemble. Imagine the first creation—a breathtaking symphony of skin and fabric. This daring number featured strategic cut-outs that revealed just enough to tease the imagination while leaving us craving more. The dress hugged her curves in all the right places, celebrating her femininity and showcasing her flawless figure. It was a sight to behold, leaving us in awe of her confidence and bold fashion choices.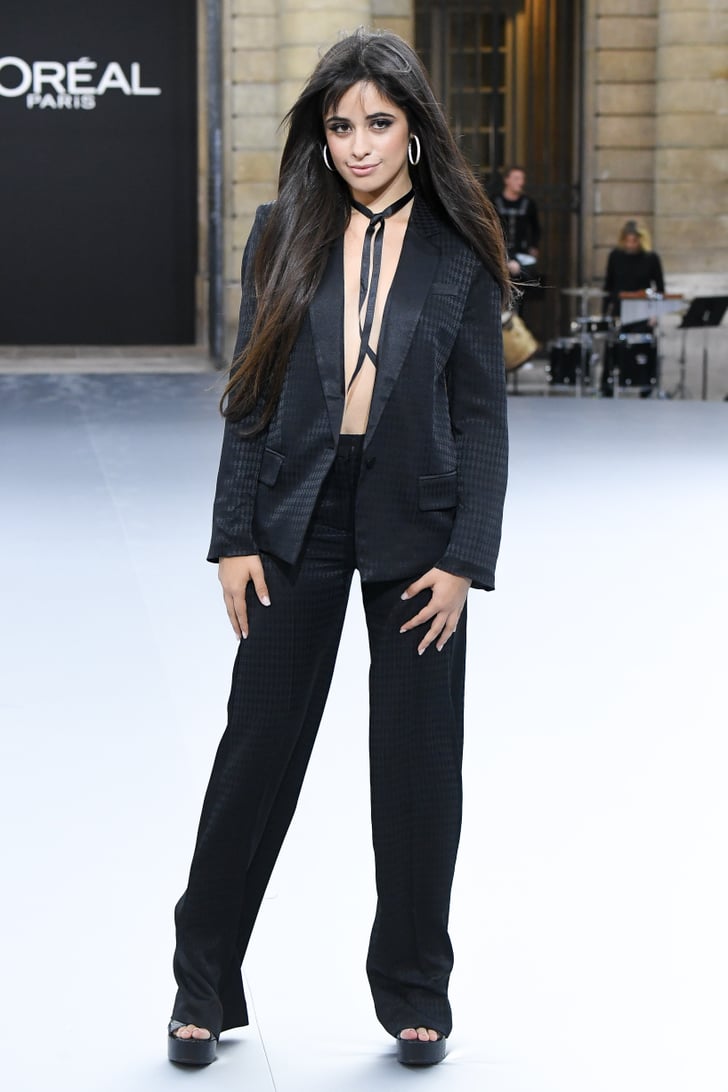 And then came the second cut-out masterpiece—a mosaic of seduction and rebellion. The dress played with asymmetry, combining daring cut-outs with unexpected placements. Each opening seemed to have a purpose, drawing attention to Camila's curves and leaving us captivated by her fearless embrace of her body. It was a visual feast, a celebration of individuality and audacity. But just when we thought we had seen it all, Camila unveiled a third cut-out creation, taking couture to new heights of creativity. This dress defied all conventions, featuring cut-outs in places we never imagined. From unexpected slits that revealed flashes of skin to architectural designs that seemed to suspend gravity, this ensemble was a statement of rebellion against the norms of fashion. Camila wore it with the utmost confidence, reminding us that true style knows no boundaries.
Turning our attention to the fan reactions, The internet exploded with spicy reviews, with fans raving about Camila's fashion choices at Paris Couture Week. Twitter timelines were filled with heart-eyed emojis, and Instagram comment sections were flooded with fire and applause emojis. Fans couldn't help but express their adoration for Camila's fearless style and impeccable taste.
One fan wrote, "Camila Cabello's fashion game at Paris Couture Week is on another level! She's slaying those cut-out dresses like nobody else. I'm obsessed with her confidence and how she's breaking all the fashion rules!" Another fan exclaimed, "Camila's makeup and hair are everything! She's a true style icon, and she knows how to bring the heat. Those curls and that makeup combo are pure magic!"
The fan reactions were filled with admiration for Camila's bold fashion choices, praising her for embracing her sensuality and pushing the boundaries of couture. Her outfits became the talk of the town, leaving fans in awe of her fashion prowess and craving for more.
In the end, Camila Cabello's Paris Couture Week outfits not only set the fashion world ablaze but also ignited the passion of her devoted fanbase. The spicy reviews from fans showcased their unwavering support and love for her daring style. Camila's fashion choices not only inspire her fans but also demonstrate that fashion is a powerful form of self-expression capable of leaving a lasting impact.
So, my fellow fashion aficionados, let's join in on the celebration and raise a toast to Camila's fierce fashion journey. Let's embrace the spicy, the daring, and the unexpected, for it's in those audacious choices that true fashion revolutions are born. Camila Cabello has proven that she's not just an artist; she's a force to be reckoned with in the world of haute couture!