Let's face it: PB&J's are boring. Let NYgal help you spice up your lunch game with these five easy recipes!
Chickpea Spinach Salad
Get creative with chickpeas! Packed with nutrients, this flavorful twist on the traditional salad will have you counting down the minutes until lunchtime.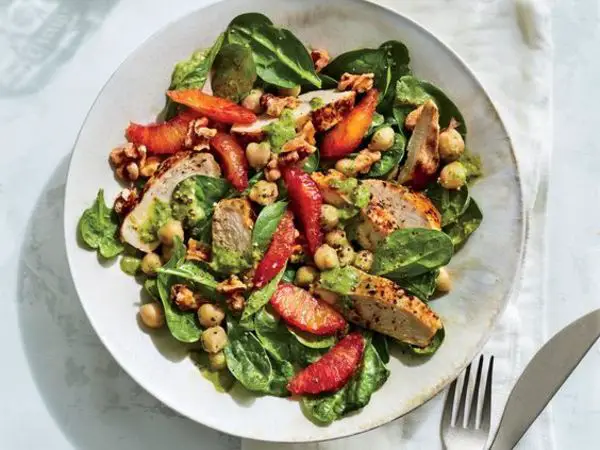 Image Credit: Cookinglight.com Recipe Page; Image by Greg Dupree
Ingredients:
2 1/2 cups fresh baby spinach
1/3 cup canned chickpeas, rinsed and drained
2 tablespoons avocado sauce
1/2 cup navel or blood orange segments
1 (4-oz.) lemon chicken breast, sliced
1 tablespoon chopped toasted walnuts
Instructions:
1). Combine spinach, chickpeas, and sauce in a large bowl.
2). Toss gently to coat.
3). Arrange spinach mixture on a plate; top with the orange segments, chicken, and walnuts.
Recipe Credit: Cookinglight.com
Chicken and Quinoa Veggie Bowl
Quinoa, quinoa everywhere! We just can't get enough of this superfood so we just have to include it in our arsenal of great lunch recipes!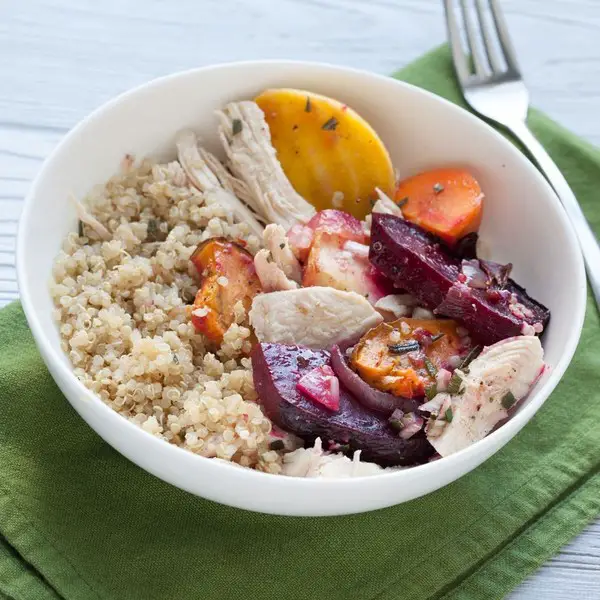 Image Credit: Eatingwell.com Recipe Page
Ingredients:
1/2 cup cooked quinoa
3/4 cup shredded cooked chicken breast
1 cup roasted root vegetables
1-2 tablespoons vinaigrette
Instructions:
1). Combine the quinoa, chicken and roasted vegetables in a bowl.
2). Drizzle with vinaigrette to taste.
Want to be fancy and make it ahead? Do it!
Layer the ingredients in a mason jar. Start with the dressing on the bottom and then stack the chicken, quinoa, and vegetables on top. A great grab-and-go!
Recipe Credit: Eatingwell.com by Victoria Seaver, M.S., R.D
Apple and Cheddar Pita
Reminiscent of Panera's roast turkey, apple, and cheddar sandwich, this pita bread pouch is the perfect lunch for a busy day. You can also add other ingredients to suit your fancy!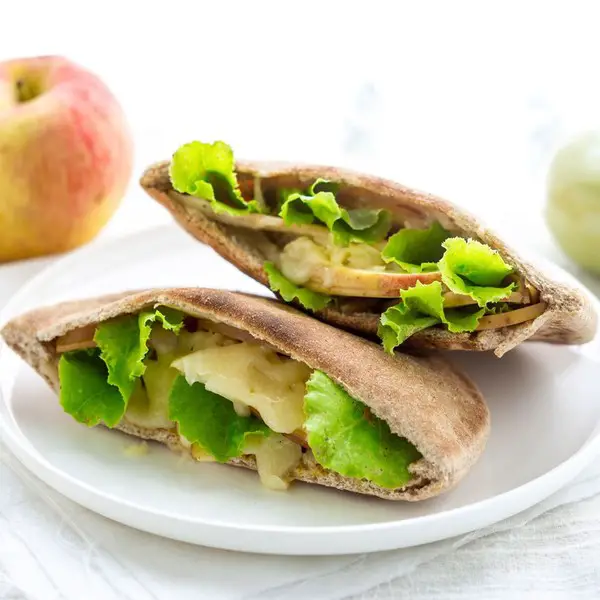 Image Credit: Eatingwell.com Recipe Page
Ingredients:
1 whole-wheat pita bread
1 tablespoon brown mustard
1 medium apple, sliced
1/4 cup shredded cheddar cheese
1 cup mixed salad greens
Instructions:
1). Cut pita in half and spread the insides with mustard.
2). Stuff the pita with apple and cheese.
3). Arrange on a foil-lined toaster-oven pan.
4). Toast, flipping once if necessary until the cheese is starting to melt and the pitas are hot (about 4-5 minutes).
5). Remove from the toaster with a spatula.
6). Carefully add greens to the pita pockets as desired.
Recipe Credit: Eatingwell.com by Katie Webster
Broccoli Melts
A perfect recipe to help get in your daily servings of vegetables, this lunch never sacrifices flavor for health!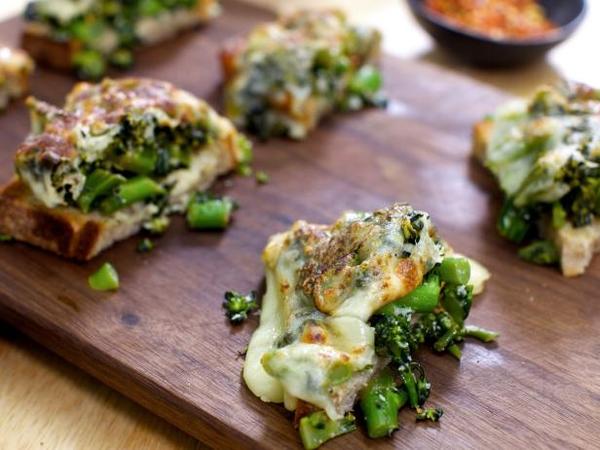 Image Credit: Foodnetwork.com Recipe Page
Ingredients:
1 pound broccolini or regular broccoli
Pinch of coarse salt, to taste
2 tablespoons olive oil
3 cloves garlic, minced
A few pinches red pepper flakes, to taste
Finely grated zest, then juice, of 1/2 lemon (zest first, then juice!)
1/2 cup finely grated aged Pecorino-Romano
8 slices of bread of your choice
8 thin slices of provolone cheese
Instructions:
1). If using broccolini, cut it into 2-inch segments. If using regular broccoli, peel the stems with a vegetable peeler first so that they cook evenly, then cut the rest into large chunks.
2). Pour about a 1-inch puddle of salted water into a large saute pan and bring to a boil.
3). Add the broccoli and cover with a lid.
4). Let boil/steam for 2 minutes.
5). Drain well and pat dry on paper towels, wringing out as much extra liquid as possible.
6). Chop into small (roughly 1/2-inch) bits.
7). Wipe the saute pan dry and heat over medium.
8). Add the olive oil and let it heat for a full minute.
9). Add the garlic and pepper flakes, cooking until the garlic is just beginning to turn golden, about 1 minute.
10). Add the broccoli and cook 1 to 2 minutes more, seasoning with salt.
11). Transfer the mixture to a bowl and add the lemon zest and juice, pecorino and more salt and pepper flakes to taste.
12). Preheat the broiler.
13). Arrange the slices of bread on a baking sheet and lightly toast on both sides.
14). Scoop the broccoli mixture onto each slice of bread, lay a slice of provolone over it and run under the broiler until the cheese has melted and begun to blister.
15). Dig In!
Recipe Credits: Foodnetwork.com by Deb Perelman
Sweet Potato Toast
Need a way to get rid of those leftover fourth of July steaks? Look no further than this sweet potato toast.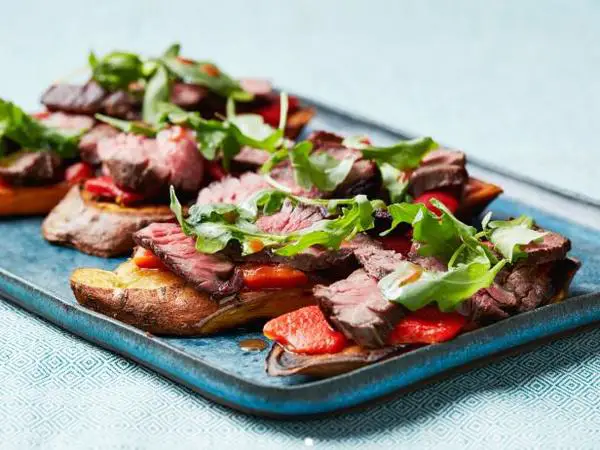 Image Credit: Foodnetwork.com Recipe Page
Ingredients:
2 medium sweet potatoes (about 1 pound total)
1 tablespoon extra-virgin olive oil, plus more for drizzling
Kosher salt and freshly ground black pepper
3 ounces deli-sliced roasted red bell peppers, drained (about 1/3 cup)
4 ounces cooked sirloin or skirt steak, thinly sliced
1/3 cup arugula or watercress
Hot sauce, for serving
Instructions:
1). Preheat the oven to 450 degrees F.
2). Slice off the 4 long sides of each of the sweet potatoes so the potatoes are squared off and sit flat on a cutting board.
3). Slice the potatoes lengthwise into 1/2-inch-thick planks, about 5-inches-by-2-inches (you should get 3 planks per sweet potato).
4). Combine the sweet potatoes, olive oil and a pinch of salt in a medium bowl and toss gently to coat.
5). Spread them out on a baking sheet and roast, flipping halfway through until lightly browned and tender when pierced with a knife, about 15 minutes.
6). Remove the sweet potato toasts to 2 plates.
7). Divide the peppers among the toasts, then top with the steak.
8). In a small bowl, toss the arugula with a drizzle of olive oil and dash of hot sauce, then distribute over the steak. Season each toast with salt and a couple grinds of black pepper.
9). Serve immediately.
See? Just as tasty as avocado toast!
Recipe Credit: Foodnetwork.com by Food Network Kitchen
Feature image credit: [Yana Emets]