Megan Fox is one of the most stylish celebrities in the industry currently. Megan and her fiancée, Machine Gun Kelly, have made headlines several times for different reasons. One of the top reasons Megan Fox has been in the news is that she has an amazing fashion sense. Megan knows what to wear and how to slay an outfit perfectly. She dresses to kill, and we are here for it! Simple or extravagant, whatever the style, Megan is always on top of her game. Pulling off any lewk effortlessly is Megan's superpower and we are definitely in awe of this queen. Here are a couple of Megan's best style moments. Take notes folks, and get ready to get inspired by the diva.
1. Gracing the Grammy's with Sass and Style
Megan Fox made an appearance at the Grammy Awards 2023 held in February with her fiancée, Machine Gun Kelly. She wore a strappy white corset minidress. The dress was made of satin and was the perfect blend of a summer dress and a party outfit. She wore long gloves that reached up to her triceps and were made of the same fabric in the same color. She kept her hair open and extremely simple. What she did, though, was dye them black for the event, which was a great surprise for everyone. It matched Machine Gun Kelly's outfit, and the two looked like a fashionable couple. Coming to her makeup, she had a subtle look with pink blush as the highlight. She wore pink lipstick, which was similar to the shade of the blush, and the entire look was tied together perfectly.
2. Miami Art Basel
Megan Fox made an appearance at Miami's Art Basel in 2022. She slayed the Barbiecore look even before the Barbie movie came into the spotlight! She wore a bright pink bralette that perfectly complemented her body. She wore bubble gum-coloured cargo pants that were high-waisted. To add a third shade of pink, she wore a pair of pointed pumps, which really amplified the entire look. How is a look complete without a dramatic element that screams Megan? To complete the look, she wore a powder pink bucket hat with lots of feathers on it. Of course, her nails were done amazingly, as always.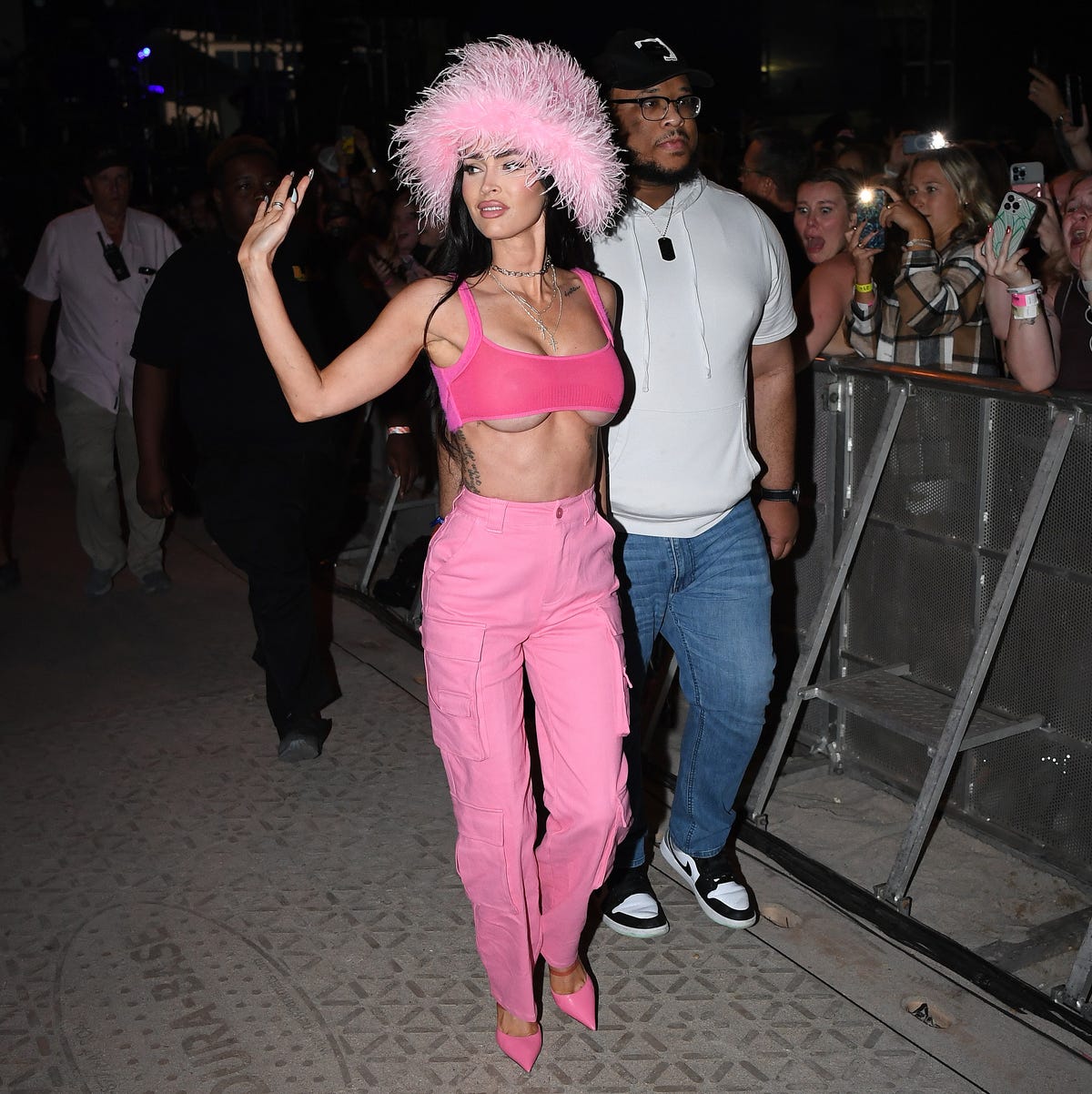 3. GQ Men of the Year Party
Megan Fox appeared at the GQ Men of the Year party, and undoubtedly hogged the spotlight as usual! Her gorgeous black dress exuded pure goddess energy. The silver rhinestones on the one-shoulder black mesh dress added that extra shine to the brilliant look. She had a black purse to match her outfit. Her hair was tied up in a high bun with streaks left loose on both sides. Her manicure and pedicure included a shade of powder blue nail paint. Her footwear was strappy black platform heels, which accented her outfit just right. And the nude makeup was the perfect highlight for her beautiful features that blended seamlessly with the outfit.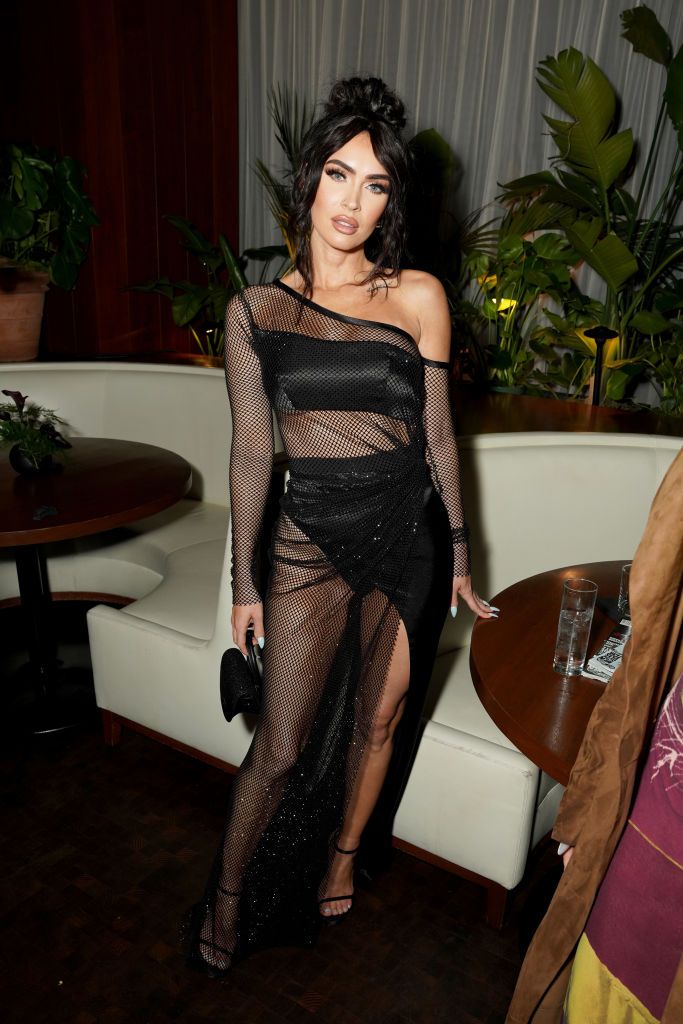 4. Time 100 Next Gala
Megan Fox at the Time 100 Next Gala was the personification of beauty and brilliance. Megan slayed in that gorgeous golden asymmetrical gown. With this look, Megan proved that she is an icon; one that deserves all the praise and applause for her impeccable fashion sense. Since words fall short to describe the brilliance that was Megan, here is the look. Take a look yourself.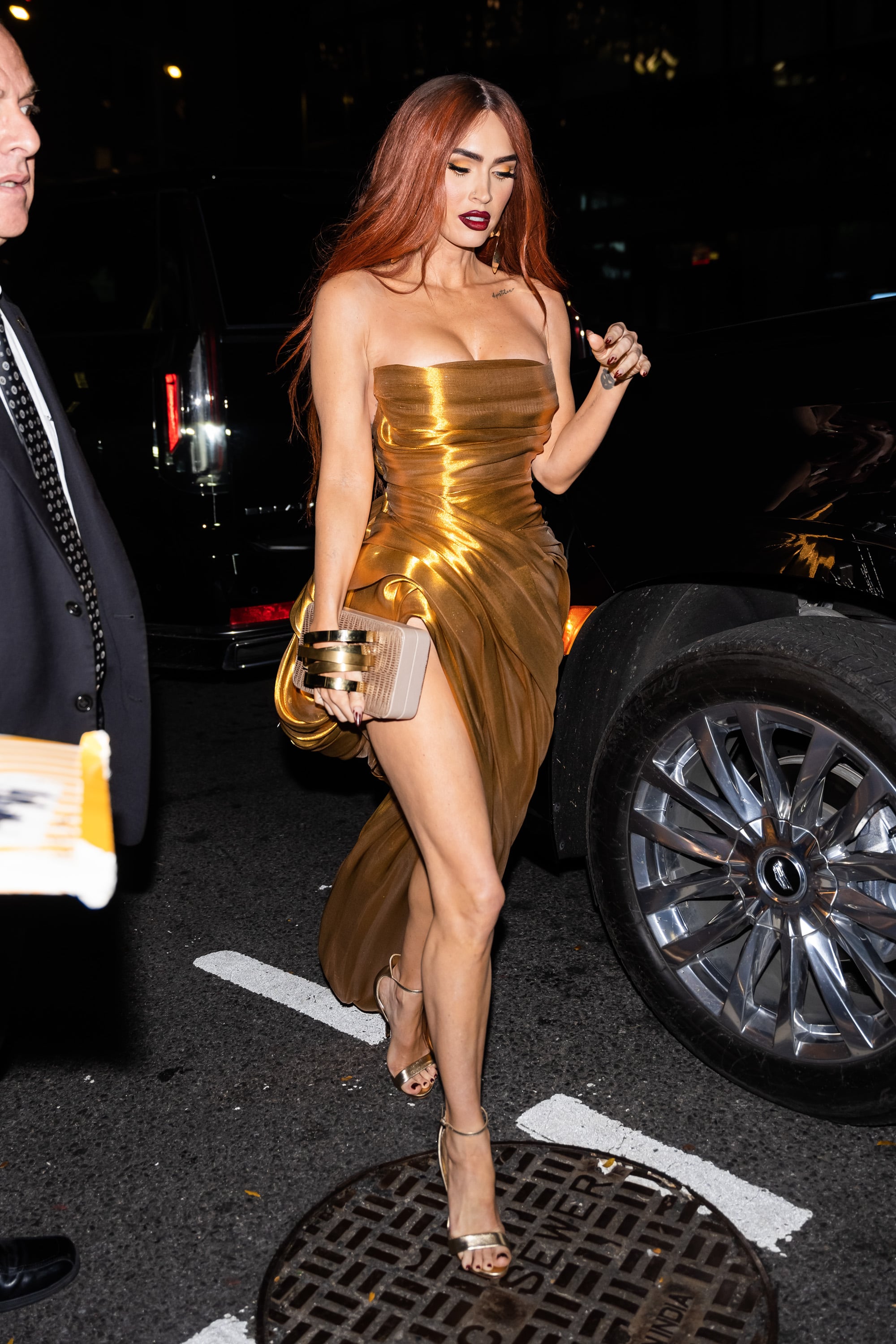 Orange Beauty
Megan Fox made an appearance in Cleveland in February 2022 in a black and orange-printed faux leather suit. This pantsuit was formal and sexy at the same time; she wore a black bralette inside the suit. Megan had an orange bow-shaped purse, which added a dramatic and fun element to the look. She left her curly locks open and flowing. Finally, for the footwear, she went for metallic orange strappy heels, and nothing could have been more perfect to go with this particular outfit of hers.
See Also: 7 Best Beauty Launches of June 2023