Hey, fashionistas and trendsetters! In the fashion world, fashion and functionality go hand in hand, thus saddle bags have continued to captivate the hearts of women across the globe. From sleek and structured to bohemian and slouchy, saddle bags have become a staple in every modern woman's wardrobe. In 2023, the top saddle bags for women are designed with both fashion and function in mind.
In this article, we will explore the top saddle bags for women in 2023, handpicked for their exquisite design, durability, and versatility. Whether you're a fashion-forward trendsetter or a practical minimalist, these bags are sure to elevate your style game while accommodating your everyday essentials.
So, ladies, grab the reins of style and get ready to make heads turn with the most fashionable saddle bags of 2023. It's time to saddle up in style and conquer the fashion frontier like the trailblazing trendsetter you are. Giddy up and let the adventure begin!
1. The Dior Mini Saddle Bag with Strap
This bag is a sensational update to the iconic bag that dominated the early 2000s fashion scene. This compact marvel showcases the same beloved saddle flap, magnetic 'D' stirrup clasp, and eye-catching metal 'CD' strap detailing that made its predecessor a cult favourite.
This bag offers a variety of styling options, from over-the-shoulder to crossbody, with a short or longer strap. Measuring a convenient 8.5″ x 7″ x 2″ and featuring a strap length ranging from 33 to 40 inches, this mini saddle bag effortlessly combines practicality and fashion-forward design. When it comes to colours, Dior has truly spoiled us for choice.
Take your pick from the timeless elegance of classic black, the sleek allure of black ultra matte, the creamy sophistication of latte, or the playful charm of blue Dior oblique jacquard. Each option brings its own unique personality to your ensemble, ensuring you find the perfect match for your individual style. So, whether you're strolling through the city streets, attending a fashionable event, or simply want to elevate your everyday look, the Dior Mini Saddle Bag with Strap is the ultimate shoulder companion.
2. Ganni Banner Recycled Leather Saddle Bag
This contemporary masterpiece will elevate your style game to new heights. This compact bag may be small in size, but it packs a powerful punch when it comes to both fashion and sustainability.
Gone are the days of nondescript designs – this saddle bag proudly displays a large embossed logo front and centre, instantly catching the eye and making a bold statement. This trendy beauty will provide a dash of class and modernity to any look, whether you're doing errands or attending a chic soirée.
Ganni's Recycled Leather Bag is an eco-conscious fashion choice that makes a style statement and contributes to a greener future. Measuring a compact 4″ width, 6 1/2″ height, and 3 1/4″ depth, this bag is designed to fit all your essentials and then some. It features a 4″ strap drop and a shoulder strap drop ranging from 13″ to 18″, allowing you to carry it effortlessly in your hand or sling it over your shoulder with ease.
3. Coach Restored Saddle 24 Bag
An enduring beauty that combines a dash of contemporary flare with the best qualities of traditional elegance. The talented craftsmen at the Coach Repair Workshop have given this bag a new lease of life as part of Coach's (Re)loved programme, bringing it back to its original flawless state.
Featuring the iconic saddle shape, this bag pays homage to Coach's heritage while embracing contemporary aesthetics. Its simplicity is its strength, exuding effortless elegance and versatility that transcends trends. Measuring a compact 10 1/4″ in length, 7″ in height, and 3 1/4″ in width, this bag is perfectly proportioned to carry your essentials in style. The 22″ strap drop offers a comfortable fit, allowing you to wear it on your shoulder or across your body with ease.
It is available in the captivating colours of pewter and barley, which add a touch of sophistication to any ensemble. With its muted tones and subtle sheen, this bag seamlessly transitions from day to night, making it a versatile companion for any occasion.
Priced at $295, this bag represents excellent value for a meticulously restored classic.  Join the (Re)loved movement and get your hands on the Coach Restored Saddle 24 Bag before they're gone. 
4. Gucci Mini Shoulder Bag
This exquisite bag showcases Gucci's legendary heritage with the Interlocking G logo pattern on classic canvas. Trimmed in supple leather, it exudes timeless elegance, while the equestrian-inspired buckle closure adds sophistication.
Measuring a compact 7.9″ width, 6.7″ height, and 3.1″ depth, this mini shoulder bag is the perfect size to hold your essentials while adding a touch of glamour to any outfit. The 21.3″ shoulder strap drop ensures comfortable wear, draping effortlessly over your shoulder as you make a statement wherever you go.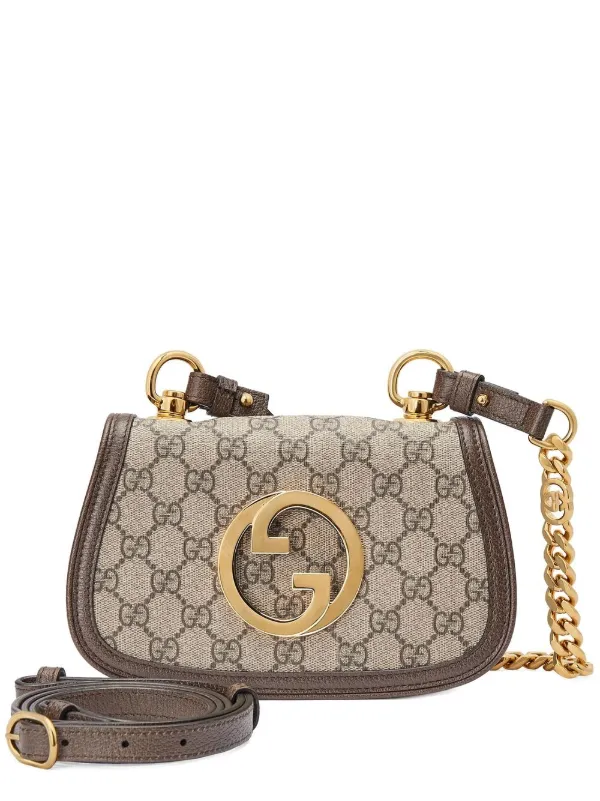 Choose from beige and ebony or beige and white colours, each highlighting the logo pattern uniquely. Priced at $1,600, this bag represents an investment in luxury and craftsmanship. Its resilient style and impeccable quality make it a cherished piece that stands the test of time.
 5. Dior Vintage Diorissimo Canvas Saddle Bag
This pre-loved gem is a treasure for vintage enthusiasts and savvy shoppers alike. With its gently worn charm, this bag offers a unique and affordable opportunity to own a piece of Dior history. Crafted in the iconic canvas logo print, this bag exudes a sense of nostalgia while adding a touch of pizzazz to any outfit. Whether you're embracing the current Y2K era trend or prefer a minimalist aesthetic, this versatile accessory will effortlessly elevate your style.
Measuring a practical 10″ width, 7″ height, and 3″ depth, this bag offers ample space for your essentials. It features a comfortable 7″ handle drop and a 6.5″ strap drop, allowing you to carry it by hand or sling it over your shoulder with ease.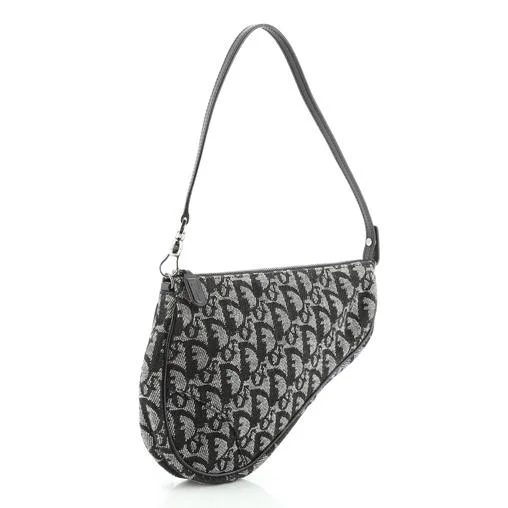 Available in a classic brown colour, this Diorissimo Canvas Saddle Bag showcases the everlasting sophistication and signature style of Dior. Priced at $1,550, this preloved Dior Vintage Diorissimo Canvas Saddle Bag is a fantastic investment in quality and craftsmanship.
In conclusion, the world of saddle bags for women in 2023 offers a diverse range of options, from classic and elegant to contemporary and sustainable. Whether you're seeking luxury, functionality, or a touch of nostalgia, these top picks are sure to elevate your style and make a statement wherever you go.
See Also: 5 Best Berry Toned Lipsticks of 2023