What are the best lip balms with SPF? You heard that perfectly right. Like every other part of the body that is exposed to the sun, the lips also need protection. In fact, lips are extremely sensitive and can get burned and darkened due to the sun. The best lip balms with SPF have the right amount of it so that it is not harmful to the lips, keeps the lips moisturized, solve the purpose of a lip balm, and gives a good safety net from the sun as well. Apart from this, the best lip balms with SPF should have a minimum of 15 and a maximum of 50. One should check their lips and skin's sensitivity and the ingredient list before picking out any product. You can skip several skincare steps, but make sure not to skip this one. Let's take a look at the list of the best lip balms with SPF.
1. Jack Black's Intense Therapy Lip Balm
Jack Black's intense therapy lip balm is undoubtedly one of the best lip balms with SPF. It has SPF 25 and has some amazing customer reviews. The lip balm is available in a blue tube and has a grapefruit flavor. The best part of it is that it is amazingly good at moisturizing and nourishing the lips. The Jack Black Intense lip balm also has mint to give a soothing and cooling effect, and on the other hand, shea butter, which acts as a natural agent for moisturizing purposes. Shea butter is what makes this intense therapy lip balm so good at nourishment. Customer reviews say that it saved them from dry and chapped lips and also did not leave them with greasy and sticky lips. To conclude, we can say that it is one of the best lip balms with SPF, and you should definitely give it a try.
2. SunBum Sunscreen SPF 30
This Sun Bum Sunscreen Lip Balm has SPF 30 and definitely serves its purpose. It also helps with nourishment. The product has aloe vera in it, which helps in natural hydration, and it also has vitamin E. Vitamin E helps in the restoration of hydration and also saves you from any kind of dry and cracked lips. The lip balms come in several different flavors, such as pineapple, key lime, mango, watermelon, coconut, and even pomegranate. It is extremely affordable and even easily available in the market. There is one drawback, though, to this lip balm. In a heated environment or directly in the sun, the lip balm tends to melt and become a tiny bit greasy. If you do mind that, the lip balm is nourishing and very affordable, so you can go for it.
3. Colorscience Sunforgettable Total Protection Color Balm SPF 50
The Colorscience sunforgettable total protection color balm comes in turquoise aesthetic packaging. The best part about it is that it can be applied on the lips, which is for sure because it's a lip balm, and it can also be applied on the cheeks as a blush and on the eyes as an eye shadow. The pigmentation in the product is extremely good and works amazingly. The best part of this lip balm is its sun protection because reviews say it works great against the sun and protects the areas it's applied to. If you are looking for a colorless lip balm, this isn't for you, but if not, it is the best choice. You can also select your preferred color between berry, blush, and bronze. The lip balm can cost up to $70, which might seem expensive. About the rate, there are mixed reviews about whether it is too much or justified given the fact that it serves three purposes.
4. Neutrogena Revitalizing Lip Balm SPF 20 and Healthy Blush
The Neutrogena Revitalizing Lip Balm SPF 20 is one of the best lip balms with SPF, as it is not only a lip balm but a blush as well. One can also use this product as eye shadow, and you are good. The natural texture of the lips smooths because of hydration and nourishment. Other than this, this lip balm adds a very subtle and light pigment to the color, which will give the feeling of natural lips themselves. The price is reasonable and affordable. It costs around 25 dollars, which is okay given the fact that it also acts like a blush.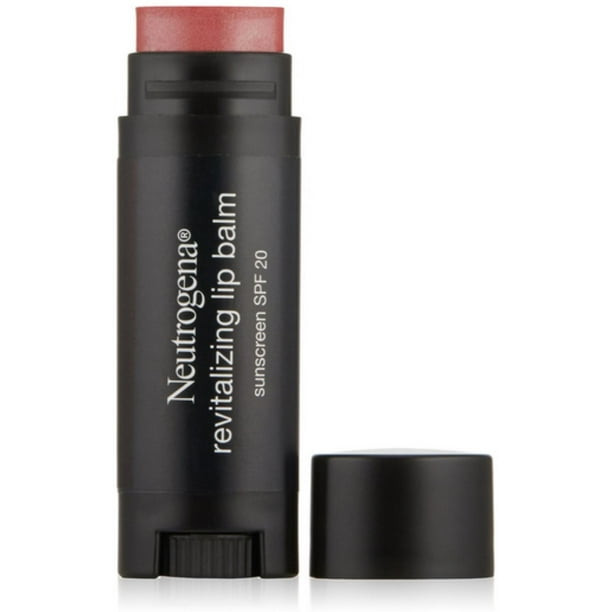 5. Cle de Peau UV-Protective Lip Treatment
This aesthetic-looking lip balm is as good as it looks. After applying, you can feel the difference on your lips. Its sunscreen is such that it gives UV protection to the lips as well. It has natural herbs that help with the even tone and smoothness of the lips. The best part about it is that it can act as a primer for the lipstick you are going to use and prevent the lipstick from drying out your lips. Other than this, there is a very decent rose fragrance to it, which you may or may not be a fan of.