Just as Paris is synonymous with fashion, the name Charlotte Tilbury is intertwined with beauty and elegance. Known for its range of high-quality, luxurious products, Charlotte Tilbury is a brand that continuously raises the bar in the beauty industry. Here, we've rounded up some of the best Charlotte Tilbury products that are worthy of a spot in your beauty collection.
1. The Showstopper: Eyes to Mesmerize Cream Eyeshadow
Think of a perfect blend of pigmentation and shimmer, and you have the Charlotte Tilbury Eyes to Mesmerize Cream Eyeshadow. This product's smooth formula glides onto the eyelids, offering an eye-catching sheen that lasts all day. This cream eyeshadow is an excellent tool for creating an effortless, sultry, and mesmerizing look.
2. The Dynamic Duo: Bronze & Glow Contour Duo
Nothing spells sophistication better than a perfectly sculpted face. The Charlotte Tilbury Bronze & Glow Contour Duo makes this task easy with its palette of complementary shades that can be used for both contouring and highlighting. This multitasker is a must-have for achieving a defined yet naturally radiant complexion.
3. A Kiss of Luxury: Lipstick Balm
For a pout that shouts luxury, Charlotte Tilbury's Lipstick Balm is the ideal choice. This product provides the nourishment of a balm and the colour payoff of a lipstick, all in one stroke. With this in your arsenal, you are always just one swipe away from irresistibly soft and stunning lips.
4. The Beauty Potion: Beautiful Skin Liquid Foundation
To put your best face forward, you need a foundation that enhances your skin without masking it. Enter Charlotte Tilbury's Beautiful Skin Liquid Foundation. With its skin-loving ingredients and adaptive shades, this foundation offers a flawless finish while also caring for your skin.
5. The Magic Touch: Charlotte's Magic Cream
When it comes to skincare, Charlotte Tilbury's Magic Cream is nothing short of a miracle worker. Infused with a proprietary blend of active ingredients, this cream promises to transform your skin, leaving it looking plumper, smoother, and glowingly hydrated.
6. The Charming Chameleon: The Look of Love Palettes
The Look of Love Palettes is Charlotte Tilbury's answer to versatile beauty. Each palette houses a selection of flattering shades for the eyes, cheeks, and lips. Whether you're aiming for a subtle daytime look or a glamorous evening effect, these palettes have you covered.
7. Your Secret Weapon: Radiant Concealer
For those days when your skin needs a little extra help, the Charlotte Tilbury Radiant Concealer is your secret weapon. This product seamlessly conceals blemishes and dark circles while also adding a touch of radiance to the skin, ensuring you always look your refreshed and luminous best.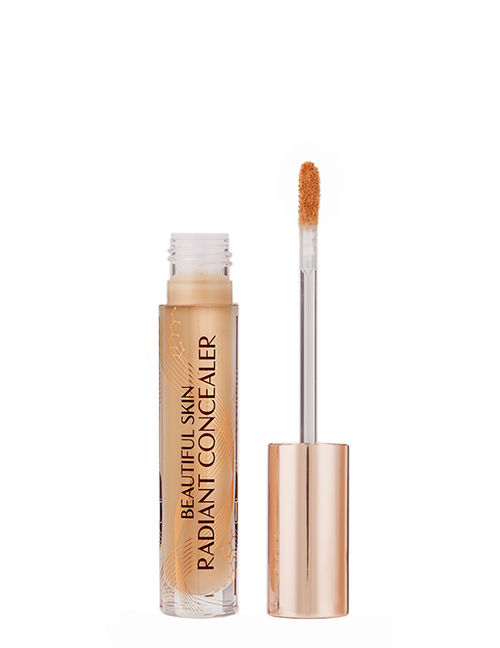 8. The Flush of Elegance: Cheek To Chic Blush
Add a pop of colour to your cheeks with Charlotte Tilbury's Cheek To Chic Blush. This product is expertly crafted to give your skin a youthful flush and a lit-from-within glow that is sure to turn heads.
9. The Lash Queen: Volume 2 Mascara
Give your lashes the royal treatment with Charlotte Tilbury's Volume 2 Mascara. This product amps up your lashes, providing volume, length, and lift, making your eyes the centre of attention.
10. The Radiance Enhancer: Beauty Light Wand
Finally, no list of Charlotte Tilbury products would be complete without mentioning the Beauty Light Wand. This highlighter imparts a beautiful glow to your skin that subtly catches the light, making you look like you've been touched by a magical beam of sunlight. Its lightweight formula seamlessly blends into the skin, offering a natural-looking radiance that can take you from day to night.
Extra Special Mentions
While the above-mentioned products deserve all the spotlight they can get, there are a few more notable mentions that we couldn't resist sharing. After all, Charlotte Tilbury is a treasure trove of stunning beauty products!
11. The Sensational Setter: Airbrush Flawless Finish Setting Powder
A true hero in the CT lineup, the Airbrush Flawless Finish Setting Powder is a must-have for anyone looking to lock in their makeup and reduce shine. Its ultra-fine texture doesn't cake or settle into fine lines, making it perfect for all-day wear.
12. The Lip Service: Pillow Talk Lip Liner
This iconic lip liner has earned its cult status for a reason. Its universally flattering shade and ultra-creamy formula make it perfect for defining or completely reshaping your lips for a fuller, poutier look. Pair it with the Pillow Talk Lipstick for the ultimate lip combo!
The Charlotte Tilbury Experience
Choosing products from Charlotte Tilbury is not just about adding to your beauty arsenal; it's about embracing a world-class experience. It's about enjoying the process of beautifying oneself with top-tier products that not only enhance your physical attributes but also make you feel empowered, confident, and truly beautiful. In the beauty world, Charlotte Tilbury is synonymous with luxury, class, and timeless beauty. Whether it's the iconic magic cream or the mesmerizing eyeshadows, each product is a testament to Charlotte's belief that everyone, regardless of age or skin type, deserves to look and feel their best. And indeed, with these gems from the Charlotte Tilbury collection, you'll be well on your way to looking and feeling like the best version of yourself!
See Also: 6 Best Eyeshadow Primers of 2023