Here at NYgal, we think snacking is just as important as breakfast. Don't let that afternoon slump get you down! We've created a list of ten quick and healthy snacks to feed your mind, body, and soul.
No Bake Energy Bites
Easy to make and then take on the go, these no-bake energy bites taste like cookies. Don't let that fool you, though… they'll keep you going for hours.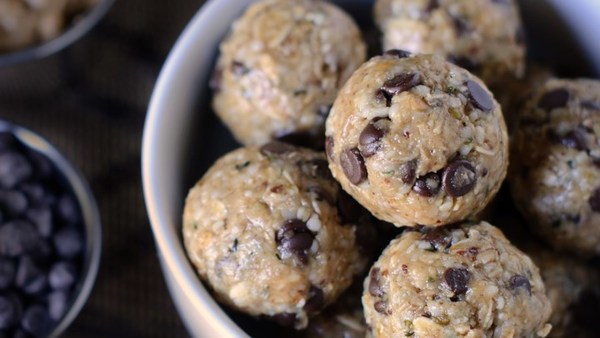 Image Credit: AllRecipes.com image by KGora
Ingredients:
1 cup rolled oats
1/2 cup mini semi-sweet chocolate chips
1/2 cup ground flax seed
1/2 cup crunchy peanut butter
1/3 cup honey
1 teaspoon vanilla extract
Instructions:
1). Combine oats, chocolate chips, flax seed, peanut butter, honey, and vanilla extract together in a bowl.
2). Form into balls using your hands. Arrange energy bites on a baking sheet and freeze until set or about 1 hour.
Recipe Credit: AllRecipes.com by Hiedi Heaton
Baked Kale Chips
Funny we would include a recipe with this leafy green since NYgal just did an article on all things kale, but we can't get enough! Requiring only three ingredients, these taste like potato chips…without all the post-snack guilt.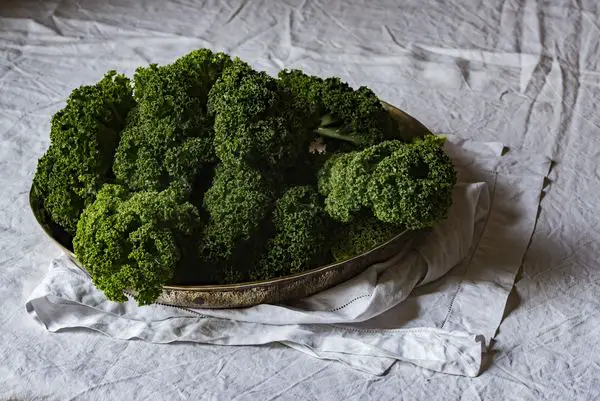 Image Credit: Joanna Kosinska via Unsplash
Ingredients:
1 bunch of kale
1 tablespoon olive oil
1 teaspoon seasoned salt
Instructions:
1). Preheat oven to 350F.
2). Line a non-insulated cookie sheet with parchment paper.
3). Carefully remove the leaves from the thick stems and tear into bite-size pieces.
4). Wash and thoroughly dry kale with a salad spinner- NYgal tip: A hairdryer works in a pinch if you don't own a salad spinner!
5). Drizzle kale with olive oil and sprinkle with seasoning salt.
6). Bake until the edges brown- not burnt (About 10 to 15 minutes).
Recipe Credit: AllRecipes.com by LucyDelRey
Turkey Lettuce Wrap
Quick, easy, and packed with protein, NYgal loves this snack because it's customizable! The ingredient list below is just to get you started on your lettuce-wrap making journey. Go wild!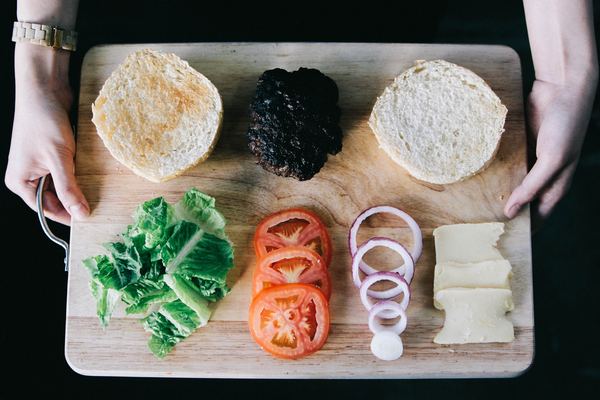 Image Credit: Elli O. via Unsplash
Ingredients:
1 romaine heart lettuce leaf
1 slice of turkey
1 teaspoon of a condiment of choice
1 tomato slice
1 onion slice
1 slice of cheese
Instructions:
Lay the romaine leaf flat. Layer the ingredients evenly over the surface of the lettuce. Roll up and enjoy!
Chocolate Drizzled Fruit Kebab
The chocolate got our attention. Need we say more?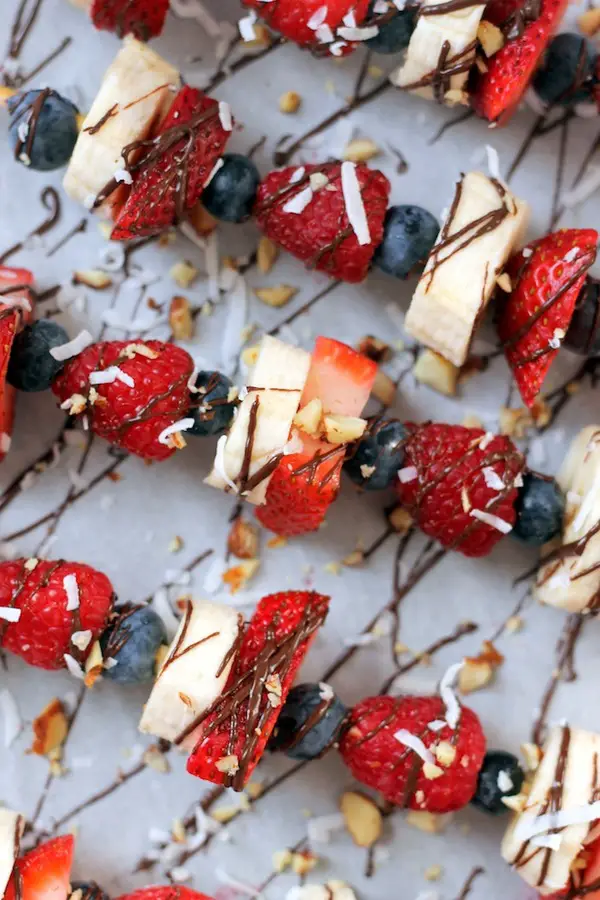 Image Credit: Hummusapien.com Recipe Page
Ingredients:
2 large bananas, sliced thick
2 cups sliced strawberries, sliced thick
3/4 cup blueberries
3/4 cup raspberries
1/2 cup semi-sweet chocolate chips
1/2 tsp coconut oil
1/4 cup unsweetened shredded coconut
1/3 cup roasted salted almonds, finely chopped
10-12 wooden skewers
Instructions:
1). Have all your fruit sliced and ready so you can easily build the kababs. Line a dish or baking sheet with parchment paper for easy cleanup.
2). Place chocolate chips in a small bowl and microwave in increments of 20 seconds, stirring each time. Once melted, stir in coconut oil and set aside.
3). Thread fruit onto skewers leaving a couple inches open at the bottom.
4). Start by placing a blueberry followed by a banana slice, strawberry slice, blueberry, and raspberry, repeating 3 times ending with a blueberry.
5). Repeat with remaining skewers. Place skewers on the lined baking sheet.
6). Using a fork, drizzle skewers with the desired amount of melted chocolate (It will harden nicely at room temperature thanks to the coconut oil!).
7). Sprinkle with the desired amount of coconut and almonds. You can store any leftovers in the fridge or freezer.
Recipe Credit: Hummusapien.com by Alexis
Chia Pudding
Yes, it really is as tasty as it looks! This recipe is a good alternative to storebought pudding and yogurts.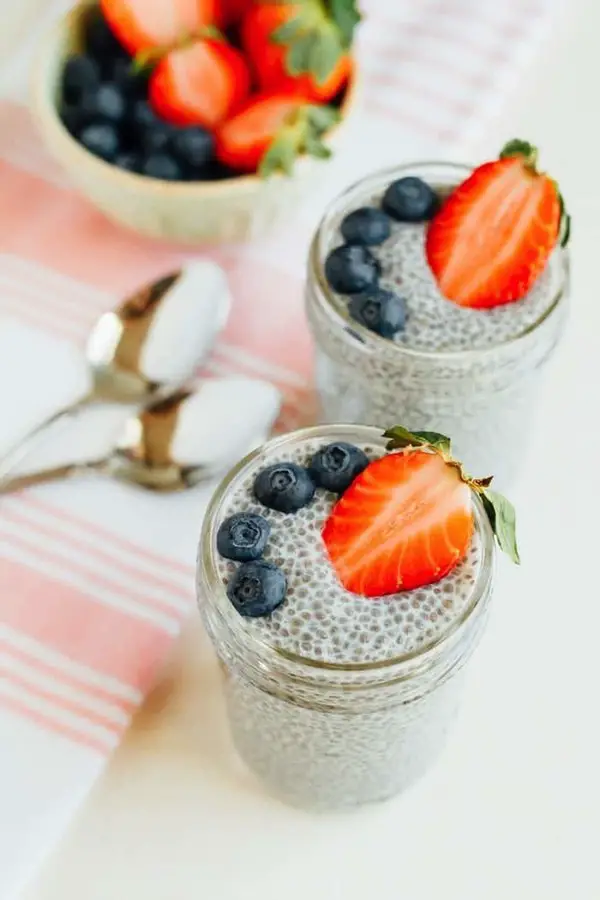 Image Credit: EatingBirdFood.com Recipe Page
Ingredients:
6 Tablespoons chia seeds
2 cups unsweetened coconut, almond or cashew milk
1/2 teaspoon vanilla extract
1 Tablespoon maple syrup, honey or sweetener of choice (optional)
Blueberries and strawberries, for topping
Instructions:
1). In a bowl or mason jar, mix together chia seeds, milk, maple syrup and vanilla. If you're using a mason jar, you can put the lid on and shake the mixture to combine everything.
2). Once the chia pudding mixture is well combined, let it sit for 5 minutes. Give it another stir/shake to break up any clumps of chia seeds, cover and put the mixture in the fridge to "set-up" for 1-2 hours. You can also prep your pudding the night before and let it sit in the fridge overnight if that's easier.
3). When ready to serve, divide the mixture between two bowls, top the pudding with berries and enjoy.
Recipe Credit: EatingBirdFood.com by Brittany
Avocado Rice Cakes
Two unlikely ingredients put together, take on a life of their own. Packed with healthy fats, this recipe is sure to keep your tummy full and your taste buds happy.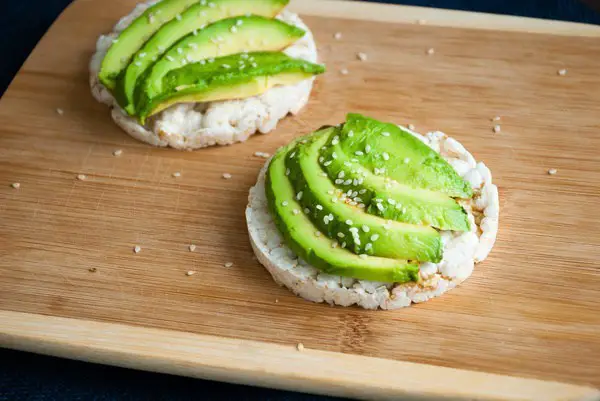 Image Credit: AdventureBlooms.com Recipe Page
Ingredients:
1 plain brown rice cake
1/2 ripe avocado (it should yield slightly to a gentle squeeze, but it shouldn't be mushy or rock-hard), halved and pit removed
A drizzle of tamari or soy sauce
Instructions:
Scoop the avocado flesh out of the skin, slice and spread over the rice cake.
Drizzle Top with tamari and sesame seeds.
Enjoy!
Recipe Credit: AdventureBlooms.com by user AdventureBlooms
Sliced Tomato with A Sprinkle of Feta Cheese and A Drizzle of Olive Oil
A twist on the traditional caprese, this snack just screams "posh".
With an ingredient list of one sliced tomato, a bit of feta cheese and a couple of teaspoons of olive oil, it can be whipped up in a pinch. The title tells you all you need to know in order to add this to your hunger-fighting recipe repertoire!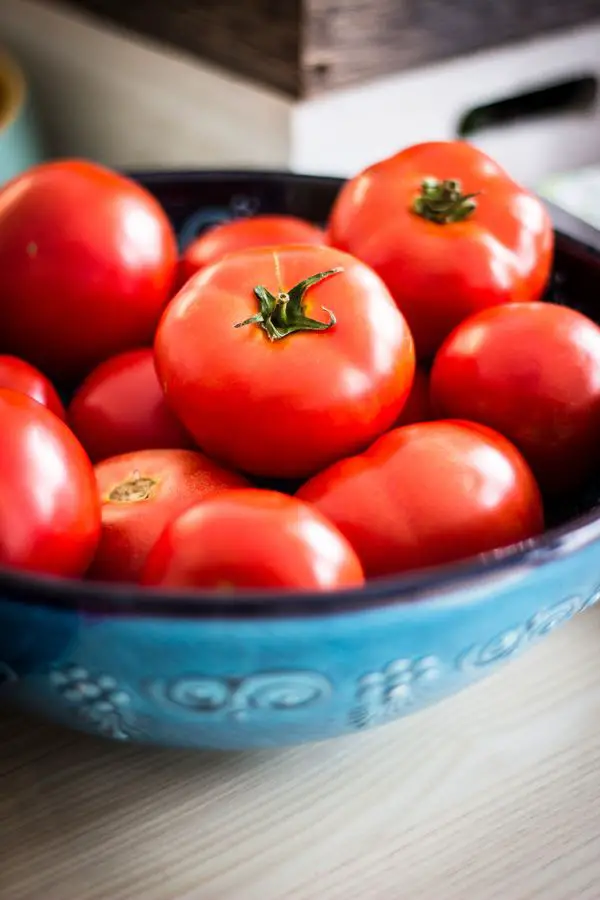 Image Credit: Deniz Altindas via Unsplash
Popcorn
Popcorn isn't just for the movies anymore. Plain, unsalted and unbuttered popcorn is actually quite healthy for you. Feel free to pop a handful to help curb your munchies!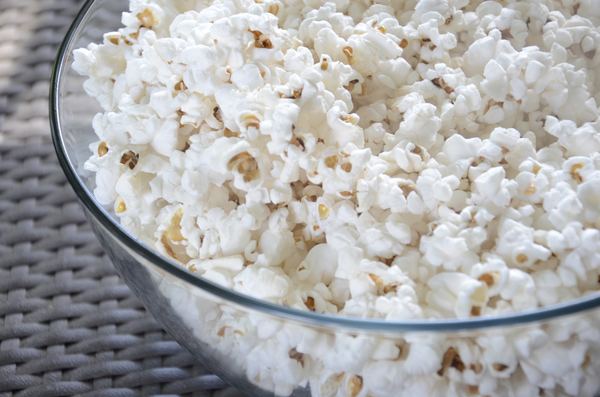 Image Credit: Alex Munsell via Unsplash
Chicken Taco Lettuce Cups
It doesn't have to be Tuesday to justify adding tacos to the menu. Tacos are now for snacking!
What's more, this recipe is low carb, paleo, and keto friendly.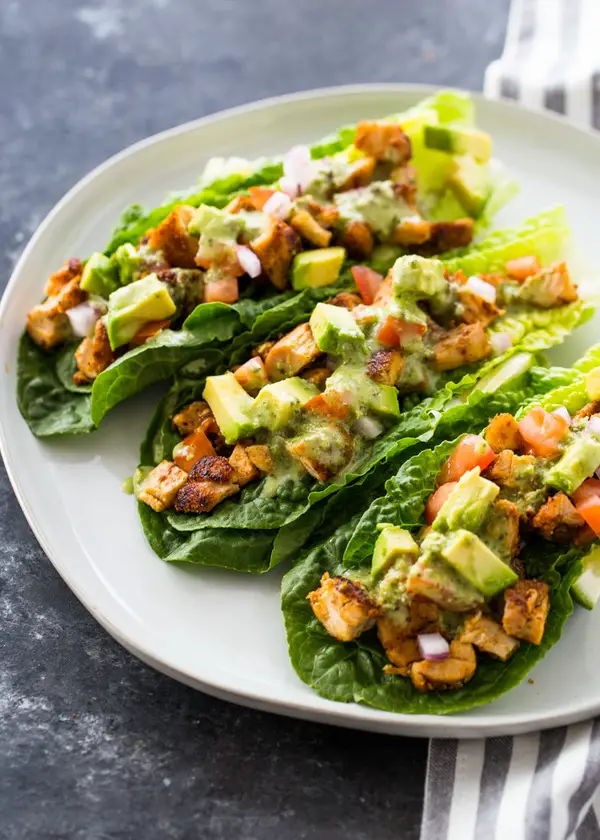 Image Credit: GimmeDelicious.com Recipe Page
Ingredients:
1 pound boneless, skinless chicken breasts or thighs
2 tablespoons taco seasoning
2 cloves garlic minced
1 tablespoon olive oil
8 leaves Romaine Lettuce rinsed
1 avocado diced
1 tomato diced
1/4 cup onion diced
1/2 cup loosely packed cilantro
1/4 cup Greek Yogurt or sour-cream or mayo
2 tablespoons olive oil
1 jalapeno optional
1 clove garlic minced
Juice of 1 lime
Pinch of salt
Instructions:
1). Add the chicken, garlic, olive oil, and spices in a large bowl or zip-seal bag.
2). Place in fridge and let marinate for at least 15-30 minutes or up to 24 hours.
3). Remove chicken from marinade and discard marinade. Place chicken on a grill or pan heated to medium-high heat. Let chicken cook until it is no longer pink on the inside, about 9-10 minutes per side (or until it has reached an internal temperature of 165 degrees F).
To Make Cilantro Sauce:
Place all the ingredients in the food processor and blend for 1 minute or until creamy.
To Assemble:
Layer lettuce wraps with chicken, tomatoes, onion, and avocado. Drizzle with cilantro sauce or your favorite taco sauce.
Recipe Credit: GimmeDelicious.com by Layla Atik
Home Made Granola Bars
The storebought kind tend to have some unsavory ingredients in them, so we prefer the homemade kind. These taste just like the packaged ones, but with a clean ingredient list. What's not to love?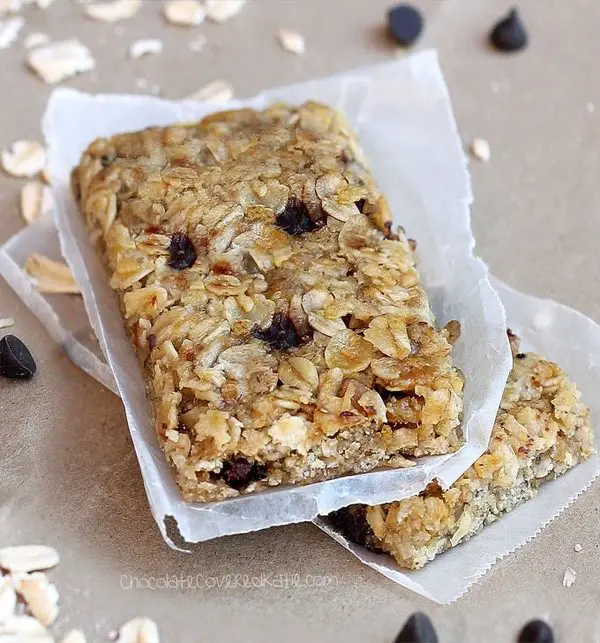 Image Credit: ChocolateCoveredKatie.com Recipe Page
Ingredients:
2 cups rolled oats
1/2 tsp baking soda
1/2 tsp salt
1/2 cup rice crispies (brown, white, or gluten-free)
3/4 cup oat flour, or process oats in a blender to make your own (110g)
1/4 cup melted coconut or vegetable oil (or nut butter) (45g)
1/2 cup raw agave or honey
1/4 cup brown sugar OR 1/8 tsp pure stevia
1/4 cup applesauce or mashed banana
1 tsp pure vanilla extract
Instructions:
1). Line an 8-inch pan with parchment paper. Set aside.
2). If you wish to bake the bars, preheat oven to 350 F.
3). Stir together all dry ingredients in a large bowl.
4). Whisk liquid ingredients together in a separate bowl, then stir wet into dry.
5). Transfer to the prepared pan. Smooth down firmly, using a second sheet of parchment or wax paper. Press down as hard as you can.
6). For no-bake healthy granola bars, chill until firm. (The no-bake option is also firmer if you use coconut oil.)
7). For baked granola bars, cook on the center rack 18 minutes, then press down firmly again. Let cool completely before cutting into bars.
Flavor Variations:
Chocolate Chip Granola Bars: Stir 1/2 cup mini chocolate chips in with the dry ingredients.
Oatmeal Raisin Granola Bars: Stir 1/2 cup chopped raisins and 1/2 tsp cinnamon in with the dry ingredients.
Nutella Granola Bars: Replace the oil with my Healthy Nutella, and add mini chocolate chips and chopped hazelnuts if desired.
Vanilla Almond Granola Bars: Stir 1/3 cup finely chopped almonds in with the dry ingredients, and add a few drops pure almond extract to the liquid ingredients.
Trail Mix Granola Bars: Stir 1/4 cup each chia seeds, shredded coconut, and chopped, dried cranberries in with the dry ingredients.
Peanut Butter Cookie Granola Bars: Replace the oil with 1/4 cup peanut butter or nut butter of choice
Recipe Credit: ChocolateCoveredKatie.com by Katie
Featured Image Credit: Brooke Lark via Unsplash