An engagement photoshoot is definitely one of the most important photoshoots you are going to have with your partner. These pictures must be aesthetically aligned with your tastes and not those of the world. You do not have to make them Pinterest-worthy or follow certain ideas. You can get very creative as it is your engagement, and you and your partner decide how the pictures should be. After all, this picture might be hanging above your bed in your bedroom. So, you need it to be perfect. When it comes to a photo shoot, what you wear is really important. Hence, there are certain things to consider when deciding what to wear for engagement pictures. Let's look at certain rules that will amp up the pictures instantly!
Always Go for an Outfit that Screams YOU!
Outfits will make or break the shoot. The first and most important thing to remember when selecting an outfit is that it should scream you! Whether it is the colour of the outfit or the silhouette of the same, it should resonate with your personality perfectly. Make sure that even your partner's outfit reflects their personality perfectly. On the other hand, both of your outfits should not contradict each other but rather complement each other. In fact, you can hire a stylist and explain what you are expecting from the shoot. Selecting outfits that speak perfectly to you as a couple might be overwhelming.
Rogue Colors for the Win
Always decide the vibe of your photoshoot beforehand. If you are planning a vintage vibe for your shoot, go for warm colours like yellow, mustard, orange, or more. On the other hand, if you want to go to a park or the ocean, go for green or blue. For this, the location of the shoot is really important. Know the background of where you are going to click pictures. Select the location and then finalize your outfits. It is very difficult to find locations according to the outfits, and you might end up compromising on the place. Hence, first, select the location, and depending on its colours and ambience, select what to wear for the engagement pictures.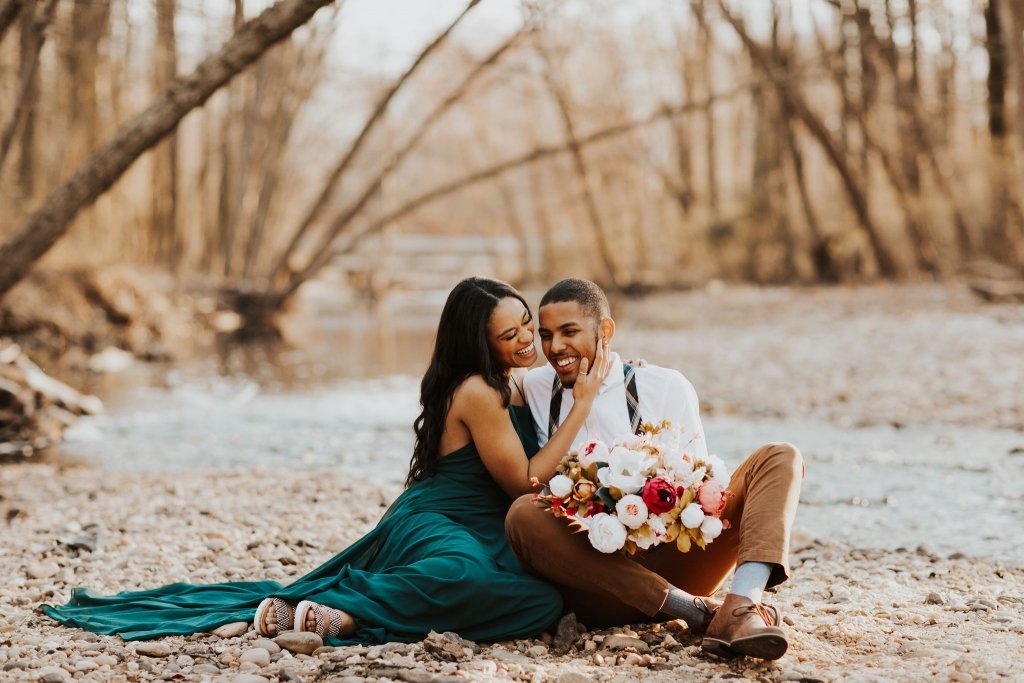 No Matching Colors!
This is one thing many couples go wrong with. You should not wear outfits of the same colour! The colours of your outfits should never be exactly the same. This will make them blend or merge when you get the pictures clicked. The only thing that will be distinguished in these photos will be your faces, which you never want. Either way, go for outfits that are in contrasting colours. For example, go for blue and white or mustard and beige. If at all you want the colour scheme to match, then you can go for hues and shades of a colour. For instance, if you decide to go for sky blue, then your partner should go for a dark shade of blue like navy blue. Again, these colours should be in harmony with the shoot location and the ambience of the photoshoot.
Don't Let Prints Steal Your Thunder 
One big unsaid rule of engagement pictures is that you can experiment with prints there. Outfits are undoubtedly a very important part of the photo shoot, but you and your partner are the most important thing about it. You do not want prints to take away the attention and be the emphasis in these pictures. Other than this, solid colours are never going out of style. It is very important to keep in mind that you should go classic rather than what is trending right now. This is because these engagement pictures are going to be there forever, and you do not want something that is going out of style. They will not steal attention, and the undivided attention will be on you. Hence, always go for solid colours for your engagement pictures and stay away from prints!
Accessorize!!!
Accessories are present with an outfit to amp up the entire look. In this case, you do not want the styling to be very overpowering, but you also do not want it to be extremely subtle. There should be a balance in the styling when it comes to accessorizing for engagement pictures. So, what should you do? The first and foremost accessory in an engagement picture would definitely be an engagement ring. You are going to show it off as much as possible. Apart from this, there should be one simple accessory in the shoot that will not steal lots of attention but will improve the look very subtly. This accessory can be as simple as a solid-coloured scarf or even a chain. For a male, you can go for a chain or a metal bracelet on the same hand as the engagement ring. Do not go overboard with the accessorizing of the engagement pictures look. Go for a maximum of two accessories and not more than that!