There is something about a man in a three-piece suit that oozes class and sophistication. A well-tailored waistcoat adds to the formality of a suit and can transform your man's style into that of a gentleman.
A man who can pull of wearing a waistcoat will look dapper, stylish, and striking. The addition of a vest has the potential to elevate the look of a simple suit, giving your man's wardrobe a suave, gentlemanly upgrade.
Calvin Klein Black Slim Fit Wool Blend Suit Vest
The Evolution of a Waistcoat
Waistcoats have been a steady favorite in men's fashion for centuries. Initially known as a vest, they were first introduced in 17th-century Britain when king Charles II wore one. A waistcoat is commonly referred to as a vest in the US to this day.
The traditional vest surged in popularity more recently after characters in the hit 1920s gangster drama, Peaky Blinders, favored wearing a waistcoat, essentially making them cool again. Whether your partner is a fan of the show or not, there are many fashionable men to take inspiration from when it comes to waistcoats.
Reiss Rover Slim Fit Mixer Waistcoat Vest
When and How to Wear a Waistcoat
Waistcoats are a popular addition to a groom's suit, whether they are worn with a tie or bow tie. Vests keep the wedding party looking smart when they take off their jacket for dancing in the evening, and they add an extra layer of warmth for a fall or winter wedding. Moreover, they can be worn for many other occasions than just weddings and will add a touch of class to any event.
These sleeveless jackets can be either single-breasted or double-breasted. They can also be accessorized with a pocket watch and chain or pocket squares, so your man can show his personality and style. Vests can be bought in a range of colors and fabrics, from tweed to cotton. A wool-based fabric would be better for the colder months, whereas a cotton fabric will be better for summer.
JF J.Ferrar Ultra Comfort Stretch Slim Fit Suit Vest
Ted Baker Debonair Sharkskin Wool Waistcoat
Matching or Contrasting Waistcoat?
Traditionally waistcoats were made from the same material; however, some men choose to contrast their waistcoats in a different color and material. This has become more of a trend in recent years and makes the waistcoat stand out.
David Beckham wore a contrasting waistcoat at Harry and Meghan's wedding in May 2017. He chose a light gray vest with a darker gray suit jacket and pants. From real-life fashion inspiration to fictional heroes such as James Bond and Tommy Shelby, every stylish man knows the importance of a waistcoat for a formal dress code.
Whether you opt for a matching or contrasting waistcoat, you can't go wrong with a good-quality waistcoat. The traditional fashion piece is a timeless fashion statement that will be in style for centuries to come.
ASOS DESIGN Slim Vest in 100% Wool Harris Tweed in Blue Herringbone
The Fashion Rules
There are certain rules in men's fashion. From a man matching shoes to his belt to no socks with sandals, wearing a waistcoat comes with its own set of rules.
The most important rule when it comes to waistcoats is that they should be buttoned, apart from the last button. This rule should also be applied to a suit jacket and blazer. They should also be worn with a collared shirt and be well-fitted.
An ill-fitted waistcoat can look cheap and should be avoided. It's important to note that you don't need to spend hundreds on a vest, but you should buy from a brand that understands just the right fit.
Tommy Hilfiger Men's Classic-Fit Stretch Navy Blue Windowpane Vest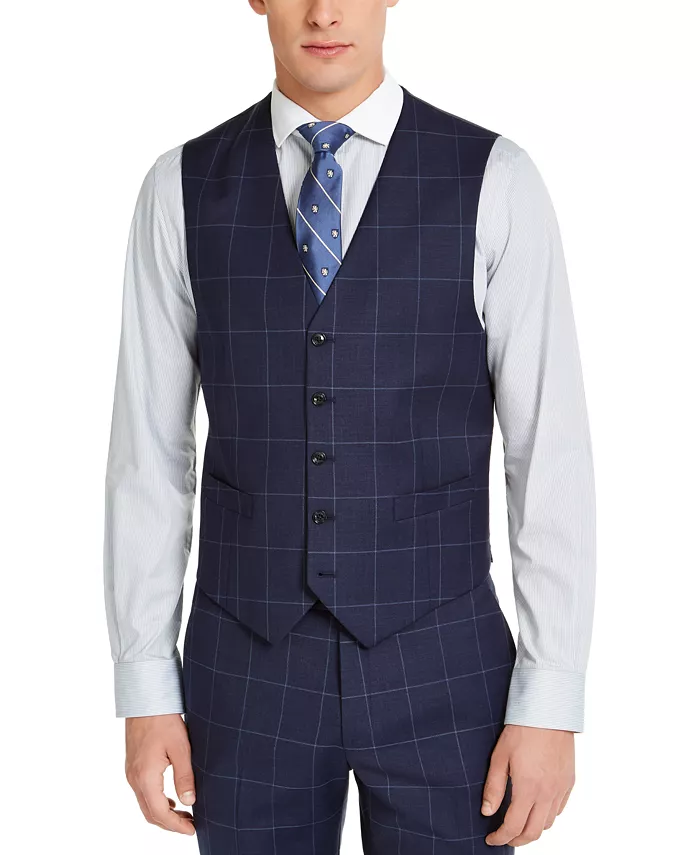 The Man Behind the Suit
A man who wears a three-piece suit indicates that he is a fan of tradition, elegance, and style. A suit is a symbol of power and a well-tailored suit makes a powerful statement about the man who wears it. So next time you are suit shopping with your partner, consider encouraging a purchase as a waistcoat and he will thank you forever.