Although travel has been on hold these last few months, you may now feel comfortable taking a weekend trip upstate, or to one of the nearby states on the quarantine-free list. Whether you are heading for a fall leaf-peeping trip to Upstate New York, or just planning ahead for your Thanksgiving weekend visiting the family, weekender bags are the item we all need.
HVISK Coast Quilted Weekender Bag
The quilted weekender from Urban Outfitters is perfect for a weekend getaway. Made from nylon, the bag can be spot cleaned easily, a practical feature for travel. The bag includes two long shoulder straps that sit comfortably on your shoulder and an adjustable nylon strap.
Additionally, there are two lining pockets and one zipper pocket for keeping your valuables safe and secure. The sleek, black design will look great paired with your most casual, or even most extra outfits.
Longchamp Le Pliage Nylon Weekender Bag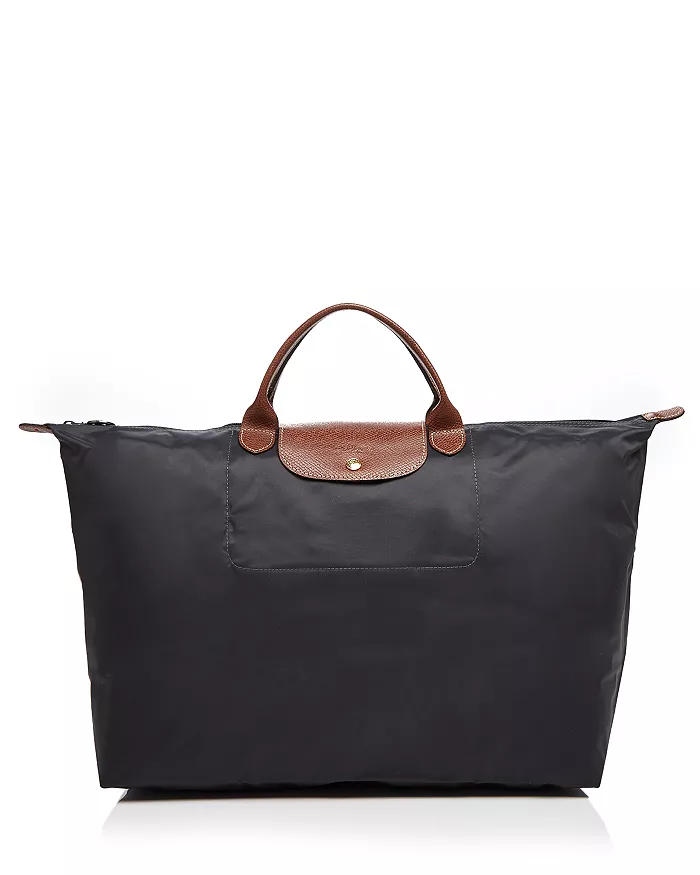 Named after the famous horse track on the outskirts of Paris, Longchamp handbags are always stylish and of great quality. The bag offers plenty of room for your travel essentials and can be transformed into a smaller, packable design that can fit easily in larger luggage if you are saving the use of the bag for your trip. The zip and leather trim flap closure offers a sense of security, and the embossed leather trim details add to the sophistication of the weekender. The bag comes in five colors, including gunmetal, black, deep red, new navy, and khaki.
Staud x New Balance Duffle Bag
STAUD handbags are known for their simple shapes and quirky materials, and this collaboration with New Balance adds a cool and trendy style to this duffle bag. Perfect for weekend trips, this bag is lined and made from soft nylon.
It includes faux leather handles and unique knotted handles, which gives the bag a stylish look. The two-way zip closures make it easier to close the bag if you've over-packed, and the optional adjustable strap keeps it practical. The weekender includes one exterior slip pocket and one interior zip pocket. 
The ReNew Transit Weekender Bag
The ReNew Transit Weekender is sold in three neutral colors: black, charcoal and warm quartz (pictured), as well as dyed with bluesign®-approved dyes, which are safer for dye house workers and better for the environment. The ultimate travel-friendly weekender bag from Everlane includes a padded laptop sleeve in case you need to catch up on emails over your vacation, two water bottle holders to keep you hydrated, an exterior zip pocket to keep your items secure, and a luggage handle pass-through for easy carrying with other pieces of luggage.
You can also choose how you want to carry your weekender bag: crossbody, shoulder, or in-hand. In addition, the sustainable weekender bag is 100% recycled polyester, made from 36.6 renewed plastic bottles. The practical water-resistant finish means that you can spot clean the bag with a cloth easily. Furthermore, the finish is fluorine-free, making it better for the environment.
Béis Weekend Travel Tote
Béis launched in 2018 by actress and entrepreneur, Shay Mitchell. Mitchell wanted to create a collection of faultlessly designed travel essentials inspired by her own travels. The products are promised to be tested extensively so that they can really capture what the modern traveler needs.
The Béis Weekend Travel Tote is clearly no exception. The bag includes both interior and exterior pockets with zips, and a laptop sleeve. The separate compartment at the bottom for your shoes is potentially the best part of this travel tote, and there is also an optional crossbody strap for when you need your hands free. Additionally, the sleek water-resistant canvas makes the bag even more practical for your travels.