"Barbie" has finally arrived, and it's bursting with a kaleidoscope of colors, hilarious one-liners, and a dazzling cast that brings this whimsical tale to life. Starring Margot Robbie as the iconic Barbie herself and Ryan Gosling as one of the many Kens, the film delves into the fantastical realm of Barbie Land. However, things take a delightful turn when Barbie, played by Robbie, finds herself questioning the meaning of her existence. The result is a charming adventure that takes her from her pastel paradise to the real world in search of purpose.
A Quirky Blend of Fantasy and Reality
"Barbie" effortlessly blends fantastical escapism with insightful critiques. Directed by the brilliant Greta Gerwig, known for her work on "Lady Bird" and "Little Women," the movie sparkles with playful humor and sharp commentary. Gerwig and her partner, Noah Baumbach, co-wrote the script, making sure it balanced humor and introspection.
Unraveling Barbie's Existential Crisis
Robbie's performance as Barbie is truly a marvel. She effortlessly captures the doll's exaggerated optimism and genuine charm, making her the perfect fit for the iconic role. Barbie's journey from the idealistic world of Barbie Land to the complexities of reality is both hilarious and poignant. Her exploration of self-discovery and desire for meaning make her character relatable, despite her plastic origins.
A Critical Take on Patriarchy and Capitalism
While "Barbie" manages to entertain and tickle our funny bones, it also confronts substantial societal issues. The film critiques patriarchy, capitalism, and the unrealistic beauty standards perpetuated by Barbie's iconic figure. It cleverly juxtaposes these critiques against Barbie's status as a feminist icon, reminding us that her legacy isn't just about pretty dolls but also about breaking barriers and empowering young girls.
Performances That Shine Bright Like a Diamond
Beyond Robbie's stellar performance, Ryan Gosling takes the spotlight as Ken, Barbie's equally iconic beau. Gosling's portrayal of Ken is sheer comedic brilliance as he immerses himself in the character's frailty. He's both swaggering and endearing, making us chuckle at his awkward attempts to embody the ideal man. The film's ensemble cast, including Kate McKinnon, Issa Rae, and Michael Cera, complements the leads with their standout performances.
The Enigmatic Camp Factor
One thing that left critics and audiences scratching their heads was the film's potential "camp" appeal. For some, the film's audacity and self-awareness may seem campy, but the question remains whether everyone will get the joke. However, despite this uncertainty, "Barbie" still manages to be a thrilling joyride with plenty of laughs.
Satire, Sincerity, and Whimsy
The movie delivers on multiple fronts, offering hilarious moments while also serving up powerful themes. Yet, amidst its ambition, the film sometimes falters in striking the perfect balance. It tends to pause and reiterate its messages, disrupting the earlier momentum. Nevertheless, the movie's satire, sincerity, and whimsy make it a delightful watch.
A Kaleidoscope of Crafts
One of the highlights of "Barbie" is its immense ensemble cast, comprising women as Barbies and men as Kens, with a few exceptions. Each member shines brightly in their respective roles, from Issa Rae's assertive President Barbie to Kate McKinnon's Weird Barbie, guiding Barbie on her journey. The film showcases the talents of various craftspeople, from music supervision to spectacular production design, adding depth and spectacle to the story.
A Whimsical Call for Thoughtful Conversations
"Barbie" may present a fairytale-like adventure, but beneath the layers of pastels lies an engaging conversation starter. Its critiques of society, gender, and consumerism will prompt you to reflect on the profound messages it delivers. It's a movie that finds ingenious ways to entice audiences while also pushing them to engage in thoughtful discussions.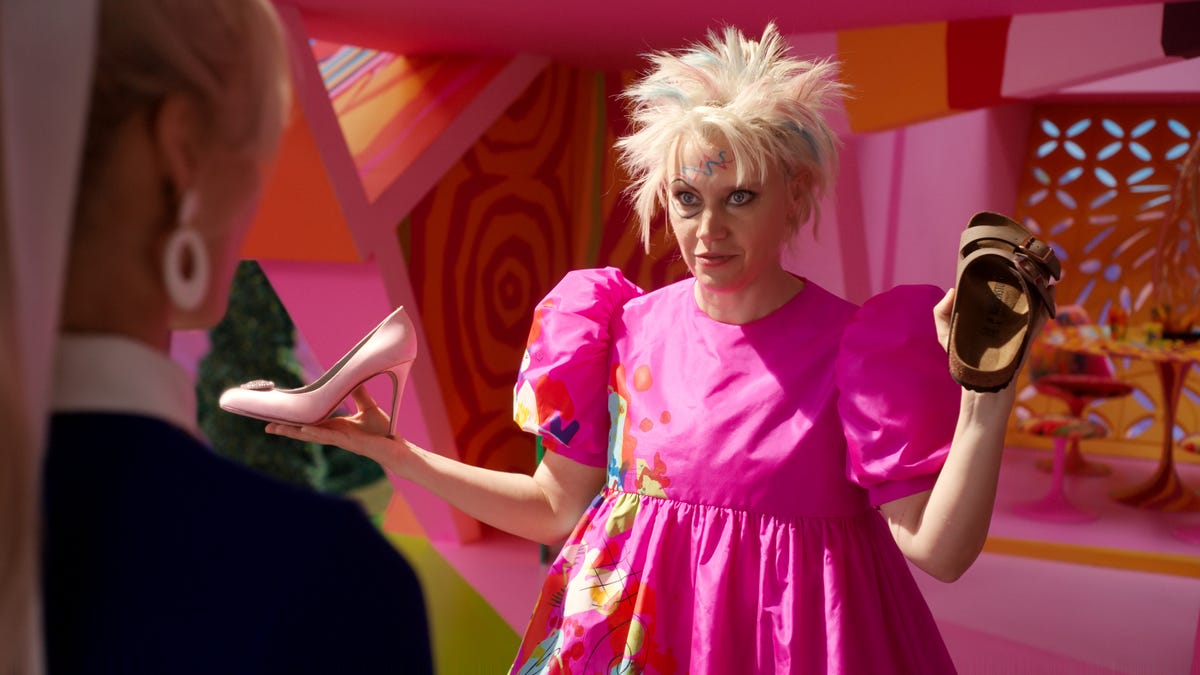 Does It Really Live Up to Its Hype?
With all the anticipation and marketing surrounding "Barbie," the burning question remains: Does it truly live up to the hype? The film's cleverly crafted trailers and snippets of Barbie's hilarious escapades have left fans eagerly waiting to witness the iconic doll's big-screen adventure. Fortunately, "Barbie" doesn't disappoint when it comes to laughter and spectacle. The movie delivers on its promises of loads of jokes, eye-catching sets, and charming performances. The quirky combination of Margot Robbie's infectious optimism and Ryan Gosling's himbo antics provides delightful chemistry on screen.
Yet, despite the film's undeniable entertainment value, it does face some challenges. There's a palpable tension between the movie's humor and its attempt to make insightful critiques of societal norms and corporate influence. While some appreciate this multi-layered approach, others find it confusing, questioning whether the film is intentionally "camp" or genuinely trying to tackle complex issues.
In conclusion, "Barbie" is an eccentric masterpiece that dances between humor and contemplation. Margot Robbie's spirited performance, along with a standout ensemble cast, brings depth and vibrancy to the whimsical tale. Greta Gerwig's direction, combined with sharp writing, catapults Barbie's journey from the toy shelf to a profound exploration of identity and purpose. So, get ready to embark on a kaleidoscopic adventure with Barbie, Ken, and a plethora of pink, and let the laughs and insights sweep you away!