Fall is officially in full swing, and with cooler temps come elements like wind and rain that can wreak havoc on your hair. If your usual shampoo and condition routine doesn't seem to be taming frizz and dryness, you might be missing an essential step: a hair mask!
What Are Hair Masks?
Hair masks are nourishing treatments for your hair that usually target specific concerns. They often contain oils, kinds of butter and other beneficial ingredients. They spend more time sinking into and repairing your hair than the average shampoo or conditioner, meaning that you can see results even after a single use.
Think of hair masks as a kind of super-powered conditioner. Masks have similar benefits to a deep conditioner—like deeply healing and soothing hair—but on a more intense and powerful level than their in-shower relatives. Masks are more like a luxurious spa day for your hair.
Whether you're looking for a solution that will put an end to a certain issue or just want to maintain your hair 's natural bounce and shine, there's a mask guaranteed to help. NYGal has curated a list of our favorites for all types of hair drama.
Dry or Dull Hair
Are your strands looking and feeling a little lackluster?  Many of the most common hair problems you face—like frizz, dullness, and breakage—are the result of dry hair.  In choosing a mask that helps quench thirsty locks, keep an eye out for nourishing oils and antioxidants.
These will help your hair retain moisture, prevent further damage and protect from environmental stressors.
R+Co Palm Springs Pre-Shampoo Treatment Mask – $29
Blah hair will be a thing of the past with R+Co's pre-shampoo treatment mask.
Enriched with essential oils, shea butter, and botanical extracts, the mask strengthens and deeply conditions dry and damaged hair, delivers intense hydration and provides antioxidant protection.
Color/Chemically Treated Hair
Regardless of type, length, or texture, there are few NYGals who can resist chemically changing our hair up. Despite being fully aware that dryness and breakage will be the price to pay, we're tempted by the perfect shade of blonde, rose gold or mocha.
If you're a fan of chemical straightening, similar damage can make already thirsty tresses feel even worse.  Fret not though, there is hope!
Christophe Robin Masque Fixateur de Couleur – $43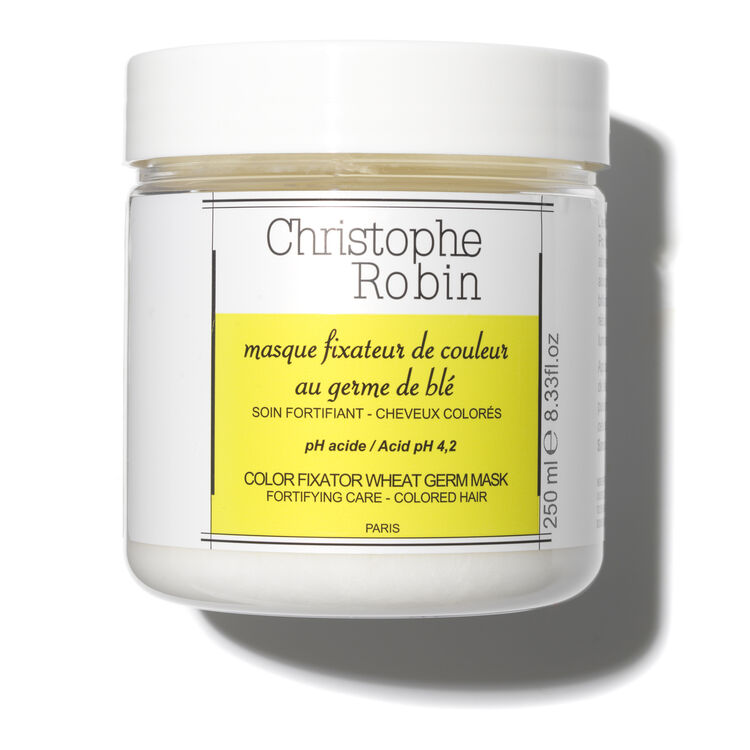 Color Fixator Wheat Germ Mask contains a combination of wheat germ, honey, and provitamin B5 to repair and reinforce chemically damaged hair, without weighing it down.
This luxurious mask deeply nourishes, protects and preserves color-treated hair. It balances pH levels as well as closes the hair cuticle in order to retain longer-lasting, more vibrant color.
Brittle Hair
We may not all be born with thick, dense tresses but that doesn't mean we have to live with hair fall! Often, brittle and weak hair is a sure sign that your mane is in need of some TLC. Not only will you be prone to breakage at even the lightest handling, but it can also appear extra dry and frizzy.
Keep a close eye on the ingredients in your hair products and avoid those with harsh chemicals. Instead, look for a hair treatment that will provide your locks with much-needed moisture while strengthening your strands naturally.
Kiehl's Olive Fruit Deeply Repairative Hair Pak – $25
This incredibly conditioning mask gives hair a complete makeover in ten minutes, turning brittle straw to silk!
Avocado Oil, lemon juice, and olive oil work together to create a deeply nourishing treatment that moisturizes and strengthens brittle hair as it restores shine and a healthy fullness to severely parched hair.
See Also: 5 Tips to Help You Unlock Your Hair's Potential
Fine or Thin Hair
Fine hair can quickly feel oily after using deep conditioning products, so your main goal when purchasing a hair mask is to select one that won't weigh down your hair.  Light products that contain hydrating ingredients like vitamins A, C, and E, as well as aloe vera, are ideal for thinner tresses.
The ideal mask will soothe fine hair as well as give limp strands some added volume!
Mon Platin Black Caviar Volumizer Hair Mask – $38.99
This black caviar treatment mask is specially formulated for fine and fragile hair. It nourishes hair with vital ingredients without weighing it down, while balancing the hair's pH level.
The anti-static formula encourages hair growth and is based on a selection of innovative ingredients including black caviar and olive oil extract, royal jelly and anti-oxidizing sea buckthorn, pomegranate and green tea.
Annoying flyaways and flat, dull hair are dramatically transformed into #HairGoals!
Curly Hair
Because of all its twists and coils, curly hair can be fragile and delicate. And because of its curvy nature, the natural oils produced by the scalp to soften and protect strands have a harder time traveling from root to tip. As a result, curly babes often experience low levels of moisture.
In essence, curly hair is thirsty hair in need of some intense hydration.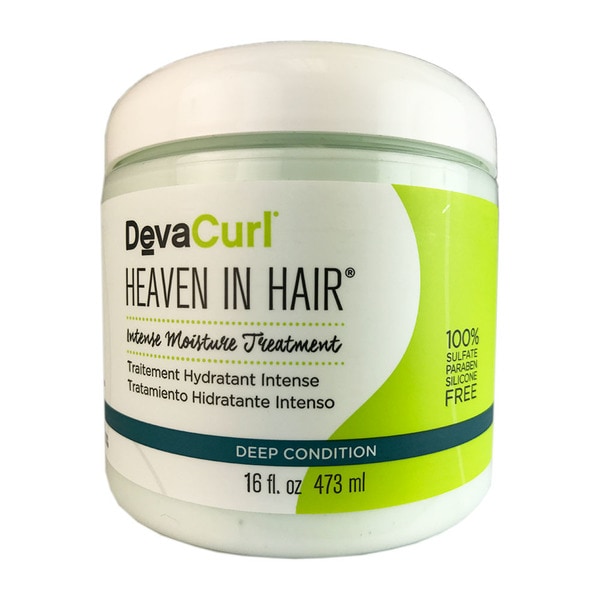 DevaCurl Heaven In Hair – $28
DevaCurl's intensive moisture treatment gets raving reviews from the curly-haired ladies who have witnessed its hydrating powers. Enriched with cocoa and murumuru-seed butter, it conditions and rejuvenates hair to destroy tangles and frizz.
The result is silky, healthy curls you won't be able to stop touching!
Oily Hair
A lot of oil in your mane is typically caused by a problematic scalp and using the wrong products can make things worse!
It's important to avoid products with alcohol, which can be very drying on the scalp. How does something drying cause extra oil, you may ask? It can trigger your sebaceous glands to overproduce sebum to make up for the stripped moisture.
For oily hair, a DIY mask might be the miracle treatment you've been looking for.  All you need is 1/4th a cup of unfiltered apple cider vinegar and a lemon to tame that oil slick.
DIY Apple Cider Vinegar Mask – $3.99 (For Bragg's brand)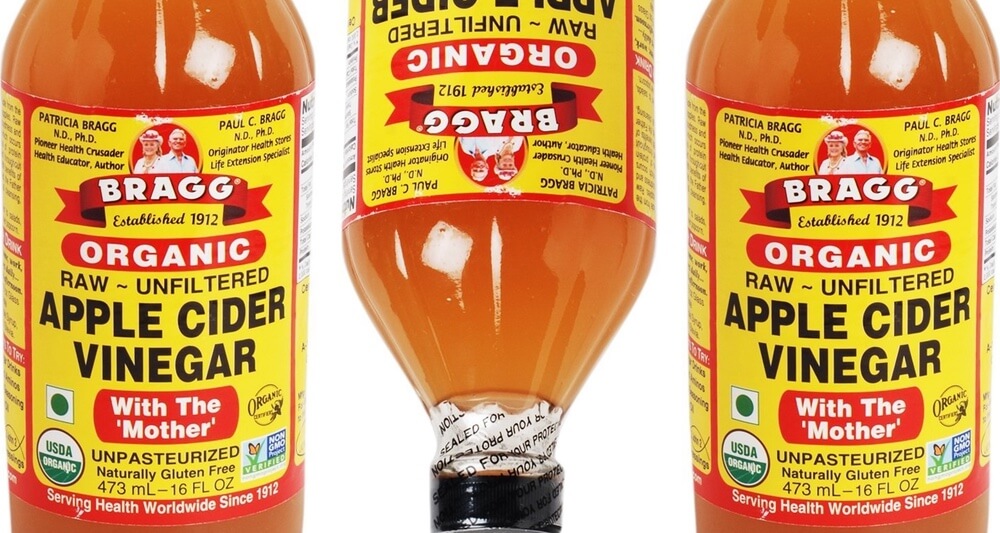 Apple cider vinegar is well documented to have a plethora of health and beauty benefits, but how exactly does it help remedy oily hair? For starters, it helps remove product buildup from the scalp which can cause hair to look even more dirty and greasy.
Malassezia is a fungus that develops naturally on the scalp. But even though it's a naturally occurring fungus, when it grows out of control it can cause your scalp to get oily and irritated, not to mention it can cause–or–worsen dandruff.
Thanks to apple cider vinegar's ability to kill fungus and bacteria, it makes a great (not to mention wallet-friendly) home remedy for oily hair!