What's the first thing that comes to your mind when you think about "The Vampire Diaries." Of course, we have the Salvatore Brothers to drool over. But apart from that, what every TVD fan has wished for is a wardrobe like that of Elena Gilbert. You might not be able to get yourself a vampire boyfriend like Damon, but you can definitely get the style and sass of Elena Gilbert. Elena's power is the minimalistic outfits that reflected her personality (which was definitely complicated at times). Here are some of the best Elena Gilbert style moments.
The Classic Denim Jacket
She can slay anything, and this is definitely one of the best looks from Elena Gilbert. She slayed a classic denim jacket over a simple black top. The top underneath was solid black with no print whatsoever. She wore a light blue denim jacket on top of it. Actually, the denim jacket was a shirt. She left the buttons undone to give it the feel of a jacket. Under the black t-shirt and denim shirt, she decided to go for blue denim jeans, a shade darker than the shirt. Because the neck of the black t-shirt was deep, she styled it with a gold and black chain, which was again extremely simple. Finally, for styling her hair, she had soft curls mostly in the front. Classic Elena Gilbert for sure.
A Purple Sweater
How many people can wear a simple purple sweater and absolutely kill it? This purple sweater look is definitely one of the best from Elena Gilbert. We absolutely love the sneak peek of the white lace near the neckline. What makes it even more cute is the little blue blow in the middle of it. She again wore a simple accessory, or a neckpiece, that had a pendant to match her outfit. Finally, to balance the cool colors going on, she had perfectly straightened hair with shades of brown and caramel. The overall look was simple yet aesthetic.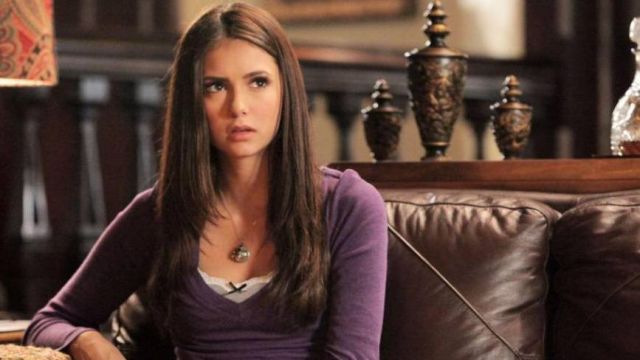 The Blue Ball Gown
This was not only one of the best looks from Elena Gilbert but also one of the best scenes of the series. Here, Damon and Elena are seen dancing together. She wore a gorgeous royal blue gown. This gown is floor-length and has a halter neck. It completely resonates with her style, fashion sense, and personality. This means the gown is very basic and in a solid color, yet it stands out amongst everything and everyone. We, of course, cannot see Elena without her gorgeous neckpiece, and her stylist managed to blend it into this look perfectly too. She also had drop earrings to go with them. Although there is a handsome man right next to her in this scene, we cannot stop looking at her. Her hair had soft waves throughout, and it was partially tied up. She looked breathtaking!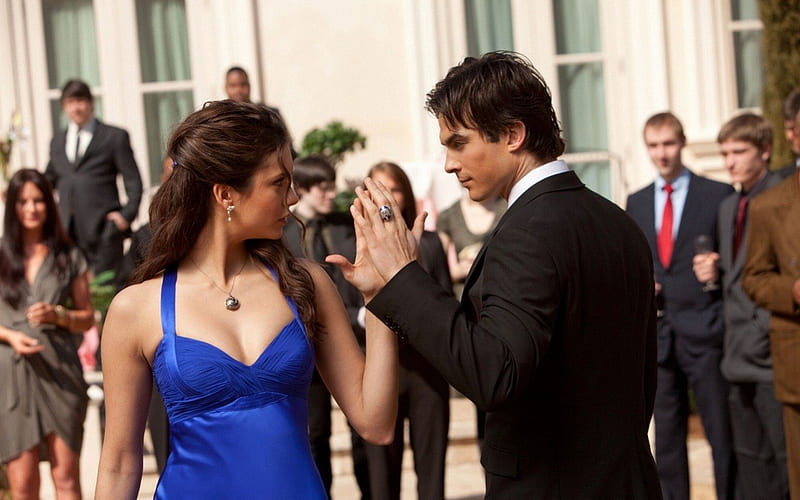 Never Say No to a Leather Jacket
That's right. Because Elena's signature style is incomplete without a leather jacket. She wears a simple red T-shirt and, on top of it, a black leather jacket. To match these, she goes for black denim jeans. What makes it a little more classier are her rolled-up sleeves for the leather jacket. She has middle-partitioned straight hair again, with highlights of caramel tones. And every look of hers is incomplete without her special neckpiece, so that's there.
Red Sweater Look
As we have mentioned before, only Elena Gilbert can slay in a solid-colored pullover sweater. In this scene, she wears a darker shade of red in the form of a pullover sweater. What? Her OG neckpiece is missing in this look. Not to worry. She wears a long chain in this, which has three inverted triangles as the pendant. For her hairstyle, she has surreal straight hair with highlights. This was definitely one of the best looks from Elena Gilbert.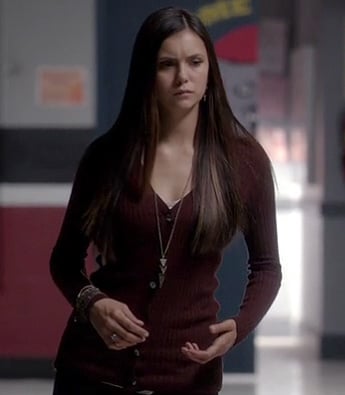 Some common elements were there in all the looks, which made them stand out. First would definitely be her carrying all outfits, even if it is a simple red sweater, with a great deal of confidence. Next, all of her looks are no-makeup looks. This includes her nude makeup products, starting with her blush, eyeshadow, and even her lip shades. Other than this, she wore deep neck outfits throughout, which were mainly to emphasize her neckpiece.