Online fashion retail store, ASOS, announced that it will no longer be selling products that contain most materials obtained from animals by 2019.
ASOS's Animal Welfare program was launched seven years ago, ensuring that their own ASOS brand and those they sell on their website (including Marketplace) don't include fur, bone, teeth, shell and any byproducts of endangered and/or exotic wild-caught animals.
In addition, the company's own makeup line does not test on animals. Cosmetics brands that they sell on the website must also follow their policy, that states,
"In accordance with the EU animal testing ban that came into effect on 11th March 2013, brands selling cosmetic products in the EU through any of ASOS' websites must comply with the requirements of EU law."
However, this doesn't rule out that the companies they sell aren't still testing on animals with other products that they sell elsewhere.
Still including all of their original guidelines on what is prohibited on ASOS, the brand has added feathers, mohair, cashmere and silk to the list. They will no longer be accepting any orders that don't comply with their new standards and aim to be completely free of those materials by next year.
ASOS is home to 850 suppliers and they have been briefed on the new regulations, by distributed guidelines and factsheets about the Animal Welfare Policy. All new staff is trained with this in mind, and the retailer also encourages sellers to use their guide that informs companies about sourcing materials to meet the regulations.
Here is the chart to help suppliers and buyers accurately identify real fur from faux fur, available on their website: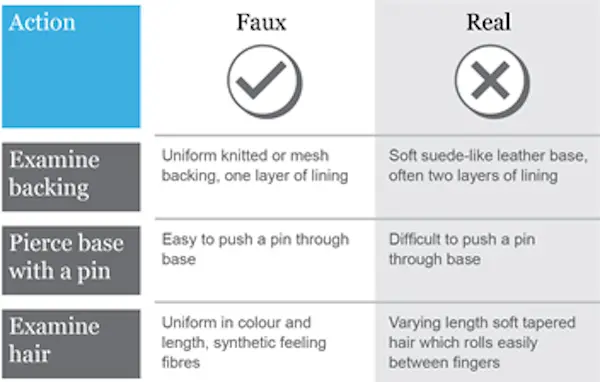 Image Source: ASOS
Controversial animal rights organization, PETA, expectedly praised ASOS's new ban on mohair, as a result of their recent exposé of the industry that showed South African suppliers of mohair mistreating the goats before slaughtering them. Which, for most, was shocking because mistreatment doesn't need to occur to obtain the material. Mohair, naturally, would seem a more humane alternative to fur and feathers, as the animal supposedly remains alive.
"The coats of some of the goats were matted with feces," reported PETA, "To clean off the mohair before shearing, one farmer dumped bucks into tanks of cleaning solution and shoved their heads underwater, which he admitted would poison them if they swallowed it."
The ensuing response from the fashion world was an outcry and a ban on the material by several popular brands. Gap, Old Navy, Banana Republic, Zara, H&M, Topshop, Forever 21, ASOS and more adopted a new policy to scrap the continuation of selling mohair from their stores.
ASOS's was recognized at the 3rd PETA Vegan Fashion Awards and was awarded the RSPCA's Good Business Award for Innovation in 2012.
Although it is a positive beginning toward a cruelty-free fashion and cosmetic industry, their policy states:
"ASOS firmly believes it is not acceptable for animals to suffer in the name of fashion or cosmetics. No animals should be slaughtered specifically to produce products sold through any of ASOS' websites. All animal materials used must be by-products of the meat industry." Meaning that some but not all animal products will remain on the website to be purchased.
To qualify to sell wool, leather and some animal hair (cow, buffalo, yak, horse, goat, pig and alpaca hair) on ASOS, sellers must meet strict guidelines to avoid as much suffering to the animals as possible.
Just this week ASOS continued in its progressive direction in the fashion world, by releasing a wheelchair-friendly tie-dye jumpsuit modeled by para-athlete Chloe Ball-Hopkins. Yay for ASOS!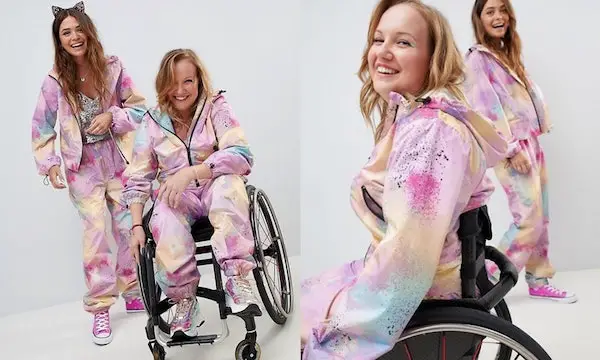 Image Source: ASOS