The Euphoria actress is in the limelight once again, for all the right reasons. Sydney Sweeney, known for her bold fashion choices and unique style, has launched her workwear collection, and netizens are thrilled.
Now, she's working on a new line of workwear in collaboration with two major companies: Ford and Dickies. The collection is anticipated to provide fashionable and practical workwear options suitable for a wide variety of professions. The actress's first effort was the restoration of a 1969 Ford Bronco, a vehicle she had wanted since she was a kid. Her work at the auto shop was documented on her TikTok channel, where it eventually led to a sponsorship deal with Ford.
In this article, we'll take a close look at the Sydney Sweeney workwear line and examine its history, design, and availability. Style suggestions for Sydney Sweeney's latest business line are included.
Sydney Sweeney's new workwear collection
Recently, Sydney Sweeney has shown her love for vintage cars and style by collaborating with Ford and Dickies. "I'm always in jeans, T-shirts, baseball caps, and still, overalls," she says. She has pushed the boundaries of feminism by promoting and collaborating with Ford as well as Dickies, which is a male-dominated field.
The collection has come out with beige collared work pants with pink stripes. not only that, but you can also find a baby blue colored scarf and a corduroy baseball cap. Personally, I really enjoyed the color palette and the combination of pastels. Each piece is a reflection of Sweeney herself. Even the positioning of the collaborative logo is very intimidating.
Below is the price for the overall outfit: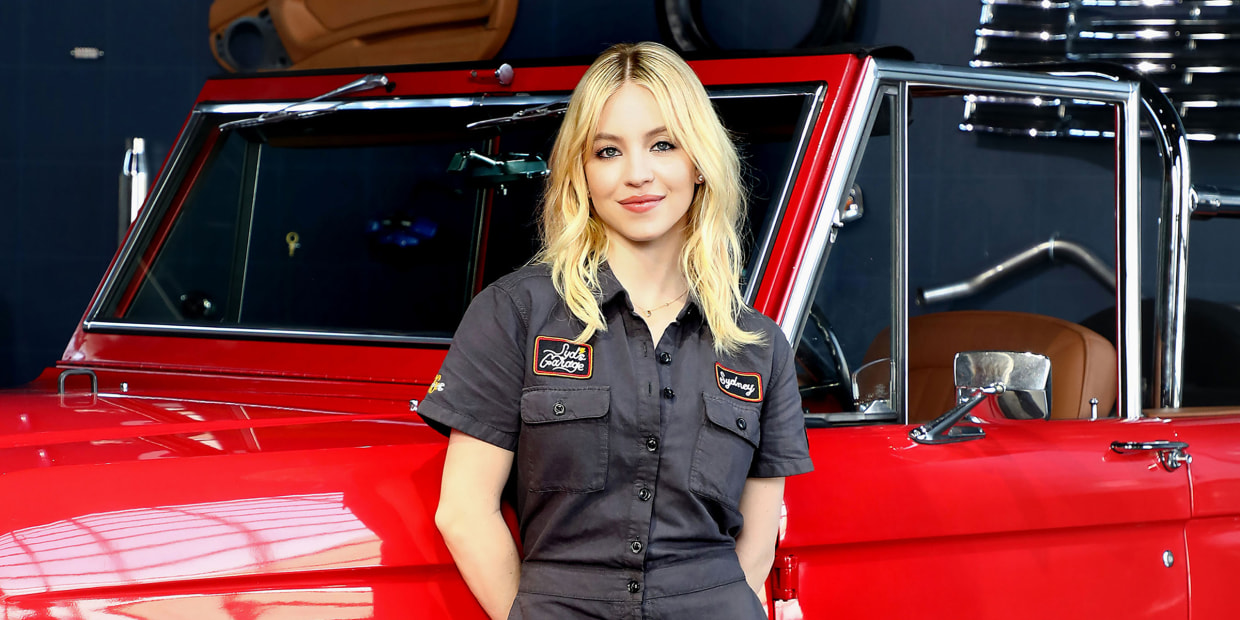 Sweeney has dabbled in the fashion industry before. Last month, she began working with swimwear brand Frankie's Bikinis on their "sexiest ever" collection of bikinis.
Overall verdict
When Sydney Sweeney teamed up with Ford and Dickies to create their workwear collection, they created a line of women's clothing that is equal parts rough and refined. All of the items in this collection are built to withstand the daily wear and tear of the office without compromising on comfort or aesthetics.
The bulk of the designs in this collection is aimed at younger women who are looking to project an image of authority and competence in their work attire. Those who engage in physically demanding occupations like construction or manufacturing or who like adventurous pastimes like hiking and camping would greatly benefit from these products.
The style receives 90 out of a possible 100 points for its sophisticated use of pastel colors and unique design components. a corduroy baseball hat with a light blue lid and the partnership logo sewn onto the cap; inside-out pants; khaki overalls with pink straps and pink stitching; and a blue bandana with a classic paisley design and the Syd's Garage brand stamp. These garments have a wide range of personalized touches, from patchwork to embroidered logos.

About Sydney Sweeney
American actress Sydney Sweeney was born on September 12, 1997, in Spokane. While she had a small part on "90210" in 2009, it was her appearance as Haley Caren in the HBO series "Euphoria" that really launched her career. Sydney has been nominated for a Screen Actors Guild Award and a Critics' Choice Television Award for her work in "The Handmaid's Tale," "Sharp Objects," "Once Upon a Time in Hollywood," and "Nocturne," among other important TV episodes and films. Sydney is well-known for more than just her acting; she is also a fashion icon, having designed a line of hard-working apparel in partnership with companies like Ford and Dickies. She uses her celebrity to bring attention to critical social concerns, such as body acceptance and women's rights.
5 of her major fashion collaborations
Savage X Fenty: Sweeney was named a brand ambassador for Savage X Fenty, Rihanna's lingerie collection, in 2020. Sweeney was featured in an ad campaign for the company, where she modeled items from the newest range.

H&M: For the year 2021, she collaborated with H&M to advertise their "Conscious Collection." She was featured in an advertisement for an eco-friendly clothing brand made from sustainable resources.

Tommy Hilfiger: Sweeney attended the Tommy Hilfiger fashion show during New York Fashion Week in 2020. She has also been seen wearing the brand's clothing in her personal life.

Overall, the Sydney Sweeney workwear collection with Ford and Dickies is a unique and practical fashion line that combines style and functionality for modern women who demand both in their workwear. The vintage details and touches give life to the collection.
 To find out more about the Sydney Sweeney workwear collection, interested individuals can visit the Ford and Dickies websites, as well as Sydney Sweeney's social media platforms, where she has shared information and images about the collection.