Level with me: I can't be the only one who isn't happy doing the same old cardio routine while listening to the same old soundtrack every week on "cardio day", right?
To be honest, I'm more of a yoga girl, but I know the importance of doing cardio to keep my body lean and my heart healthy.
According to the Mayo Clinic, most healthy adults should be getting 150 minutes of moderate aerobic or 75 minutes of intense aerobic exercise every week.
So, despite my preference for yoga, I still try to do a cardio workout that challenges me at least once a week (ideally for about 30 minutes). Then I try to take a long walk or two on the weekends with my guy.
But I'm going to get real with you, I'm bored AF with my cardio routine lately. It's been keeping me fit for years, but I think it's time to mix it up. Life's too short to be this bored when I'm just trying to take care of myself.
Recently, my guy discovered a workout routine (okay – it's more like a video game) that incorporates boxing into a fun cardio workout.
This led me to thinking, why should he get to enjoy cardio while I'm over here just going through the motions? Leave it to my Eric to inspire me to enjoy life a little more.
But I'm feeling very lukewarm about the boxing thing, so I thought I'd give that whole "dance cardio" thing a try.
I mean, I've always wanted to learn to dance, but who has the time? So why not multi-task and do both simultaneously? Us gals tend to be great at that anyway *wink, wink*.
Check out some cardio/dance routines I found to get you started. Note: they are arranged from longest to shortest so you can choose based on how much time you have to get started (you're welcome):
30-Minute Cardio Dance Workout with Nicole Steen
I'm loving this girl's energy and love for that booty! Honestly, that's part of what's missing for me in my cardio routine. I'd like to shake my ass more!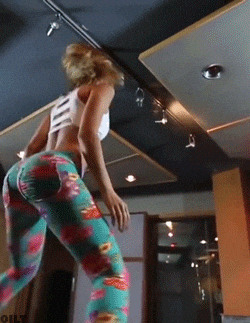 This one says it's an "all over" workout (i.e. it works the whole body). That's my kind of work out *wink, wink*. Plus, she incorporates different types of dancing like hip-hop, the cha-cha, and salsa! Can you say, "si chicas!"?
Steen also encourages us to "not have it perfect" because "[they] didn't ask you to go on stage with J-Lo – just to get moving". You've got to love someone who encourages you when you may still feel a little uncoordinated and stupid when you're trying to dance. (It's cool. We all feel that way from time to time.)
30-Minute Hip-Hop "Calorie Torch" with Keaira LaShae
This one feels like a fun spin on a traditional workout with hip-hop beats in the background. It feels more like reps of a specific dance move rather than the moves going with the beat. So, it's a tad less fun. However, it's probably a great way to learn some moves to make the other ones easier. Plus, this still beats a boring old spin class any day!  
28-Minute Flat-Belly and Tight-Booty Dance Workout with JJ Dancer
Another great one for learning dance moves while getting that heart rate UP!
This one is great if you're not ready to give up your own personal playlist because she only really plays boring "workout music" in the background. So, you could just mute this one and copy the moves while you dance to your own music!
Personally, that's what I like to do anyway – I don't like to listen to them talk. Let's be real, when you're getting used to a new workout and feel like it's killing you, and the trainer goes "Hey! Feel the burn! It feels good!" You just want to tell them to fuck off.
18-Minute Fat Burning Latin Themed Dance Workout
This one is a little shorter and a tad less intense. So, it might be a great one to get started on if you're not overly into cardio yet. Or, just don't have a whole 30-minutes to commit.
Plus, it doesn't seem overly complicated so if you weren't overly into the Latin music playing in the background you could mute it and have your own playlist playing as you do it.
4-Minute Dance Workout with Caleb Marshal
https://youtu.be/iL6ufJLkiUo
I'm going to get real with you – I'm really feeling this one! This video shows you some pretty easy dance moves to "Cheap Thrills" by Sia. Remember it's all good "as long as [you] keep daaaancing".
Frankly, these little short videos to great music by the "Fitness Marshal" on YouTube may be the way to go! This way you could do it as many times as you have time for and before you know it, you're a pro at dancing to your favorite song! Or you know, if you literally only have a songs length of time to get some exercise in.
Hey, some exercise is better than none. Even the Mayo Clinic seems to agree saying that, "Even small amounts of physical activity are helpful, and accumulated activity throughout the day adds up to provide health benefit."
3-Minute Dance Workout with Caleb Marshall
For those mornings when you have almost no time to work out but need to wake up and get that blood flowing. Try this quick and sassy work out (the video is only 3 minutes and 12 seconds) with the super spunky "Fitness Marshal" of YouTube, who teaches you a simple dance routine to Ariana Grande's song "7 Rings".