Skincare mistakes are made quite often, probably more than we know. People have started realizing the importance of skincare and how important it is to take good care of the skin. It is a plausible fact that skincare products are not cheap. They are expensive but worth it. When it comes to a skincare routine, there are rules and steps that you have to follow, and many things depend completely on your skin type. Often, when you follow influencers or videos, you might skip or take up steps as a part of your routine that don't suit you. Hence, skincare mistakes are not rare and can be made by anyone. There are some basic skincare mistakes that can be avoided with more knowledge about them. Let's take a look at some of them:
Using Sunscreen Only During the Summer
We cannot emphasize enough the importance of sunscreen. Sun exposure is the major reason for various skin problems like acne, pimples, tanning, dark circles, and many more. It can also lead to severe problems like hyperpigmentation and early aging. A common skincare mistake people make is applying sunblock only during the summer. The fact is that sun exposure, even on the coolest of days, can cause harm to your skin. Hence, sunblock should not be avoided at any cost. It is one of the two steps that you can never skip, no matter what. Sunscreen is available in two types: matte and creamy, which you can use depending on the weather type and environment. The best option is to go for a broad-spectrum protection sunscreen.
Not Using the Right Amount of Cleanser
The recent trend is to use a double cleanser, one water-based and the other oil-based. This was actually started in Korea to achieve a glass-like complexion. Does it actually work? Yes, it does. Both cleaners have their own benefits. Among the two, the oil-based cleanser is the slightly stronger one that can help get rid of the external products applied like concealer, primer, foundation, bronzer, sunscreen, moisturizer, and more. The oil provides a bit of moisturization without letting your skin go all dry. On the other hand, the water-based cleanser removes toxins from sweat, dirt, and other things. Basically, it is important to use both for a better, more even tone. Apart from this, another skincare mistake seen often is the improper use of cleansers. Our face is exposed throughout the day, and it requires cleansing regularly. Hence, one should use a cleanser at least twice a day to keep their face free of unwanted elements.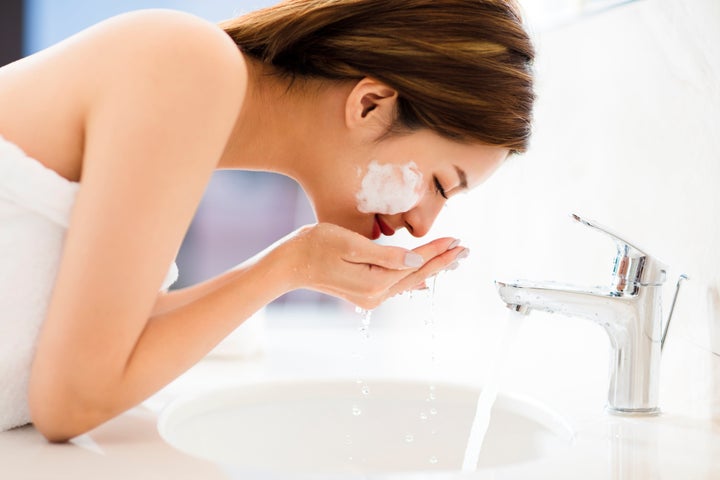 Using Too Many Products
Even though your skin requires different things, we should check the ingredient list before using any product. The ingredients of two products might react on your skin together. To avoid this, there is a process called skin streaming. In this process, the user can remove extra and unwanted products depending on their uses, benefits, and ingredients. You should contact your beautician or dermatologist to discuss what products are best suited for your skin, and then go on to remove the extras. Having the perfect amount of products that do the work is preferred. Also, having too much product on the skin can make it difficult to absorb and soak it.
Keep Your Hands Off Your Face
It is very important that no matter how clean your hands are, you do not dip your fingers in any skincare or makeup products. This is a very common skincare mistake that can transfer a lot of microorganisms to your products. Now every time you apply that product, the bacteria will be on your face. Apart from this, when you apply foundation or serum using droppers, make sure the droppers do not touch your face. When your droppers touch the face, there is again a transfer of bacteria from your face to your dropper and then to the product. Even though you have cleansed your face, there are still some bacteria that remain. To avoid this, put the product on your face from a little distance and apply it using your hands or a sponge.
Do Not Do Skincare Right Before Bed
Extremely common skin care mistakes that people make definitely include not doing your skincare routine right before sleeping. Many people perform their routine and go directly to bed. No matter how fast your skin absorbs the serum, moisturizer, and other creams, it still needs sufficient time to absorb them all. When you go to bed immediately without letting the product absorb, a large quantity of it sticks to your pillow covers. This is bad in two ways. Firstly, your skin did not get the product in the quantity it was supposed to, and secondly, the product stayed on the pillowcase, which will contain bacteria and will stick to your face the next day. Hence, these skincare mistakes should be avoided at all costs.
See Also: Get a Glowing Healthy Skin with these Skincare Products